Biking Northern California -- Wine Country and Coast
Day 1 -- Napa to Calistoga

The previous trips documented on this web site were all arranged by my biking buddy, Len Kleinrock, and myself based on the location of a conference that the two of us help run in Europe each summer. However, in 2006 that summer conference took place in Beijing. Since biking in China sounded difficult, we decided this time to spend a week biking in the United States. That was the easy decision, but deciding exactly where in the US took months of sporadic discussions.
The criteria for choosing a bike trip for us are the following:
1. A route of about 200-250 miles, and not circular, since we like to feel that we're getting somewhere.
2. A decent place to stay about every 35 miles. We don't need fancy hotels, but we're not campers either.
3. Interesting and varied scenery along the way, and hopefully some appealing small towns.
4. No mountains to climb.
In Europe these critera are rather easy to satisfy. Compared to the US, Europe is compact, and there are usually historic and fascinating towns about every 30-40 miles. The US is obviously a different matter entirely. Except for the east and west coast lines, towns are rather far apart, places to stay are elusive, and scenery can be unchanging for many miles.
Our first idea was to bike south down the eastern seaboard, starting in Richmond and ending somewhere in North Carolina. We found a web site, www.adventurecycling.org, that had bike routes laid out across America. One of their routes ran the length of the east coast -- from Maine to Florida. This organization supplies detailed maps of these routes, and of particular value to us was the availability of free downloads of complete GPS data on these routes, together with waypoints for hotels, motels, bike shops, and other amenities.
We had planned the trip for mid-September, and as that time neared both Len and I had reservations about the choice of itinerary. Len was worried that the weather would be hot and humid. I was concerned that the trip could be relatively boring. We'll never know whether these fears were justified, because we changed our minds and decided to go to northern California wine country in late October. This is, of course, a very well known biking region, so it was fairly guaranteed that it would be interesting. I often consult the premier bike trip packaging companies, like Backroads, to see where they are featuring their trips as a guide to where we should go.
There were many websites for biking in California wine country, and Len decided to call one of the companies that looked attractive, LifeCycle Adventures (www.lifecycleadventures.com). He spoke to Tony Blakey there and was immediately impressed. The thing that closed the deal was that Tony offered to put together an itinerary for our trip and give it to us, whether or not we bought their services. Len and I debated a little whether we wanted to go with a package deal or arrange the trip on our own, but in the end it was no contest. The deciding factors for us were the transfers from San Francisco Airport to Napa and back, the knowledgeable suggested itinerary, the availability of difficult-to-arrange lodging, and of course the rental bikes. The pricing for this service did seem high to us at first, but when we computed the costs of lodging, breakfasts (which were included), bikes, and transportation, the costs seemed in line to what we would have had to pay on our own. Moreover, I want to say right up front that in the end we felt we had gotten personal service and value for our money from LifeCycle Adventures.
We do take some pride in arranging trips ourselves, and of the other six European trips detailed on this web site, only the Danube trip was arranged by a packaging company. In all of our trips, however, including this California trip, we were self-guided, carried our own luggage on panniers on our bikes, and did not bike as a part of some larger group. What LifeCycle Adventures provided for us was the logistics support of arranged lodging, rental bikes, airport transfer, and a suggested itinerary. Additionally, we did feel that we had individual backup support in the event of any roadside emergency.
So in the last week of October, Len and I met at about noon at San Francisco Airport. I was coming in from New Jersey, while Len was coming from Los Angeles. Both planes arrived on time within minutes of each other, and I joined Len at the American luggage carousel. A call to Tony confirmed our arrival, and in about 10 minutes he pulled up in a van outside the terminal. Two bikes were hanging off the back of the van. We were ready to go.
"That's all you have?" Tony asked, looking at our meagre luggage. I carried a small duffel bag, had a handlebar bag around my shoulder, and a shopping bag containing two empty bicycle panniers. The total weight of my luggage was less than 20 pounds. Len carried two panniers already filled with his equipment as well as his handlebar bag. However, Len's luggage weight was probably ten pounds more than mine. During the trip we would occasionally debate this point. What did he carry that weighed more than my stuff? Other than more emergency medical supplies, we never really found a good answer to this question, but it was one that we had asked each other on all of our trips. I always pointed out, though, that since I weighed about 30 pounds more than Len, that in the end I had to carry more weight up the hills than he did.
Tony was saying that most people brought a lot of luggage. Of course, they didn't have to carry their stuff on the bikes, since LifeCycle Adventures would move their luggage from hotel to hotel for them. Apparently, we were really unusual in foregoing this service. Tony had mentioned to one his partners in the business how he had these clients who insisted on carrying their own stuff on their bikes. The partner had said something to the effect that that's the way it should be. Sometimes, though, I feel that maybe we're just being foolish. Nonetheless, carrying our own luggage gives us a feeling of independence that is important to our feelings and pride about the trips.
The plan was to bike for seven days, and this day was to be one of them. As we strapped ourselves into the seats, Tony handed us a sheet with the weather report for the week. The report was for sunny weather for the first four days, then turning cooler with occasional rain on the final days of the trip. This last week in October was on the cusp of the good biking season, when the weather would be changing abruptly and the first rains would be arriving. Also, the days were getting shorter quickly, and the time change away from daylight savings would occur in just three days. Our biking hours would be much more limited than they had been for our usual July trips in Europe.
Tony also handed us guide books that had been specifically prepared for our trip.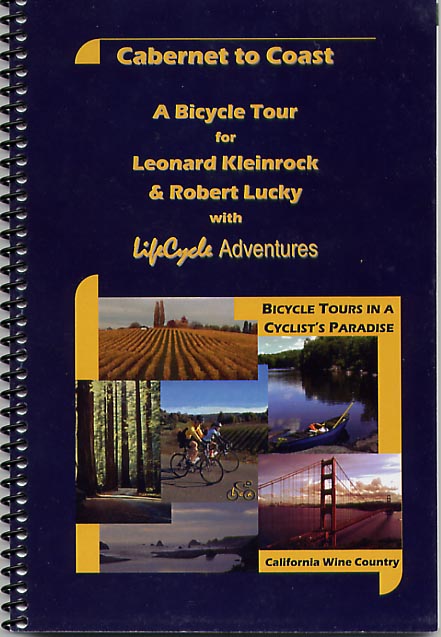 b
Our Customized Guide Books
The guide books were enclosed in zippered, tranparent holders that could be attached to handlebar bags. I took a quick look at the contents and saw daily maps, turn-by-turn instructions, and information about places to visit, restaurants, and sight-seeing. But for the moment I put the book aside. "How long does it take to get there?" I asked Tony.
I think both Len and I were surprised by Tony's answer that it would take about 2 1/2 hours to get to the start of our trip at Napa. It was already 1:00pm, and we would have to bike about 30 miles to get from Napa to our first night's lodging in Calistoga. Moreover, we wouldn't be able to just jump off the van and start biking. We had panniers to arrange, clothes to change, and bikes to set up with handlebar bags and our precious GPSs.
Tony said that he would need about a half hour to brief us on the trip, and that he was flexible about where we would be left off. In fact, he suggested that he should take us all the way to our hotel in Calistoga, from where we could take a short, circular ride at the end of the day. Darkness would arrive about 6:00pm, and it seemed to me that there wouldn't be time to do anything other than go straight to our destination. Len was more inclined to be let off some miles away and finish the trip on our bikes, but he agreed to go along with my decision. I was probably biased by the fact that I'd been up since about 2:00am, California time.
We passed through Napa several hours later and proceeded north towards Calistoga, motoring on the roads where we had originally thought we would be biking. Finally, at 4:00pm we arrived at the Garnett Creek Inn in Calistoga where we would be lodged that night.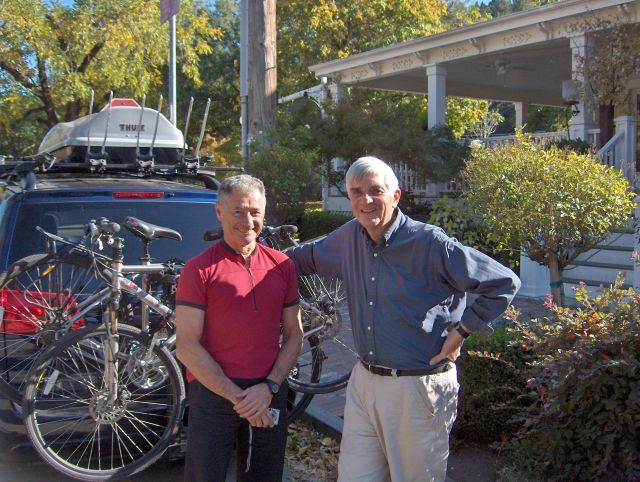 Arrival in Calistoga
Tony removed the bikes from the back of the van, and I took the first look at the machine that was to be my friend for the next week. That first look was very favorable; the bike was well made, fairly new, and looked quite sturdy. It had front and rear disk brakes, a total of 24 gears, and adjustable shocks. It was only in the days that followed that I became more critical as I discovered that the bikes were relatively heavy and that the lowest gear was not as low as I would have preferred for the hills we were to encounter.
The manager of the Inn came out on the porch and greeted Tony. In the days to come, wherever we stayed, the people at the hotels and B&Bs knew Tony and LifeCycle Adventures. He had worked the ground and made a good welcome for us wheverever we went..
We sat on the porch of the Inn with Tony as he went through a briefing about our itinerary and equipment.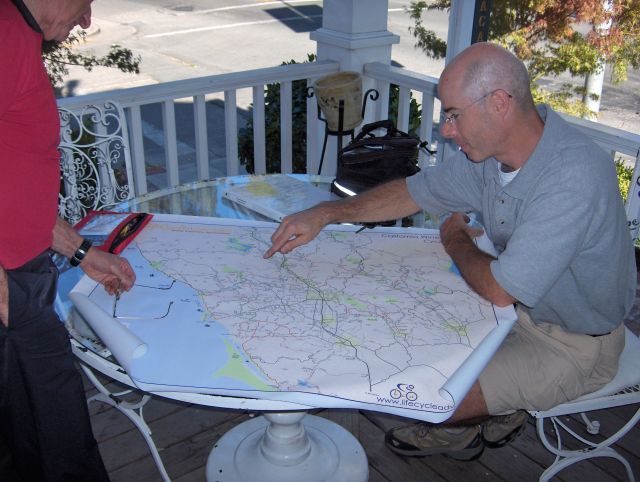 We get briefed by Tony Blakey of LifeCycle Adventures
Tony rolled out the big map shown here and talked us through where we would be going. I confess it was the first time that I had put the route into perspective as to where we would be traveling within California. I had had a contentious responsibility for the past couple of months that had fully occupied by attention, and I had given much less consideration to this trip than any other we had taken. I was fortunate that Len had taken the initiative to make the necessary arrangements and get me away from my entanglements.
Tony had justifiable pride in his big map. He had created the map himself and had adapted its format to convey biking information. The width of roads indicated traffic, while the color (black, red, green) indicated biking difficulty. This is always a concern for me; that conventional maps tell nothing about whether a road is good for biking. The necessary missing information would include volume of traffic, presence or absence of a shoulder on the road, and steepness and length of hills. It would be nice to know if the scenery is interesting too. In driving you don't often care about scenery, but on a bike it's often the reason you're there in the first place.
"What software do you think I used to create this map?" Tony asked us.
"Powerpoint," replied Len instantly.
Tony was surprised that Len had gotten the correct answer immediately. Of course, he didn't know what I knew -- that Len is a master of Powerpoint. Even so, I wonder even as I write this how Tony was able to edit an existing map in Powerpoint to do such operations as changing the width of lines (which were presumably bit-map images in their original format).
I don't have Tony's big map, but here's an rough overview of our route -- the thick yellow line -- shown on a Garmin Mapsource chart.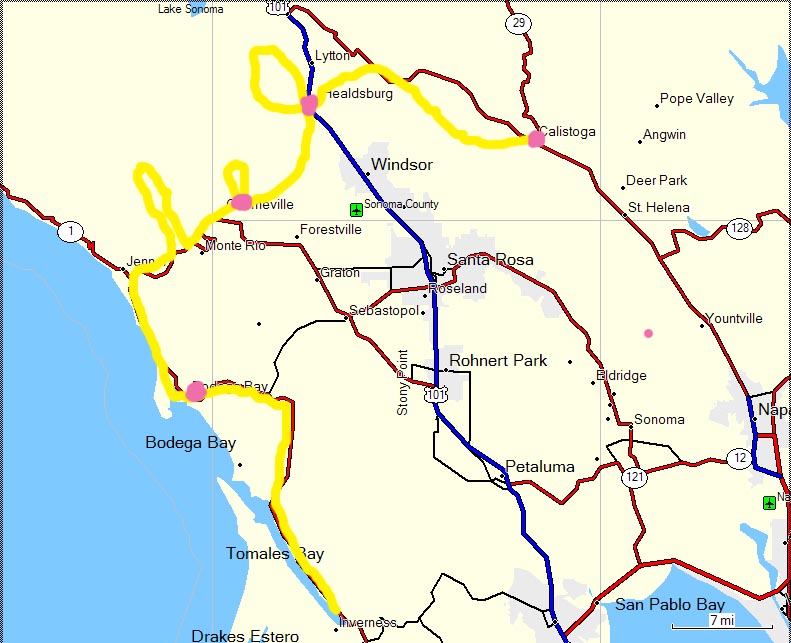 Overview of Route
Our guidebooks contained maps for each day, as well as turn-by-turn instructions with mileages at each turn. Here's the map for the trip we would take the next day from Calistoga to Healdsburg.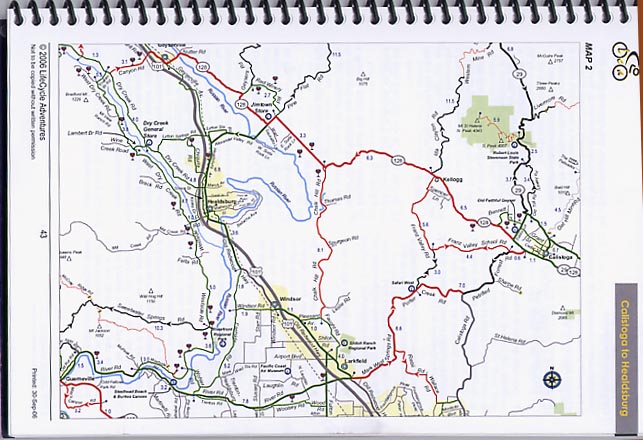 Typical daily map in the guidebook
These daily maps also used Tony's color-coded bikeability indications. However, the legend in the booklet says that green roads are "rolling highways with a shoulder and flat to gently rolling terrain," whereas red roads are intermediate highways with "more traffic and extended climbing and/or no shoulder." Unfortunately, these descriptions always left me pondering whether a red road got its color from traffic, hills, or lack of shoulder.
On Tony's maps hills are marked with arrows in the upwards direction. Thus "->" is uphill and "<-" downhill in the direction of travel. Here, also, I had some doubts. What is a "hill" is rather subjective. On the first day there was a hill marked which I didn't think really qualified, and I'm pretty sensitive to this. In contrast, on the last day there was a killer hill that wasn't marked. As I said, it's rather subjective.
Tony drew his finger across the roads we would traverse the next day. "This is a long hill of about 2 miles," he pointed. I asked what was the total gain in elevation. He didn't know that, but said that the slope was about 7% over the whole length. I was a little uncalibrated, but that sounded bad. Not to get ahead of myself, but it was indeed!
Tony explained where we would be met on the last day. There was even a picture in the guide book of the building in Point Reyes where the van would wait for us. He apologized that he would not be there, but that we would be met by his associate Fred Ackerman. He himself would be in Costa Rica participating in some dreadful (my word) bike race through the mountains where you apparently had to carry your bike through swamps and fight off robbers. Stuff like that. I was impressed. Maybe that 2-mile hill wasn't so bad after all. (Wrong!)
Tony opened his bag and started taking out stuff for us. Did we want this, and did we want that, he asked? How many spare tubes did we want? I said two should be plenty. (Wrong answer, I was to discover.) How many pumps? One, I said, and again it was wrong.
We took a patch kit and one universal bike tool, but we declined the odometers. We had our own GPSs for mounting on the handlebars. Not only would the odometers be redundant, but there would be little room left on the handlebars after mounting the GPSs and the handlebar bags.
While Tony was still explaining something or other to Len I took the first ride on my bike-to-be. I circled for half a block down the street. The seat felt funny. Dismounting, I discovered that I had taken Len's bike. The only difference was that Len had brought his own seat. That seat consisted of two small pads separated by a gap designed to "protect one's valuables." Needless to say, it was the subsequent object of various jokes.
LifeCycle Adventures had asked us previously for our height and weight, so that they could match the bikes to our sizes. In every other trip we have taken the bike rental firms have asked us these same questions, and in every case they have ended up giving us identical bikes, in spite of our differences in height and weight. Here also our bikes were identical. Except for Len's custom seat, of course.
We said goodbye to Tony and thanked him for the excellent, personal service. Our rooms turned out to be in an annex two blocks across the street from the small Inn itself. We walked the bikes and carried our equipment as the manager guided us to our rooms. Well, it seemed to be room, singular. Fortunately, there was another vacant room right across the hall and I took that one.
It was already 5:00pm as I rejoined Len in the backyard of our annex to mount our equipment on our bikes. As I was mounting my handlebar bag and GPS I heard singing from an open window on the other side of the small lawn. The singing stopped and the door opened. A young man came out carrying a bottle of beer, apologizing for the singing. As I worked away, he queried me about our trip and our bikes. He brought out his own bike for comparison. A passing woman, having overheard his singing, asked if he had a band. He said that he did, but that he was the only member of his band. I got sort of anxious to finish my assembling.
Finally, we were ready to rumble. But there was only about a half hour of daylight remaining. Len said it was a good thing I had convinced him to be taken all the way to Calistoga. Tentatively we started down the street and turned on our GPSs for the first time. We both use a Garmin eTrex, although Len has a better model than mine. In other trips I've programmed the GPS to display our intended route so all we have to do is to follow the "breadcrumbs" on our GPS. This time, however, my head had been elsewhere, and Tony had provided us a great custom service by entering waypoints and routes for our suggested trip in .gpx format. Because of Tony's work we had routes for every day of our trip programmed into our GPSs. I was hoping that Tony's work would be useful for other clients in the future, and at the end of our trip I suggested to his associate that they rent pre-programmed GPSs to clients. In retrospect I'm no longer sure that's a good idea, since even though Len and I are old hands at using our GPS, we spend a lot of time fumbling around with them, trying to get them to do this or that. For example, my GPS thought that it was June 15, 2026, and I spent at least an hour or more trying to change the date without any success.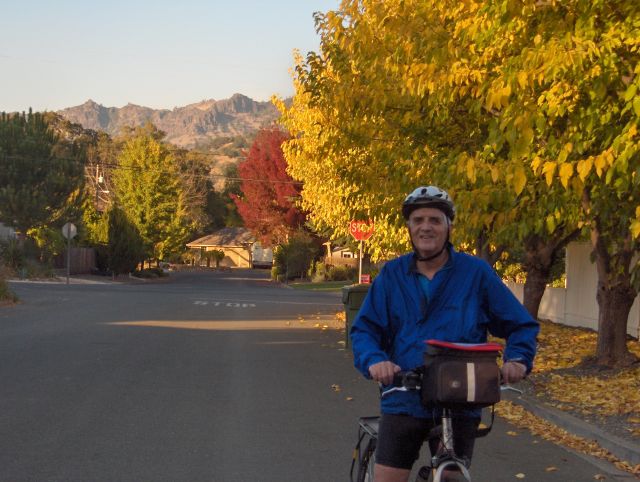 As darkness aproaches, we're finally ready to bike
Tony had explained to us a circular route that we could use to explore the Calistoga region. However, we were immediately disoriented, and had no idea which way to go. In the end we went about 3 miles around some nondescript streets. As you can see from the picture, the scenery was nonetheless quite nice. The mountains made a nice backdrop for the fall colors. Also, after a sunny and hot afternoon, the temperature was dropping suddenly, hence the jacket and pants.
After our short ride, we changed into our "other" clothes and walked a short block to Calistoga's main street.
Calistoga's main street
We were looking for a good restaurant. We passed several art galleries and other tourist-oriented stores, as well as the more normal stores for residents. We passed several restaurants, some of which looked good but were empty. We chose a busy, large restaurant and had our first meal of the trip. We usually use our dinners to celebrate a successful day of biking, but after having only 3 miles, maybe this didn't qualify. Nevertheless, we celebrated the start of our trip with a toast of our wine glasses.
In the dark we walked back to the Inn and then to our annex.
The Inn at night
Proceed to Day 2 of the California Trip
Back to the Overview Page for the California Trip