Biking Northern California -- Wine Country and Coast
Day 2 -- Calistoga to Healdsburg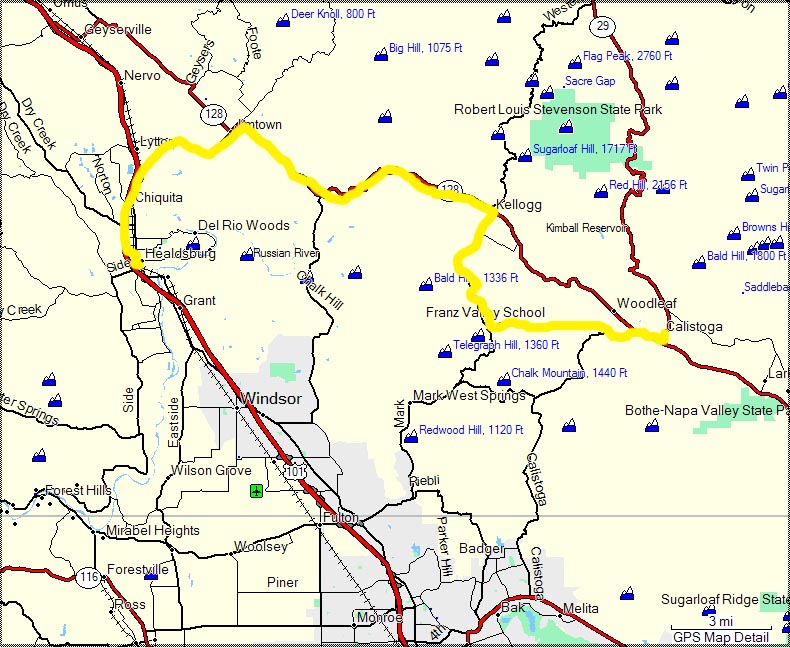 Route for Day 2
Breakfast at the Garnett Creek Inn was at 8:30am back at the main house. It was quite cold and though the sky seemed clear, there was no sign of the sun yet. We both wore pants and jackets. It seemed too cold to bike, but perhaps if we dallied long enough over breakfast it would warm up.
The proprietor gave us the morning San Francisco newspapers to read in the lounge as we waited for breakfast. Apparently, people normally ate breakfast on the porch, but on this cold morning that was a non-starter. After a comfortable delay we were served coffee, orange juice, cereal, and a pastry as we sat on a couch. In an adjoining room there was a young couple from Chicago taking their first trip in California. They had a driver to take them various places, which seemed a bit unusual to me.
I took my time over coffee and suggested that we wait for about 10:00am before starting out. Where was the sun, I wondered? Would it ever warm up? We decided to ride our bikes into town and find a grocery store to get food for lunch. There would be no places on our projected route where we could find food along the way. In fact, this was to be the case on most days of our trip.
At the far end of Calistoga's main street we found a CalMart and got bread, meat, and fruit to carry for lunch. Now at 10:45am or so it was beginning to warm up fast, so we returned briefly to our rooms to take off our pants and jackets. Finally, we left a little after 11:00am. We had successfully waited until it was hot.
Fortunately we had our GPSs to lead us out of town along the route that Tony had laid out for us. I say fortunately, because I was seriously disoriented in Calistoga. I could never get into my mind the orientation of the town with respect to our lodging, our route, and the compass directions. Even thinking about it now in retrospect I'm confused. I was so convinced we were going wrong that I asked a man getting into a truck how we should go to get to Franz Valley School Road, the big hill. He pointed in the opposite direction and gave some complicated instructions, adding that he lived on that road himself. His last words to us were, "I hope you ate your Wheaties this morning." That sounded pretty ominous to me.
So we ignored the complicated instructions, which we had instantly fogotten anyway, and followed the GPS route slavishly out of town, with me still convinced we were going in the wrong direction.
Shortly out of town our guidebook had noted that there was a tacky tourist attraction called "Old Faithful of California," not to be confused with the Old Faithful in Yellowstone Park. The parking lot for this geyser was right on our route, and we briefly debated going in. It cost $8 to see the geyser, which apparently was privately owned. But the rationalization is that you're right there, and you're never going to be there again. So we asked the cashier when the geyser was next scheduled to go off. She said in about 5 minutes, so we paid and waited with a desultory crowd of about a dozen tourists. We waited the 5 minutes and nothing happened. We waited another 15 minutes and nothing happened then either. Maybe this geyser wasn't so faithful after all. Or maybe the attendant had lied.
Finally the geyser burped a little and people aimed their cameras. Then it went quiesscent again. Was that it, I wondered? Another 5 minutes went by and then it exploded into a stream about 40 feet high. I took the obligatory picture. Cross off the geyser, it was time to move on. As we left we went past a couple of add-on attractions, such as the "fainting goats," whatever that was. This place was really pretty tacky, but I can't say that the guidebook didn't warn us.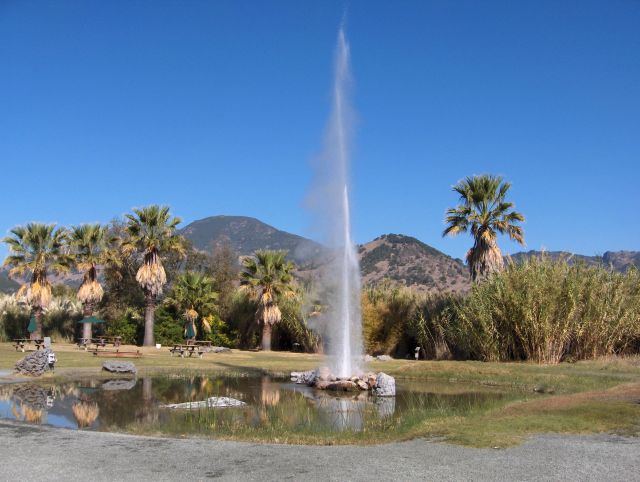 Old Faithful of California
It was already noon and we hadn't even begun our 31 mile trip for that day. According to our maps the "big hill" was only about a mile away. After a short ride on a main highway we turned off onto the designated back road. The hill was to be a right turn in about a quarter of a mile from this turn. But as soon as I turned off the main highway I heard and felt that "thump thump" that sickens any biker. I had a flat tire. It was the back tire, of course. It's always the back tire -- the hardest to change and the one that carries most of the weight.
I quickly removed the tire and extracted the tube. The cause of the flat was obvious, as there was a nail sticking through the tire. I inserted the spare tube that I had taken and reformed the tire. That was the easy part and it went quickly, but now for the work. All we had was a small hand pump, and it took about 200 pumps to inflate the tire. I was beat. Then I had all kinds of trouble trying to get the wheel back on the bike. I don't know, but somehow I never could figure out where the chain and derailleur went, and the stupid wheel refused to fit back into the disk brakes and the frame. By the time I finally got it fixed I was completely exhausted. And the big hill was right ahead.
A short ways ahead there was a sign for our turn-off. And there to our right was one of the steepest hills I'd ever encountered. It was impossible to bike, so we both walked our bikes slowly up the hill. Even walking the bikes was difficult. Len especially had the problem that his bike wanted to rear up like a stallion and fall back on him. All the weight was in the back panniers and the hill was so steep.
About a hundred yards up the hill the road split in two and we didn't know which way to go. I waited, exhausted, while Len explored the left hand branch. He left his bike and went on foot. Shortly he was back and reported that the paving ended just a little ways ahead. But the other branch also seemed to suffer the same fate. We didn't know what to do. Maybe we were on the wrong road, but the problem was that if we went back down the hill and discovered that this was the correct road, we'd have to walk our bikes up this impossible hill again. No way I was doing that!
Len took out his cell phone and called Tony back at LifeCycle Adventures. Fortunately, Tony was there and he seemed to think we were on the wrong road. Reluctantly, we went back down the hill. I was thankful for the disk brakes, because good brakes were the only thing between me and disaster. Len wasn't taking any chances. He walked his bike down the hill.
Here's Len at the bottom of the hill.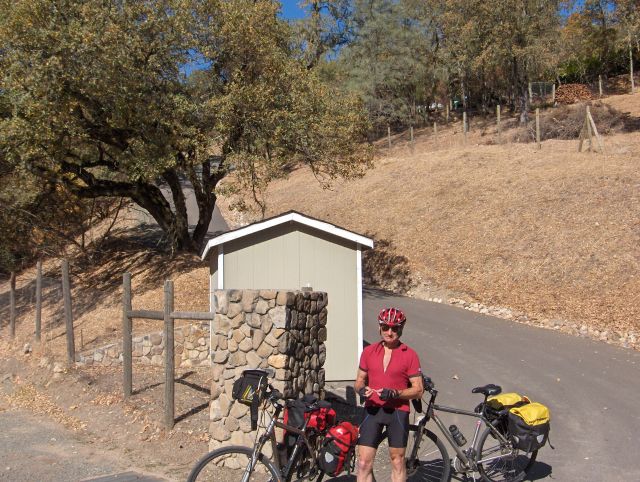 A wrong turn leads up an impossible hill
Now we belatedly noticed that this was a private road. The correct turn was about 30 yards ahead. It wasn't nearly as steep, but it went on forever. This was the first hill for this bike, and I slowly discovered that it wasn't well configured for hills. I recalled that in France the previous year I had gone up long hills slowly and steadily with no problem. But now I was forced to stop fairly frequently to rest and catch my breath. The bike was quite heavy, but the bigger problem was the gearing, which I think was 28/32 (crank teeth/rear axle teeth) at the lowest gear. Although this is a standard gearing on some hybrid bikes, many have 22/34 as the lowest gear, as do virtually all mountain bikes.
I thought the hill would never end. I slowly passed a light truck pulled over to the side. The driver was eating a sandwich. I was embarrassed to appear so incompetent. I asked him how far it was to the top of the hill. "A couple of miles," he replied. I coudn't believe this. According to my GPS I had already gone 1.5 miles up the hill, which was supposed to be 2 miles long. Then the driver added that the distance included some ups and downs after the first peak. I didn't know whether that was good or bad. I was just trying to get over a cold, and my nose was running like a faucet, while my mouth had turned to cotton.
After an eternity, I reached that first peak, where Len had been waiting for some time.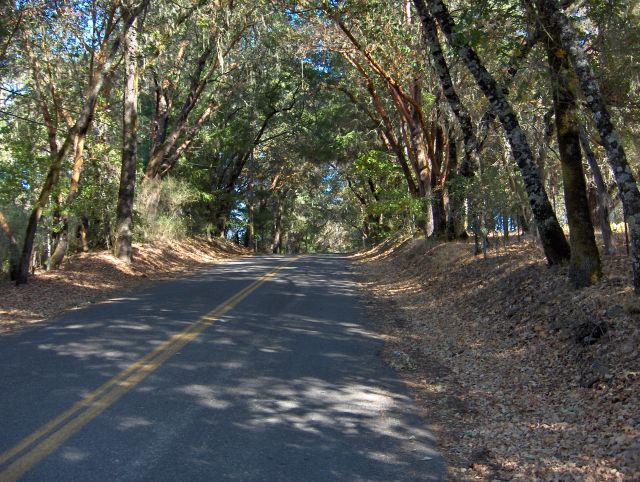 Nearing the top of the long hill
As I collapsed at the side of road, Len confessed that Tony had offered to ride us up the hill if we wanted. It didn't matter, since I couldn't possibly have accepted such an offer. But now was a bad time to bring it up.
We started out again. There were indeed ups and downs, but they weren't so bad in comparison. After a few more miles, we were out of the hilly, forested region and into a region of vineyards.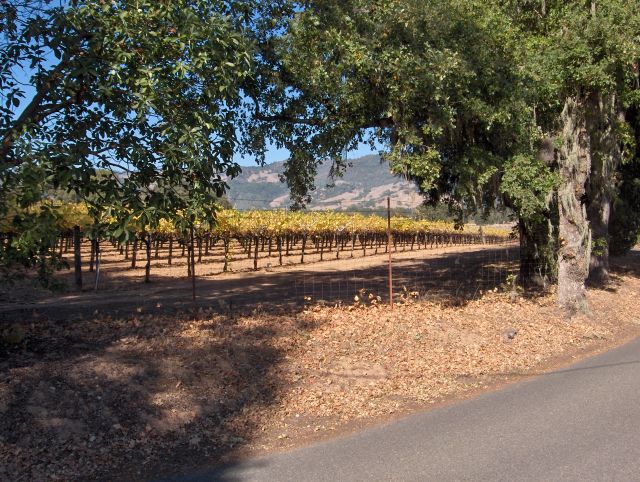 Now we're passing vineyards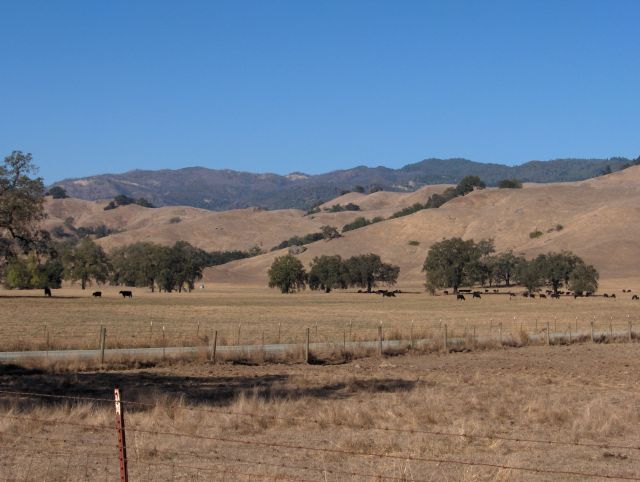 Cattle graze in the foreground, while mountains form the backdrop
We stopped for a late picnic lunch at a crossroads where there was a multitude of signs pointing to various vineyards.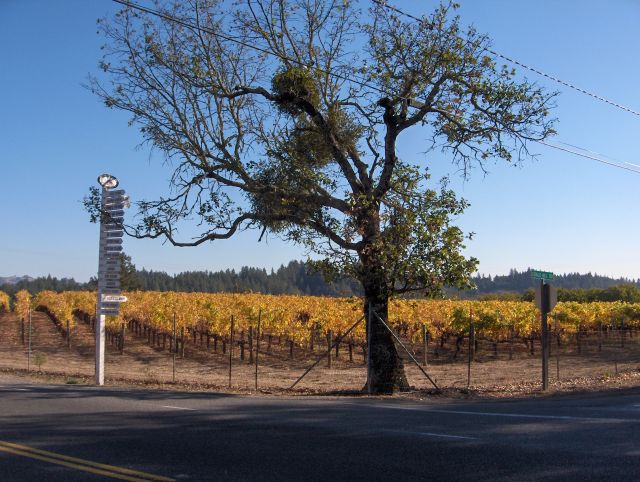 All those signs are for vineyards
According to the guidebook we were supposed to drop in to some of these vineyards to taste wines. Although Len and I enjoy wine with our dinners, neither of us is a wine expert. We can't talk a good game, like in the movie "Sideways." But that's what this region is all about, and how could you come back from such a trip and say you didn't visit some of the vineyards? So presently we turned off to one of the vineyards that was recommended in our guidebooks.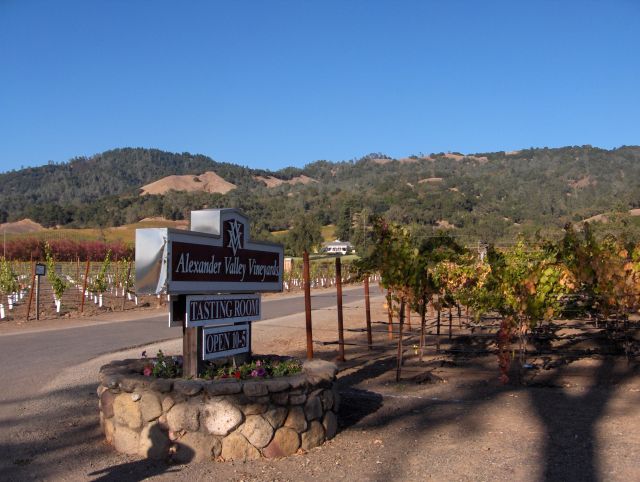 The Alexander Valley Vineyards
There was a counter in the main room and perhaps a half dozen people were standing at it sampling the featured wines on a menu of about ten choices. The attendants would pour a small amount of one of the featured wines and give a lecture about that wine. The wine was free, but we had to endure the serious wine talk, right out of "Sideways." The other people at the counter seemed to be placing orders as they sipped their samples conscientiously. It was pretty obvious that we bikers were going to be freeloaders. Nevertheless, I have to say that at this and the other vineyards we visited we were always treated the same as the paying customers.
A few more miles down the road there was a general store of some note. At least that's what the guidebook said. Len had a fixation about getting a root beer float. The people at the store said that they didn't have root beer floats, but that they could sell him the ingredients and he could make his own. I think he just got a root beer, while I had an ice cream cone. I think I was too tired to enjoy it.
Healdsburg was only about six or seven miles away now, but it was getting late. It had been hot, but it was quickly cooling down and dusk was fast approaching. But finally we were on the main highway leading down to Healdsburg. Len's cell phone rang, and it was Tony asking how we were. Len said it was only five miles to Healdsburg and that we were all right.
Well, we weren't exactly all right, as it turned out. Len had pulled off the road, and as I came up to him, he pointed to his back tire. "It's flat," he said disgustedly.
This was going to be a race against darkness. I quickly changed his tire, using our other remaining spare tube. I have a lot more experience than him at doing this. But I told Len that he would have to pump the tire up and put the wheel back. That was the part that had exhausted and frustrated me earlier in the day with my own flat. In fact, he did it a lot faster than I had.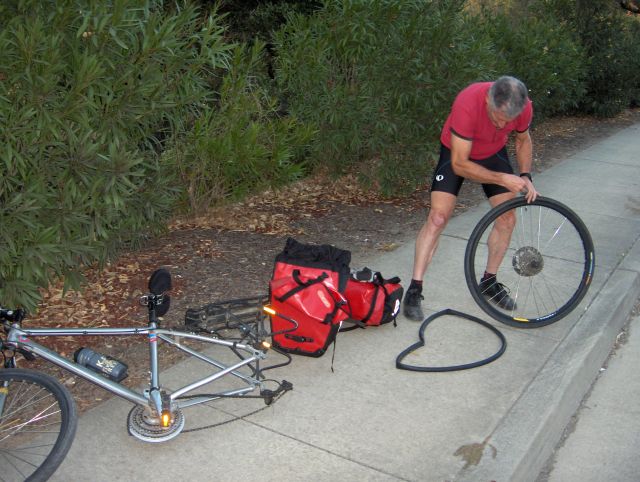 We change Len's flat
Now it was getting pretty dark, and obviously we didn't have lights. We coasted quietly past a police car, getting eyed suspiciously, or so I imagined. But eventually and without further mischance we reached the town center and followed the directions in our guide books to the bed and breakfast where we had reservations, the Camellia Inn.
I watched the bikes outside the Inn, while Len went in to get our rooms. It was a beautiful, Victorian house, but we knew that we would be in an annex apartment a couple of blocks away. We also knew that we would have to share a bathroom, and I was reluctant to that arrangement, having been locked out of a shared bathroom on a business trip some years earlier. However, Tony told us that if we were to change to another lodging with separate bathrooms, that it would cost $500 more. For that amount, I figured I could stand being locked out.
Len seemed to be taking a long time to get the keys. Presently he came out a gave me a cookie to munch while he went back. They were having a wine tasting inside, and shortly he came back with a glass of wine for me. Eventually, we biked back past the main street and down a small side street where our apartment was on the second story. It had been suggested that we carry the bikes up to the porch for safety during the night. That was all I needed after a strenuous day, carrying that awkward thing up two flights.
But the apartment was really very nice. There were two bedrooms, a kitchen, and a sitting room. It appeared that someone lived there ordinarily. There was even a computer, already turned on and connected to the Internet. For better or worse, I was going to be able to access my email. At least I would have no excuse.
A hot shower felt so good! I was almost back to being human. Well, almost. Unfortunately, while taking the shower I had noticed that the bathroom was missing a critical ingredient -- there wasn't any toilet paper.
We walked the short block back to the main street, looking for a restaurant. Healdsburg was clearly very upscale. There were many good-looking restaurants, and they were all full. We asked for a table at several and were told that they were fully booked. One place suggested that we could sit in the lobby and they would bring the food out to us. We wanted more ambiance than that. Finally we were lucky enough to get the last table at a fine Italian restaurant.
Back at the apartment, I checked my email. It was bad news, and I wished I hadn't.
Proceed to Day 3 of the California Trip
Back to Overview Page for the California Trip