Biking from Spring Lake to Point Pleasant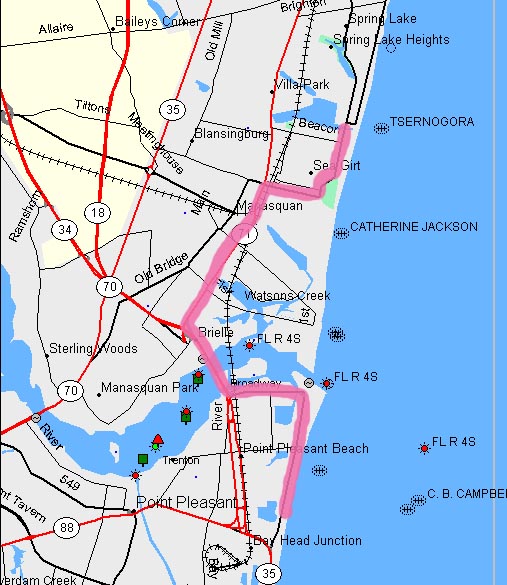 Description:
Unfortunately, much of this route is unpleasant, along a major highway and away from the shore. There isn't much choice, because there are no roads or bikeable boardwalks that are on the shore. There is a military base along one of the inlets that also blocks passage. Nonetheless, it is worth the aggravation to get to Point Pleasant and to points further south.
Length:
This route is 5.5 miles, one way.
Surface and safety:
Most of this section is on Route 71, a busy highway. The shoulder is mostly adequate, though unmarked. There are several "Y's" in the highway that seem to be quite dangerous for bikes going through the left branch of the "Y", while cars take the right branch. There is an impossible left turn at the south end of the Point Pleasant bridge. It isn't so much dangerous, unless you get impatient, as it is exceedingly awkward.
Points of interest:
There are beautiful homes in Sea Girt, immediately following Spring Lake. After that, there really isn't anything to see until you get to Point Pleasant, which is the first real Jersey boardwalk in this guide.
What's not to like:
The highway is really unpleasant. It makes me not want to bike this section, but a couple of times a season I like to get to Point Pleasant to experience the ambiance of a genuine boardwalk/park.
Parking:
You can park anywhere on this route except near the beach in Point Pleasant. There, during the summer months you'll have to park several blocks away from the beach. Of course, that's not a problem if you have a bike.
Photos and comments: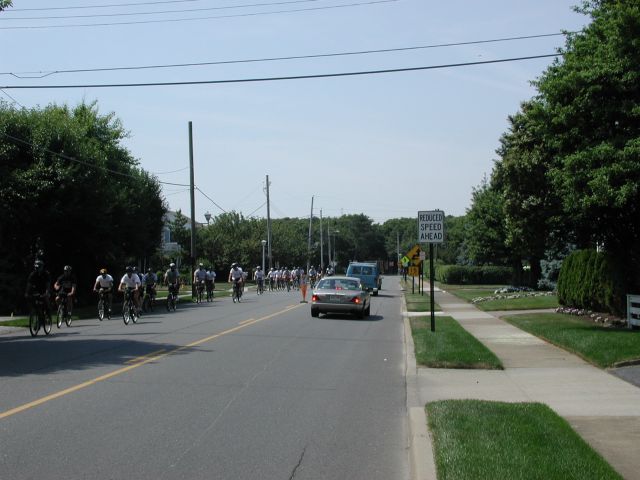 Heading south from Spring Lake into Sea Girt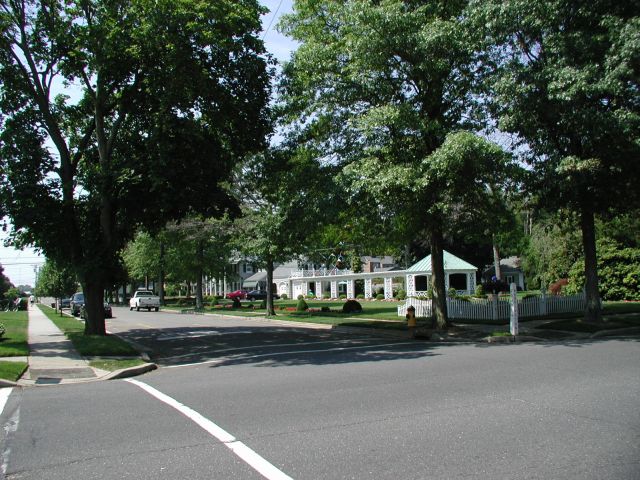 Charming homes in Sea Girt as you head inland away from the shore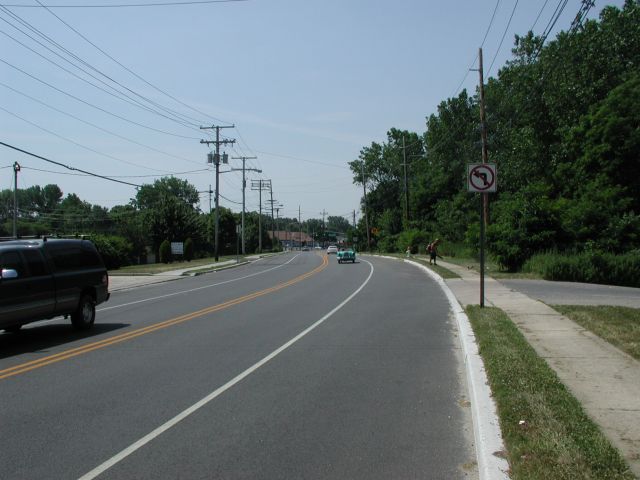 Heading south on Route 71
There's a wide shoulder on Route 71 here, but that soon disappears. You can see how boring it is.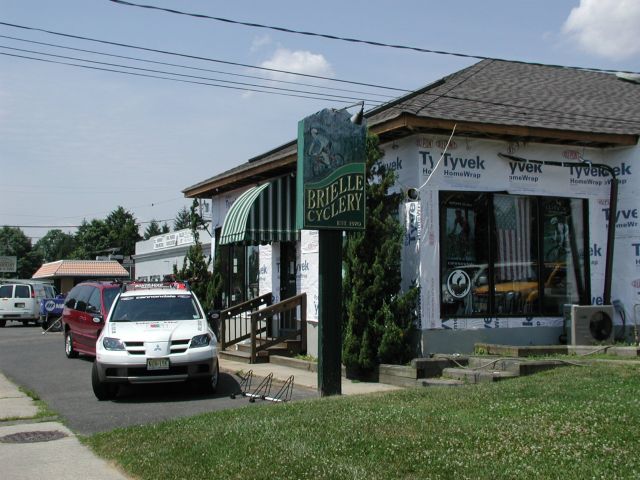 The Brielle Cyclery is on Route 71
You pass this bike store (being remodeled as this picture was taken) in the town of Brielle. Do go in and look around. I've bought three bikes there. They are real professionals, and I don't mind giving them a plug.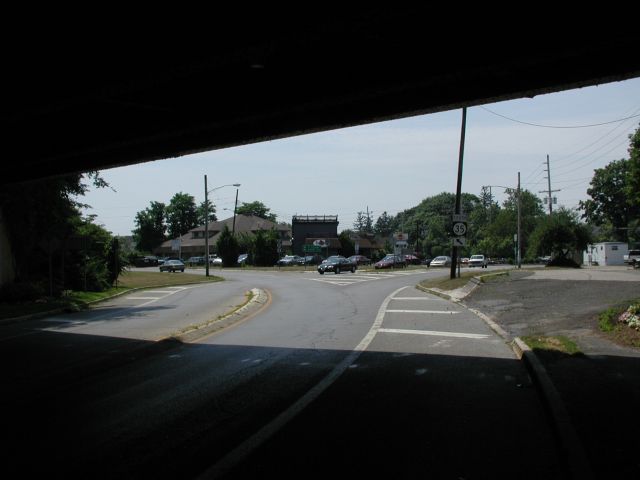 A dangerous "Y" in the highway at the south end of Brielle
This is one of the intersections that scare me. You want to take the left branch, which leads to the big bridge down to Point Pleasant. However, any car taking the right branch might just want to drive through you. I stop and wait here until it's clear.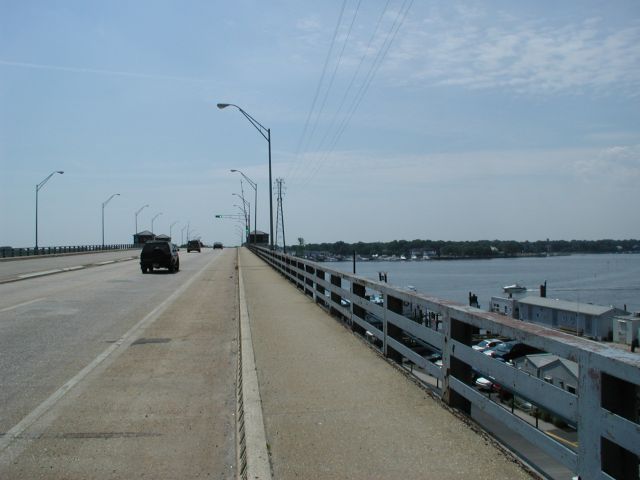 The bridge to Point Pleasant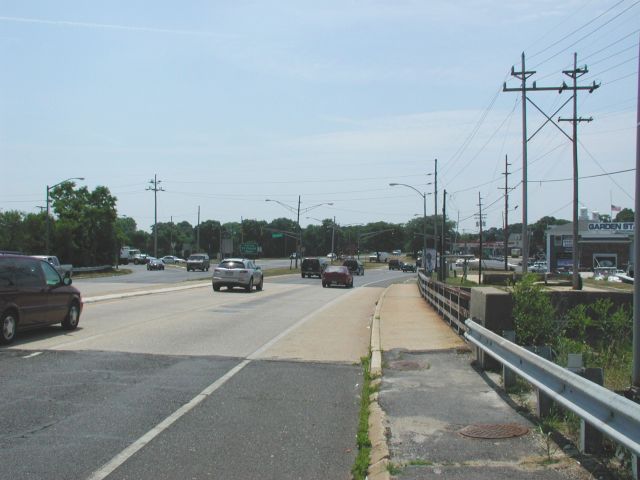 The impossible left turn
So here you're coming south down the bridge, and to get to the beach at Point Pleasant you need to make a left turn up ahead. There just isn't any way to do it. Cars are supposed to go straight and take a left hand turn-around. You couldn't do that on a bike without getting killed trying to cross the two lanes of constant, busy traffic.
I've tried all different approaches to making this turn. All I can say is: you're on your own here.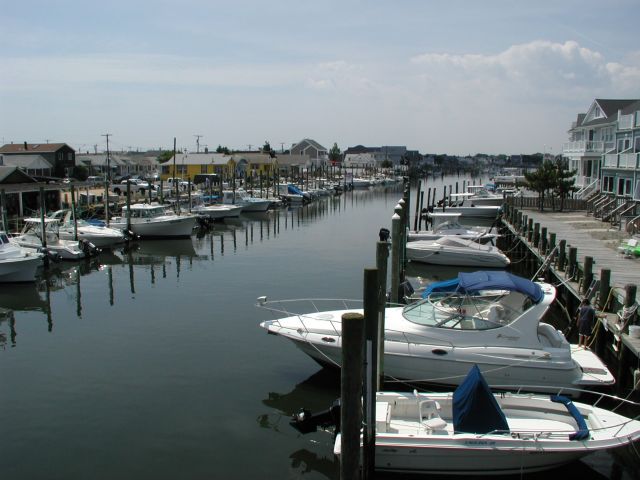 Over the inlet towards the Point Pleasant beach
The reward for making the left turn is that you get to bike a nice street across a picturesque inlet and along the beach.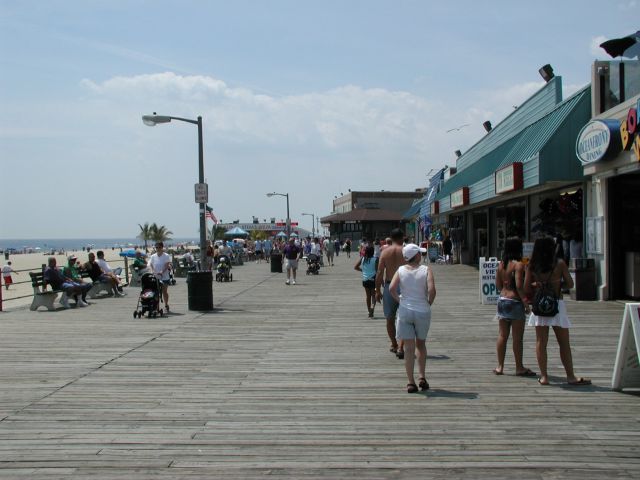 The boardwalk at Point Pleasant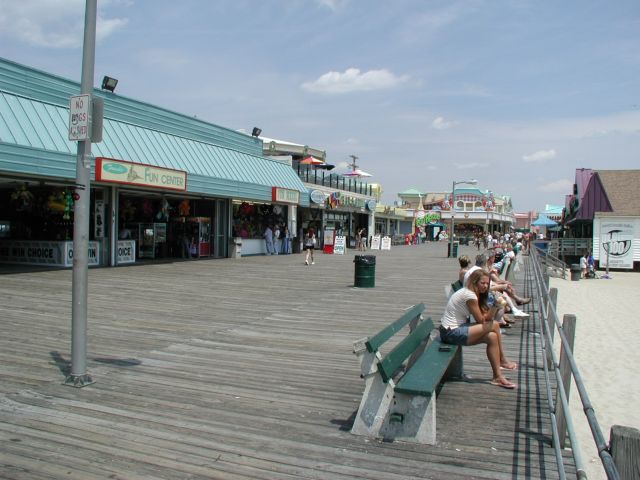 Refreshments, rides, candy stores, and an aquarium on the boardwalk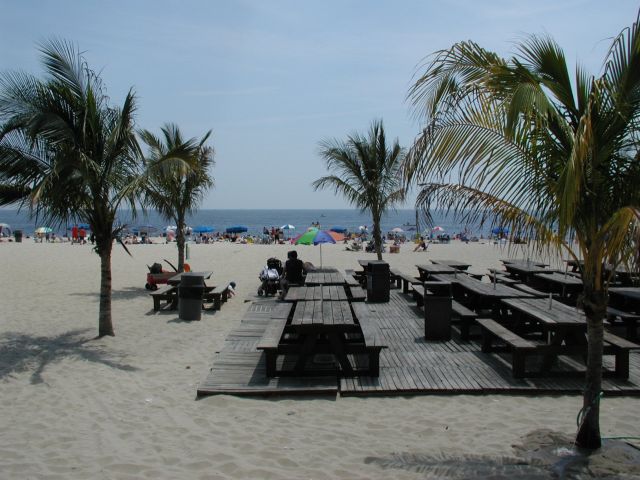 Point Pleasant has a beautiful beach and more of those temporary palm trees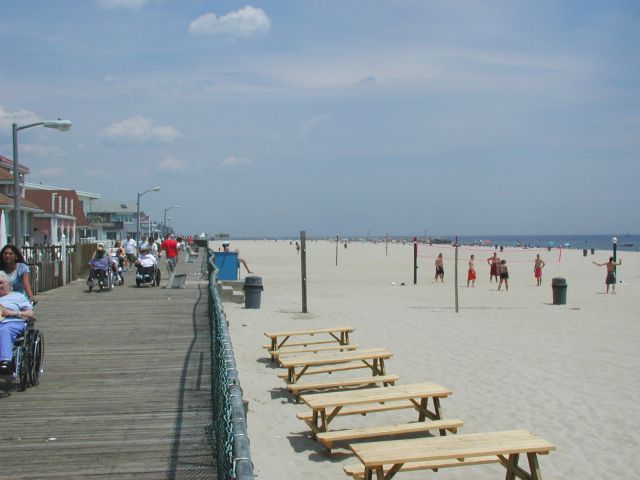 Volley ball courts on the north end of the beach at Point Pleasant
Late in the season there are professional beach volley ball matches here. They really are impressive.
Back to Guide to Biking the Jersey Shore