Biking in Italy -- Bolzano to Venice
Day 4 -- Verona to Vicenza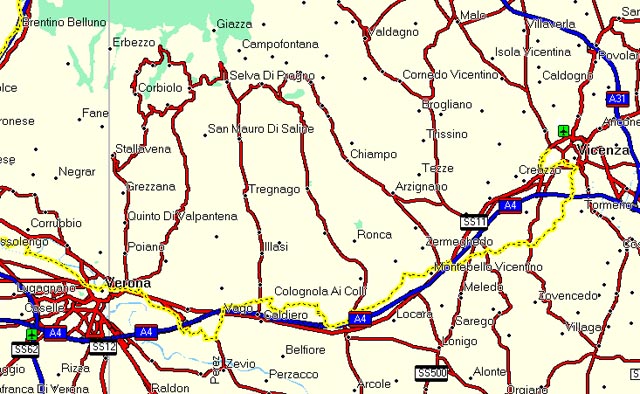 Route for day 4 (from GPS track)
This was the day I had dreaded since I had first learned about our itinerary. It was to be the longest day, and the day with the toughest climbs. The route would end with a 4 km climb over Mt Berici. That climb was marked with three consequtive bold "<" marks on our maps. When thinking about this day, I hadn't appreciated also that it would be about 39 degrees C (102 degrees F).
Nor did I have any premonition that this day would be so ill-fated as it turned out.
So here we are with our bikes all loaded at the hotel and ready to leave Verona.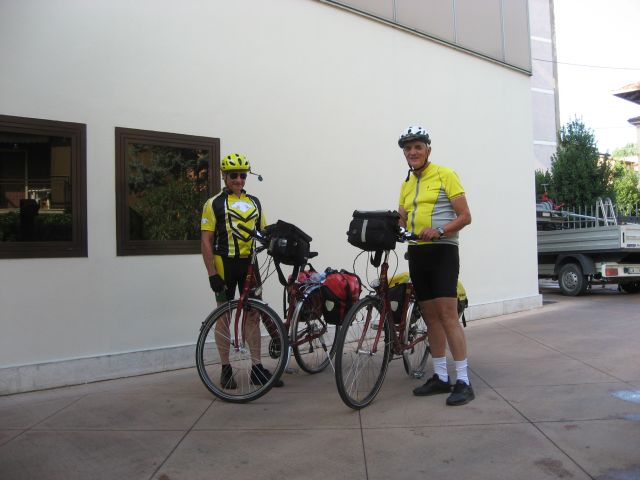 Ready to leave Verona
We got an earlier than usual start because of the length of this segment. Our hotel was on the west side of Verona, so we would have to thread our way through the entire city to emerge out the east. I'm always anxious about city traffic, but perhaps people in Verona (maybe especially the tourists) were late getting up, and traffic wasn't so bad. Without a lot of difficulty we reached the designated "starting point" where you zero your odometer at Piazza Erbe.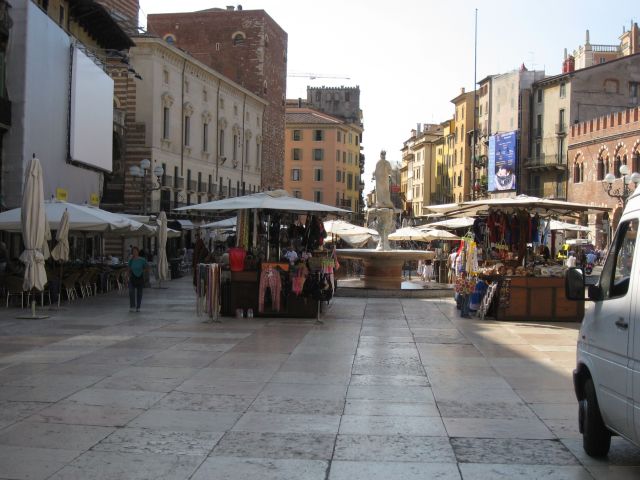 Early morning in Verona
The turn-by-turn instructions took us out of the city on roads that were relatively free of traffic using many detailed turns. I think that Eurobike did a good job here and elsewhere in routing bikers on the most bike-friendly roads -- or perhaps I should say on the least unfriendly roads. I did learn to appreciate the value Eurobike provides in their detailed itineraries. It would have been impossible to have found some of these pathways on our own from conventional road maps.
So in a relatively painless fashion we found ourselves biking comfortably along deserted country roads, heading east towards, eventually, Venice. I kept telling myself that all I had to do was to get through this day and the last two days would be a piece of cake. Those last two days to Venice would be short and flat. It was only today that was in the way.
Biking country roads outside Verona
This is my favorite kind of biking -- a country road all to ourselves, tree-lined and flat. Soon after this the instructions led us briefly to a highway, and after an overpass we were supposed to make a left turn. But here the road was closed for repaving. Moreover, the road looked like it just led into some factory. But since we were following the instructions religiously, we lifted our bikes over the barriers and biked ahead on the new asphalt. Soon we reached an unmarked junction that had no mention on our instructions, so we had to take our chances with bearing left.
We seemed to be doing ok, and now we were on an unpaved farm road. The next turn was supposed to take us down a hill to a fish farm. I wasn't sure what a fish farm looked like, but I soon found out. There was a bunch of fish swimming around in a big tank. I don't think fate had anything good in store for them.
After the fish farm the unpaved road got even worse. Here we biked past agricultural sprinklers weaving a circular pattern. Len timed it right; I got wet. No big deal, we were having fun.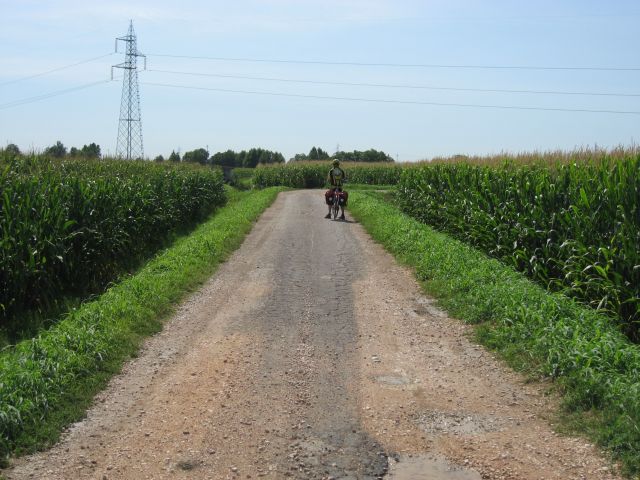 The farm road
But all good things have to end, and suddenly we were on relatively busy highways. We came to a traffic light in a small town, and Len said that he wanted to go back a ways where he saw a store advertising tomatos. He wanted to buy a tomato. Maybe biking past all those crops gave him the urge. I waited for 15 minutes or so while Len bought a tomato. As we left town, there were tomato stands by the roadside.
We were approaching the first of the "bold" hills on today's route. As we left the small town of Pieve our road veered upwards threateningly. As advertised, it was a tough hill, requiring several rest stops for me.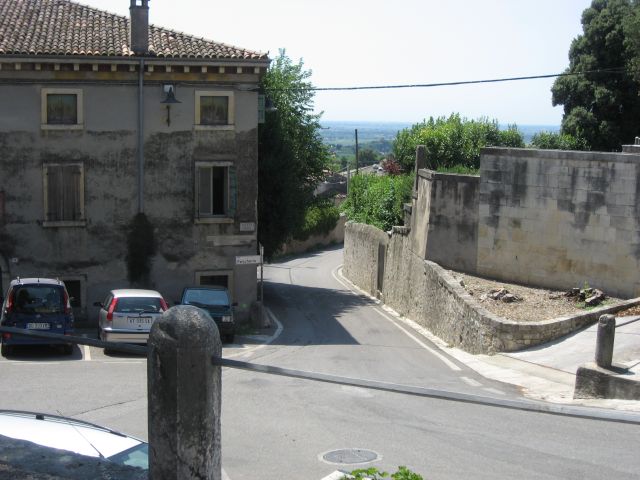 On top of the first big hill
There was some kind of church, or orphanage or something like that here, and I took a break for awhile. Len was tired too, and this was only the beginning of the hills. The good news was that the rest of the hills were still quite a distance away. The bad news was that they awaited us.
Soon we were approaching the town of Soave, where in the distance we could see an impressive castle.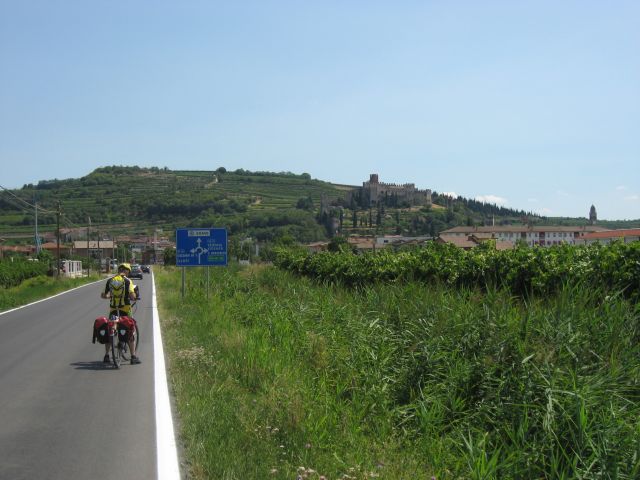 Soave, with castle
In Soave we were less interested in the castle than we were in getting something cold to drink. Once again it was a town that seemed deserted in this time of siesta. On a side street we found a little cafe, where we bought as many drinks as we could chug on the spot and carry away on our bikes.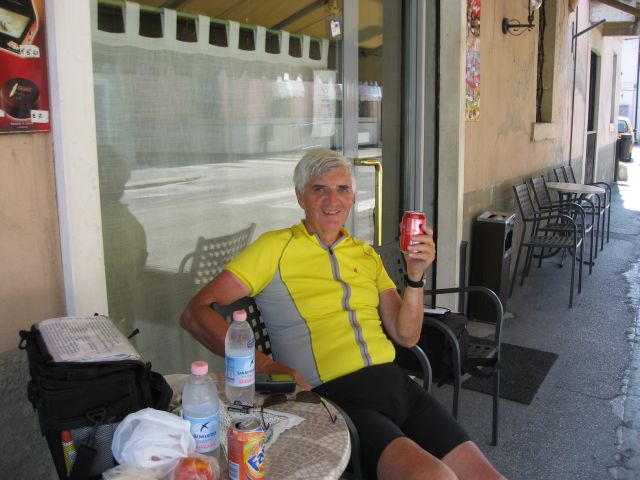 Drinks on a hot afternoon in Soave
After getting regenerated with all these drinks, we biked out of Soave with some casual glances at the impressive castle. Somehow when I'm biking I don't feel very inclined to play tourist. We had a long, tough way to go.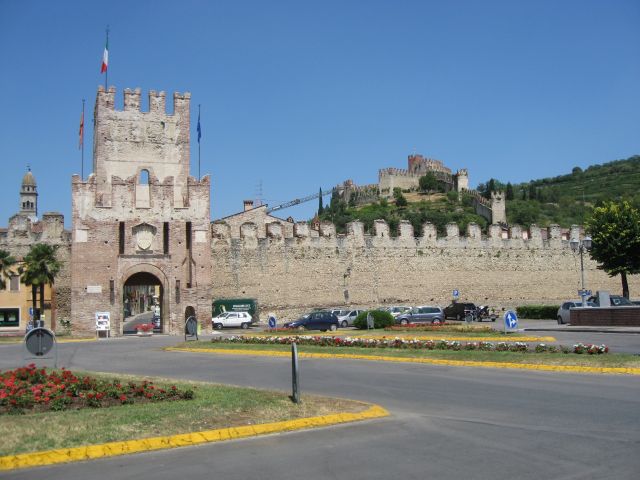 The castle complex in Soave
We biked on highways with moderate traffic from Soave eastwards. I could see the hills approaching in the distance.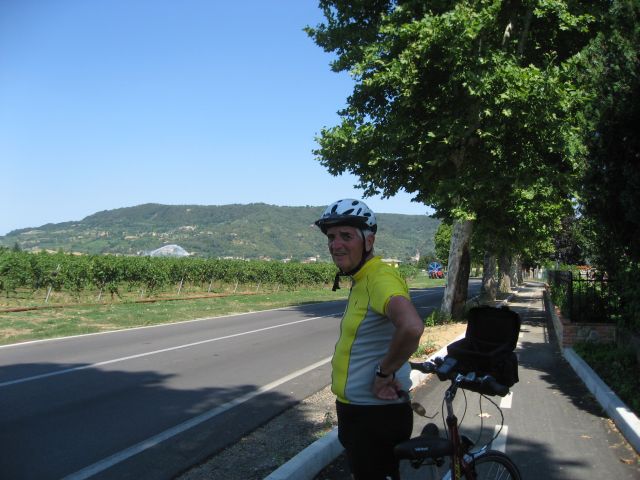 The hills loom ahead
I attacked the first hill. It attacked back. It won.
I made it up to the top here, but without any style points.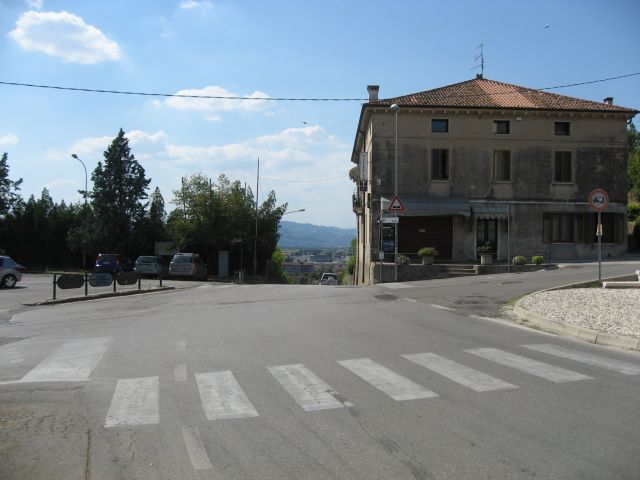 On top of the hill, but no style points
Now came the long hill up Mt Berici. I kept remembering that at our initial briefing back in Bolzano the Eurobike woman had said, "It isn't steep." I wanted to believe this, but "steep" is relative. In the blazing heat I labored upwards, taking numerous breaks where I could find a patch of shade to catch my breath. After a couple of kilometers the hill continued upwards, but the slope was less steep. Finally, I joined Len, who was waiting for me at the top.
While I rested, we discussed the hill. Len thought that only the bottom part was steep. I thought that at least half was steep. Whatever; I was happy just surviving. From here we had a nice downhill and only one more not-bold hill before Vicenza.
As we coasted downhill I noted on my GPS that we reached a peak speed of 35 miles an hour. Too fast for a bike.
At the top of the final hill we reached the landmark I had eagerly anticipated -- the sign for the town of Vicenza.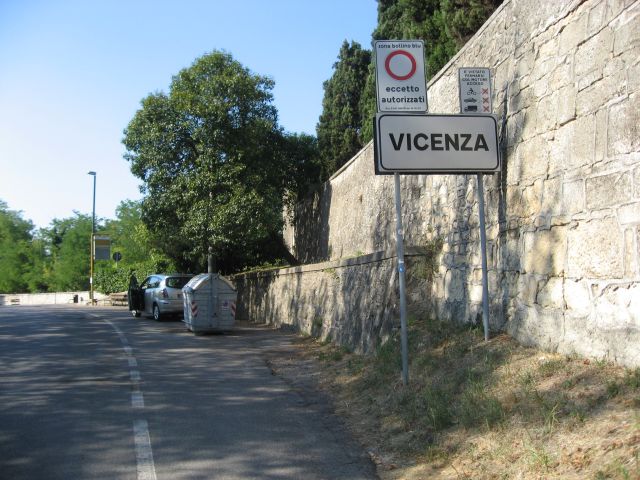 Entering Vicenza
Here was a large church and a panoramic overview of Vicenza.

Panoramic view of Vicenza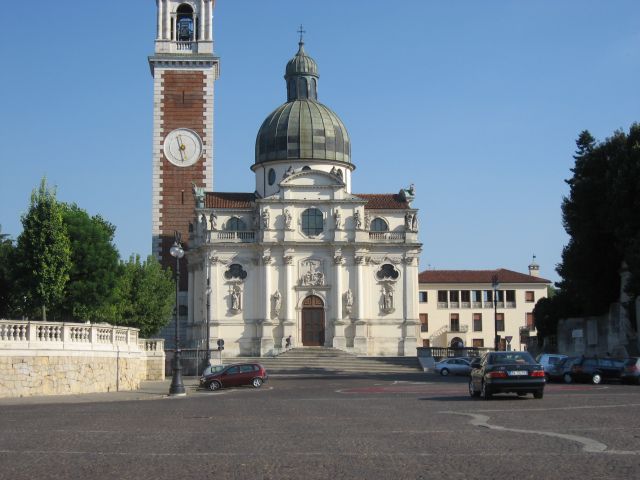 The church overlooking Vicenza
Here I was happy momentarily. It was, tragically, a short-lived happiness. Coasting down the hill to Vicenza, my biking partner Len crashed his bike and was fairly seriously injured.
I don't want to write about the crash and its aftermath. It's enough to say here that biking is dangerous, and that's something that is easy to forget. Downhills are the most dangerous. You're going fast and there is little room for error. A momentary distraction can be disastrous.
Needless to say, we didn't finish the trip to Venice. But Len will heal, and I will eventually remember the good times that we had on this trip.
Back to the overview page for the Italy trip
Back to Bob Lucky's biking page