Biking Italy -- Bolzano to Venice
Day 3 -- Ala to Verona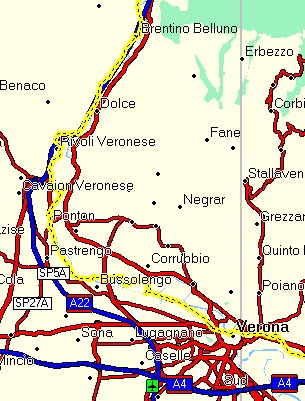 Route for day 3 (from GPS track)
We weren't sure whether or not breakfast would be provided at the strange hotel where we had been put after our botched reservation. Perhaps we would have to return to the original hotel. But when we went downstairs, there was a little breakfast buffet, just for us, since we were the only guests. The small lady who ran the place hovered about, smiling. She spoke no English, and we had trouble communicating with her other than through gestures. Although most people that we met on this trip in hotels, restaurants, and other places didn't speak English, they knew enough English words so that rudimentary communication was possible. Not so in this case. As we were finishing the roll and coffee, she came over to our table and started flapping her elbows. I didn't get it at first, but Len did. She was emulating a chicken laying an egg. Did we want an egg? We shook our heads no, not wanting to inconvenience her further. In spite of the language difficulties, she conveyed a strong desire to please us however she could.
This episode does remind me to mention our own lack of preparation for the trip. It is really inexcusable that neither of us took the trouble to learn a few essential words of Italian. Just knowing the Italian words for "where is", "left", "right", "straight ahead", and so forth would have helped time and again during our trip.
I waited outside the hotel while Len finished getting his bike ready. The hotel had obviously been a small villa, and had recently been renovated to include perhaps a dozen new rooms for guests. There was a stone plaque on its facade that said "Piazza Marconi." It wasn't much of a "piazza", since the villa was the only thing there other than some desultory vineyards. Maybe the name came from a radio tower that stood beside the building. But wherever we have gone in Italy, we have seen things named after Guglielmo Marconi, the inventor of radio. It always has a special significance for Len and me. Both Len and I were good friends with Marconi's daughter, Goia, and on past occasions we have been in Italy with her, and have been greeted and treated like royalty by the President of Italy and other dignitaries.
We had to retrace our path for the 3 kilometers back to the original hotel to rejoin the bike path. Also, we had noticed an ATM machine in the small town center where we could get some Euros.

The small town center in Rivalta
From here we headed south along a country road adjoining the river. We were now leaving the bike path; the rest of the trip would be on roads. But we had hardly started on the road when we came to a barrier -- the road was closed, and traffic was being diverted across a bridge to the other side of the river.
We stopped and contemplated the situation. The problem was that we were following turn-by-turn instructions, like "at 3.5 km turn right." Under those circumstances, when you leave the route, you're fairly helpless. So far on the trip we hadn't paid a lot of attention to those instuctions because we were just following the bike path. From here, however, there would be literally hundreds of small turns that would have to be made to follow a complicated path through unnamed back roads. While we had been on the bike path, we had even made fun of the instructions, which often said things like "at 34.2 km follow the signs." Well, of course.
Moreover, we had observed on the first two days that the kilometer readings for the turns on the bike path were often quite a bit off the mark. We had been warned in our introductory briefing by the Eurobike people that the odometer readings for the turns were "approximate." That had certainly been true the first two days. I have to say, however, that from this point on the odometer readings corresponding to turns were reasonably accurate. We stopped joking about them and took them quite seriously. There is a problem, though, in that just about nobody is going to follow the path so exactly that his odometer will stay calibrated with the turns. Anytime you miss a turn and have to go back, or whenever you detour into a store or town, your odometer becomes uncalibrated -- always in the positive direction. We were always thinking something like: Now I have to subtract 2.1 km from the odometer reading to find the next turn. A few times we even circled around deliberately to add an even number to that subtraction.
So there we were, ready to start on the designated road, and it was closed. As we hesitated, a biker came through the barrier towards us. We asked him if we could get through on bikes, and in a combination of Italian, gestures, and a few English words, he said that we could. There would be men working ahead, we had to climb a hill away from the river, then we could come down back to the road. That was the gist of it.
As we climbed the hill away from the construction site, here's what we saw looking back down on the closed road.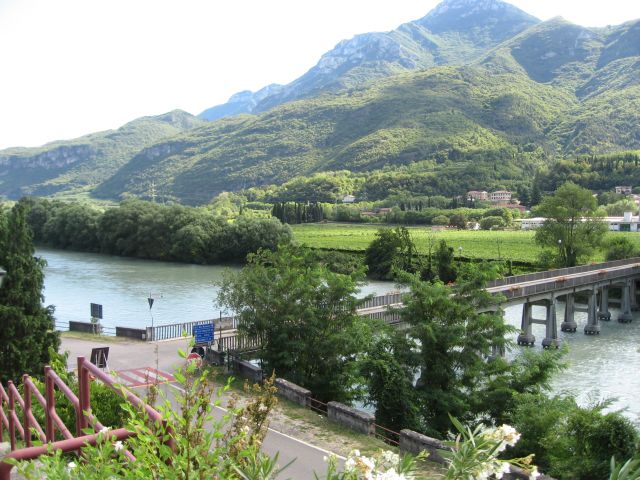 The road is closed by the bridge below us
When we got to the top of the hill overlooking the contruction site, there was a surprise waiting for us. We were back at the hotel where we had started the day! We had biked about 7 kilometers and were back at the "Piazza Marconi" with the small villa/hotel. If only we had known!
Biking on roads was a pleasant change. Dedicated bike paths are a mixed blessing. The main problem is that after a while they become boring. Bike paths, especially the ones we had been on, tend to be flat. The pedaling force required is constant, whereas in roads you have the variety of uphills and downhills. Roads pass through towns, and the scenery is ever varied, whereas most bicycle paths are isolated. On the other hand, bike paths are certainly safer, and for a while at least that isolation is comforting and provides the opportunity for thoughtful contemplation. The alertness required on roads requires a different mindset.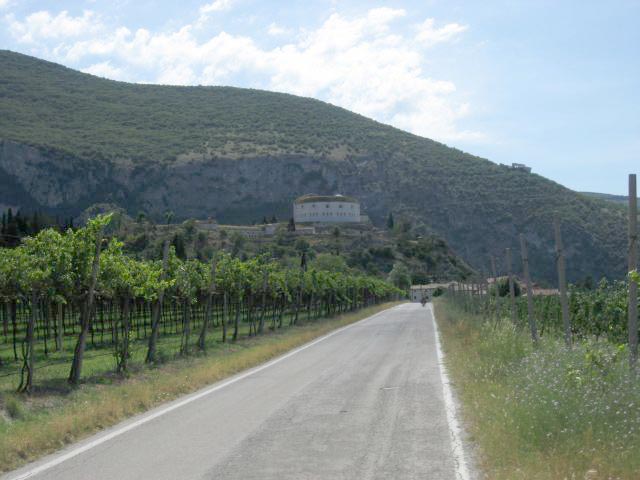 Now we're on country roads
Hills were marked on the maps that were supplied to us by Eurobike. They are marked with a "<". If this symbol is bold, the hill is steep. We found that these marking were generally accurate. We also had the topological maps of the region on our GPSs, so we could see the elevation contours for 20-foot increments. That was one of the few things the GPSs were good for (and barely that), since we had been unable to program them with the complicated route unknown to us before it was given to us in Bolzano. Moreover, the first two days of the route were on bike paths unknown to the digital maps we could have used to program the GPSs.
So now we had hills, and indeed one of the first hills was a "bold" hill, and I discovered right away to respect those kinds of hills. I had to take a couple of rest stops to catch my breath, as usual, while Len went steadily up the hill at a faster pace, as usual. The reward, of course, was a nice downhill with the wind in my face and an opportunity to rest and regenerate. I always lament, however, how quickly I lose the elevation that was so hard-earned on the way up. And I know that what goes down, must go up again soon.
Now we had departed somewhat from the river, and the surrounding scenery had a different look and feel than it had had during those first almost unchanging days.

Back in the hills away from the river
We were learning to navigate with the turn-by-turn instructions. When we had started the day we were 17 km behind the readings, since our hotel had been further along than the designated starting point of the instructions. But then we had added about 7 km because of the detour. We were always making those kinds of calculations, and then refining them at the next turning benchmark. But around the point of this picture we reached an odometer reading that we calculated would call for a turn. Indeed, there was a road there, but it looked like an industrial entrance, and none of the few signs corresponded to the description in the instructions. Should we or shouldn't we? Well, we did. A little while later we saw one of those little "E's", indicating Eurobike, and we were reassured that we had made the right decision. The whole thing, though, was like a treasure hunt. Could we follow the sometimes cryptic instructions to the pot of gold?
Around here I hit a bump and my water bottle bounced off the back rack and onto the street. When I stopped to recover the bottle, I found that the top had come off and all my precious water had spilled. That was depressing enough, but I couldn't find the top to the bottle, which I needed for refills. I thought maybe I could find a top that would fit from another bottle, and sure enough there were several other plastic water bottles right there by the side of the road. I took the top from one of them. But what caught and held my attention for several more hours was the enormous number of plastic water bottles littering the sides of the roads everywhere. Unless you're looking for them, you don't normally notice them. They do represent an environmental problem, because they don't biodegrade. They're forever, and they are ubiquitous.
Our route, and the river itself, now turned towards the east, instead of south. I believed that the wind would now be at our backs, but in fact I didn't notice much change. In any event, the wind was not much in evidence on this day.
It was lunchtime, and unlike the days on the bike paths, we passed through a few small towns where we could get food. At Pescantina we found an ideal venue, with outdoor tables adjoining a small cafe. We purchased sandwiches and drinks, and enjoyed a shaded respite from the roads.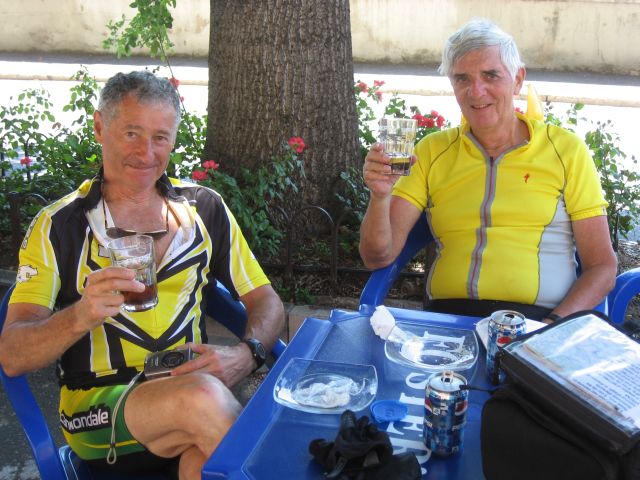 Enjoying a real lunch for a change
This, in contrast to the first two days, really was a short day. We were almost at Verona when we ate lunch. But the question was: where was our hotel? Once again the instructions were confusing. This time we were paying a lot of attention to the instructions, but they were either ambiguous or outright wrong. I think the latter. It seemed that the instructions to our hotel were based on coming into the city via a different route than the one we were following. However, Len programmed into his Tom-Tom GPS the address of the hotel. From his handlebars would emit this woman's voice, saying "Prepare to make a left turn." Things like that. I liked to keep well back of Len (which was easy, since he always went faster anyway) so I wouldn't have to hear the voice. I thought it sounded like she was nagging us.
On the outskirts of Verona we made the turn, as per instructions, onto the busy road Corso Milano. I yelled to Len to stop while we reconnoitered. The hotel was supposed to be near the intersection of Corso Milano and Via Galvano. Len asked a passerby where Via Galvano was, and he pointed back the way we had come. We had already passed the hotel, and there had been no need even to reach the main road of Corso Milano. Len admitted that the Tom-Tom woman had been telling him to make a U-turn, and he had been ignoring her.
The hotel was very nice, and we were early. I had a chance to do a wash and to rest. Usually this had been the time in past trips when I would watch the Tour de France on television, but this year -- with the doping scandals and no Lance -- I had little interest. Len and I were awaiting the arrival of a friend who was touring Italy and had arranged to meet us here in Verona.
When our friend, Hal, showed up later we walked the mile and a half into the town of Verona, passing the ancient Roman bridge along the way.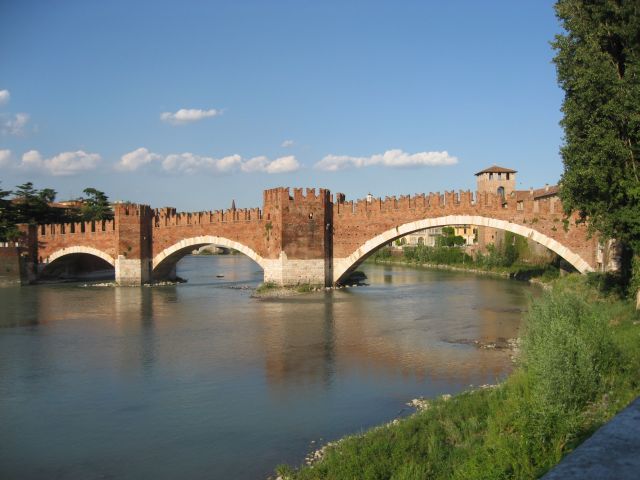 The ancient bridge at Verona
Soon we reached the center of all action in the city -- the piazza in front of the Roman arena, which is a famous setting for operas.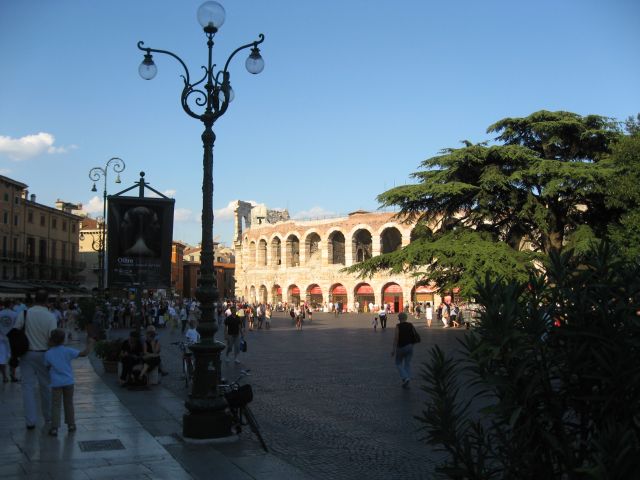 The Arena in Verona
On this particular evening they were doing that most famous showcase opera, Aida. I was tempted to go, and it seemed possible to get tickets, as I heard people calling them out for sale. Len, however, had previously seen Aida in Verona. Moreover, he said that they no longer had elephants on stage during the grand march. That certainly ruled it out.
Walking the streets of Verona proved that we had finally found all the tourists. This is where they were. We could hardly elbow our way through the crowd.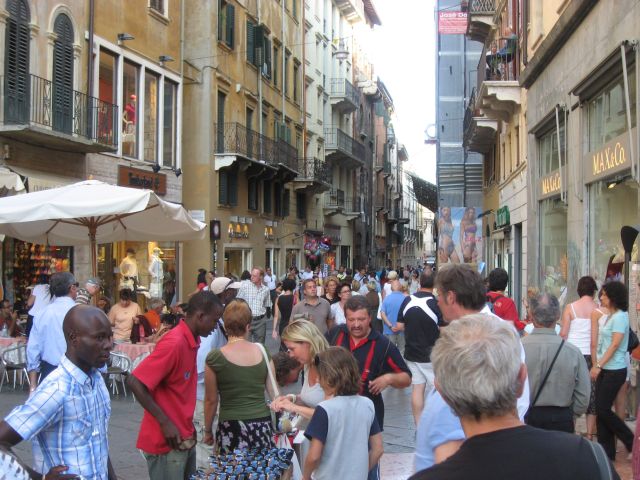 Throngs of people in Verona
Of course, Verona is also famous for being the setting of Shakespeare's Romeo and Juliet. So, dutifully, we pushed our way through to see what was alledged to be Juliet's balcony.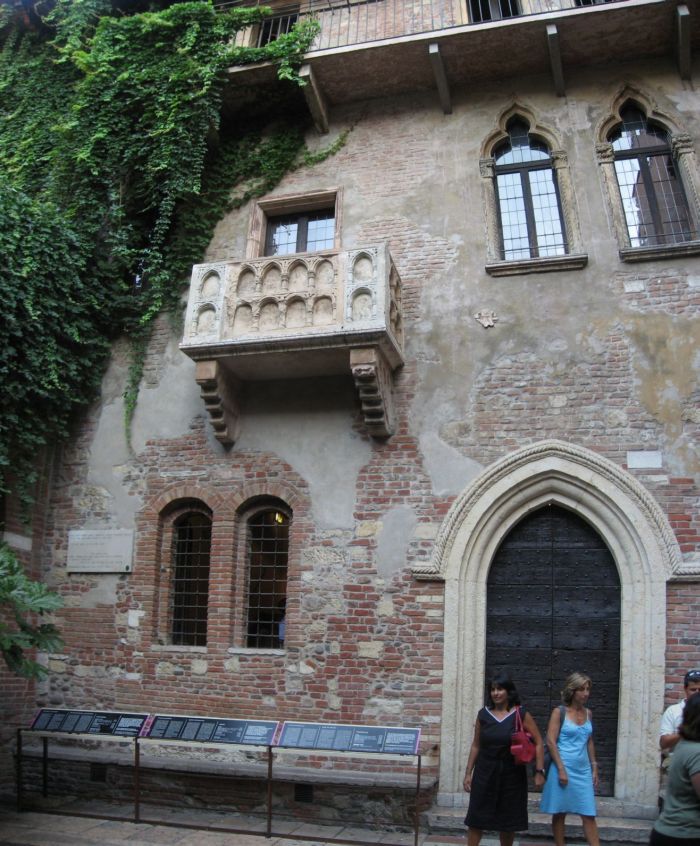 "Wherefore art thou, Romeo?"
Verona was alive with outdoor restaurants, all of which were very crowded. Eventually we had to settle for eating indoors, but nonetheless we had a congenial meal.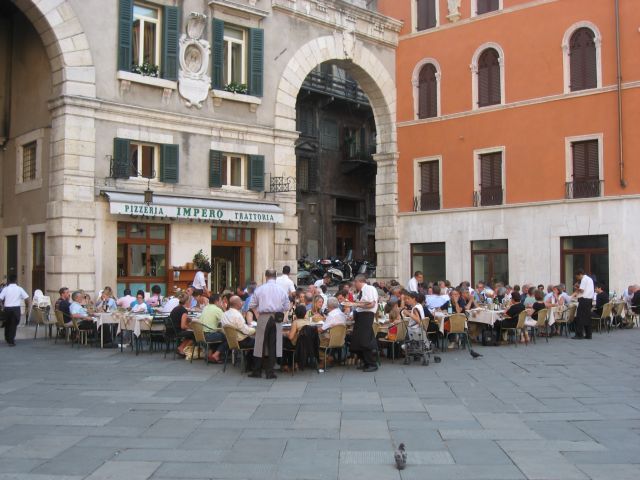 Lots of outdoor restaurants, but all full
As darkness descended we enjoyed ice cream cones from a gelateria, and wended our way back towards the Arena. Hal had bought tickets for the next night's opera, The Barber of Seville, and earlier we had waited while he picked them up at the ticket window.
I stood outside the Arena and listened. Inside they were performing Aida. I strained, but could hear nothing. Someone later told me that even when you're inside, you can't hear much. In fact I also later heard that Hal had left early on the following evening himself, not being able to hear the music from his seat. Still, I wish I had gone. Just so I could say that I had.
Proceed to Day 4 of the Italy trip