Biking in Italy -- Bolzano to Venice
Day 2 -- Trento to Ala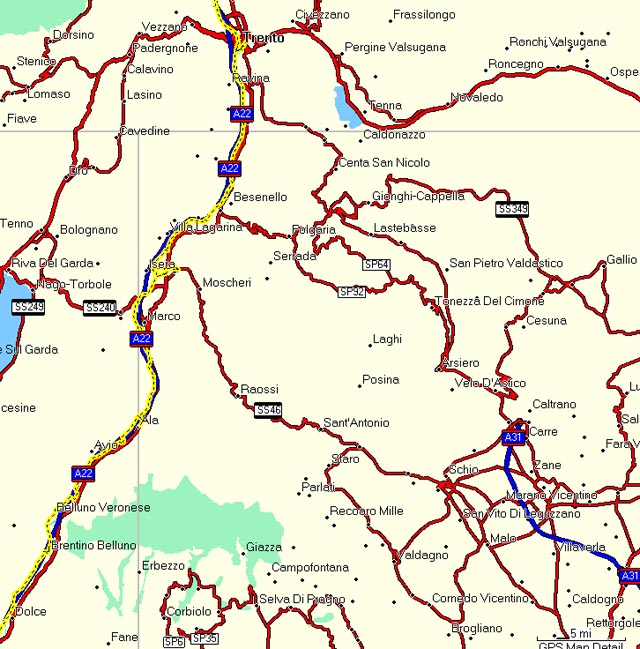 Route for day 2 (from GPS track)
After breakfast in Trento we retraced yesterday's route back through the central piazza, and after turning the wrong way for a couple of blocks, we rejoined the bike path alongside the Adige River. This would be another day with the cycling done almost exclusively on a dedicated bicycle path. Fortunately, the scenery would be somewhat more varied and the wind would be somewhat less strong than it had been on the first day. Moreover, this was scheduled to be a shorter day of only 45 km (27 miles). However, as things went, it wasn't so short after all.
Leaving Trento in the early morning was quite beautiful. Here we crossed a bridge over the Adige.

Crossing the Adige near Trento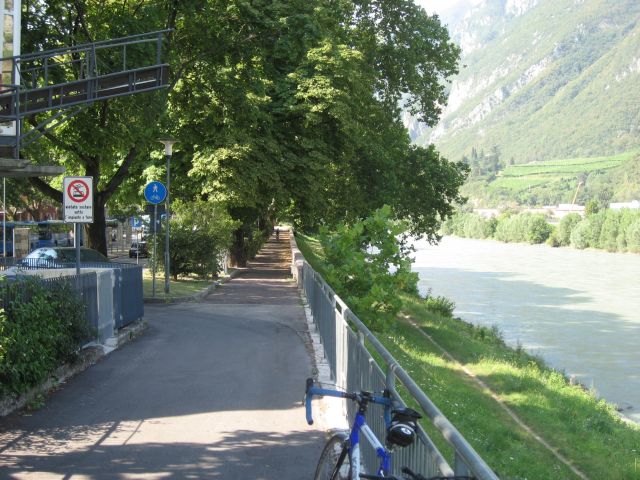 The path leaves the town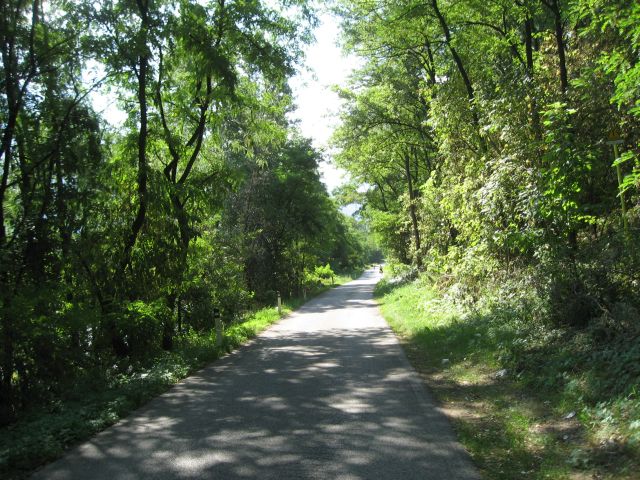 Occasionally the path traverses wooded areas
From these pictures you can see the variety of landscape that we passed on this morning. Sometimes there was shade from the increasing heat, and sometimes we were shielded from the wind, which in any event had somewhat abated. Still, the pathway stretched straight ahead towards infinity, clinging to the river.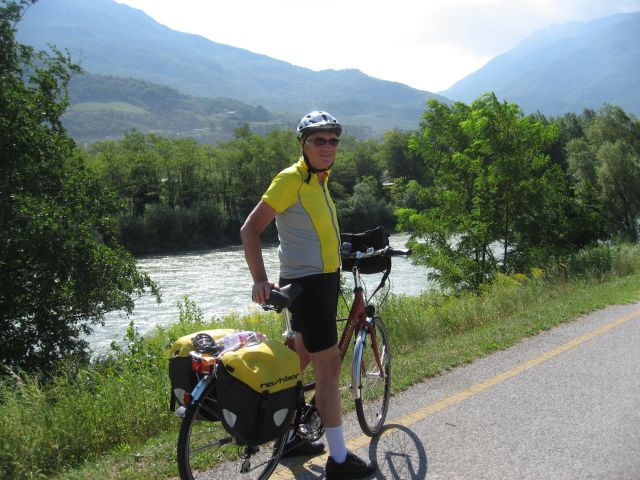 Typical scene on the the path between Trento and Ala
Here and elsewhere during the trip we frequently passed vineyards. Sometimes the grapes were hanging within easy reach of the path, and I was often tempted to eat a few. I kept thinking, though, that maybe there were chemicals on them. Probably not, but I never did try any.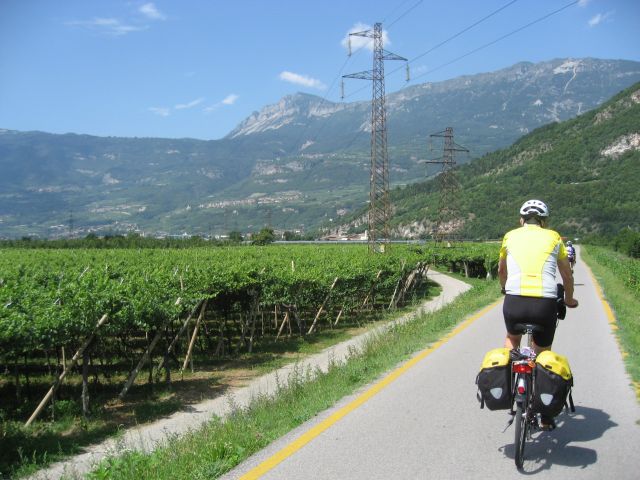 We frequently pass vineyards and other crops
Towards noon we reached a point in the path where we could detour into the town of Rovereto, one of the few towns of interest in either of these first two days (other than Bolzano and Trento, of course). The town itself was several kilometers east of the path on a relatively busy street, and for a while I didn't see anything worth the detour. But by looking for the biggest steeple we finally found the old section of Rovereto. We locked our bikes and walked in the empty, narrow streets.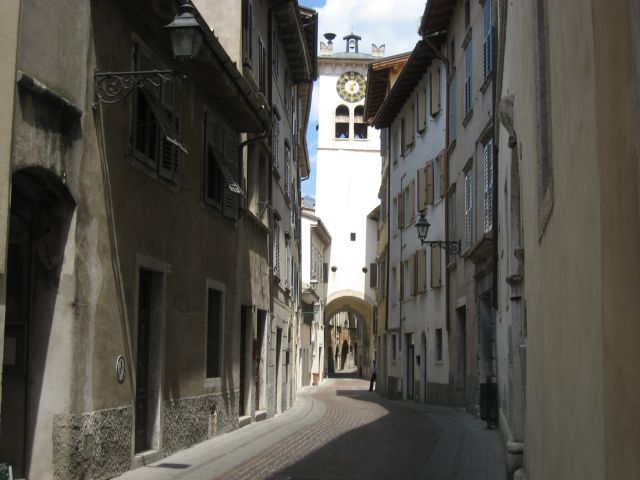 The old town in Rovereto
Near here we found a small bar where I had a delicious coke. In the relentless heat of Italy in July I had a number of occasions where coca-cola just tasted incredibly wonderful. It was like I had forgotten how good it had been when I was a boy. The cafe was empty except for us and a bored young woman polishing glasses behind the counter. I wondered how they ever got any business. The streets were virtually deserted, but maybe that was because it was the hour of siesta, when many establishments are typically closed. ("Chiuso," say the signs on the doors.)
The narrow streets in the old town were like a rabbit warren, and now we couldn't find where we had left our bikes. How could we describe the location to people who didn't speak English? Len found a way. "Boom, boom," he said to a passerby, as he waved his hands, Italian-style. We had locked the bikes near a big cannon from the first world war. The man got the idea immediately and routed us in the correct direction.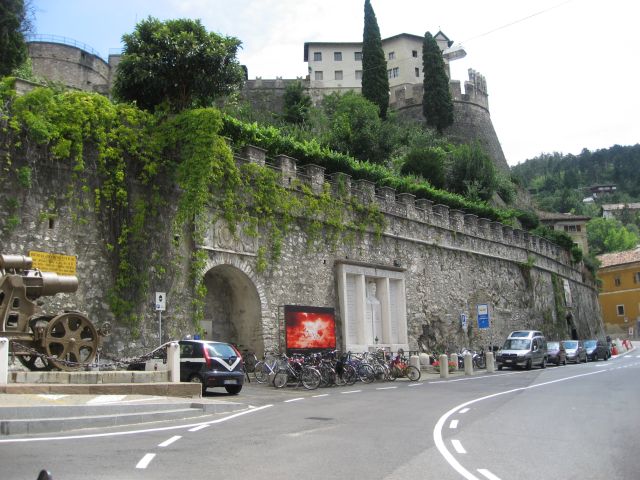 The bikes are parked near an old cannon in Rovereto
We were looking for an ATM machine to get some Euros as we headed back towards the bike path. These things are always underfoot when you don't need them; then when you do, they all disappear. However, I did spy one requiring only a small detour off of our detour. Of course, when we got there it was out of service. Maybe it took a siesta too.
Some black clouds had hovered near the mountains during the morning, but they always seemed to be blowing in another direction than ours. Now, however, it suddenly started to rain. We made a dash to regain the bike path, because at exactly the point where we had left the path, there was an underpass where there would be shelter.
We huddled in the underpass while it poured, and during a lull started eating our lunch (again from the breakfast buffet) on a nearby bench. It started pouring again and we made a dash back to the underpass.
After perhaps 15 minutes it stopped raining and we started out again on the bike path. There we encountered a young girl on a bike laden with camping equipment, both in front and back panniers. She was in the process of taking off her rain jacket, and we stopped to talk for a moment. I really admired someone like this -- by herself biking with no particular plan, camping out at night, and existing on very little money. On all of our trips we have seen people like this, and I always think that I could never have done that when I was young.
We followed the girl as the path temporarily ended and joined city streets leaving the Rovereto area. The path now crossed a bridge over the river and at the end of the bridge Len went straight, while the girl and several other bikers turned to follow a bike path to the left immediately before the bridge. What signs there were seemed ambiguous. I waited while Len came back over the bridge and joined me on the bike path alongside the left bank of the river. We followed this for a kilometer or so, where it went under an underpass and then ended at a highway. We didn't see any sign of continuation of the path. We had no idea where to go. Our GPSs and maps were pretty useless.
Finally we returned back the kilometer to the bridge where we had been undecided about the path. This time we crossed the bridge and took a path on the other side heading on the other side of the river, ostensibly going north, back the way we had come. This couldn't be correct. Again we went back to the bridge. Again we decided to follow the path that seemed to be going back where we had come. We were totally confused. At about this time I was looking at my useless GPS, and coincidentally Len was looking at his too. Almost simultaneously, we realized that we were actually heading south -- the correct direction -- against all intuition that told us we were heading north. Len also observed that the current in the river was heading our direction -- towards the south.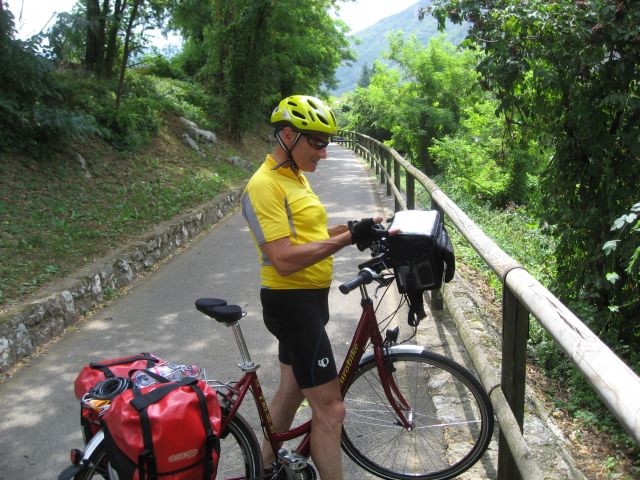 We're completely confused about our direction
Two weeks after returning from this trip I uploaded the track record from my GPS and was able to see for the first time how we went wrong. The green circle on this map shows where we took a turn northeast along a canal that we thought was the river. In following the bike path along this canal, we thought we were going south along the river. When the path ultimately ended and we returned, we were sure we were heading north.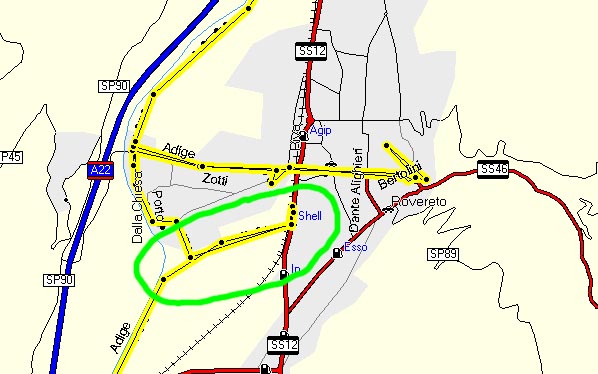 GPS track showing how we got turned around
Reassured that we were going south, as we should, we pushed onwards. I still felt that we were going north, but the compass on the GPS said differently.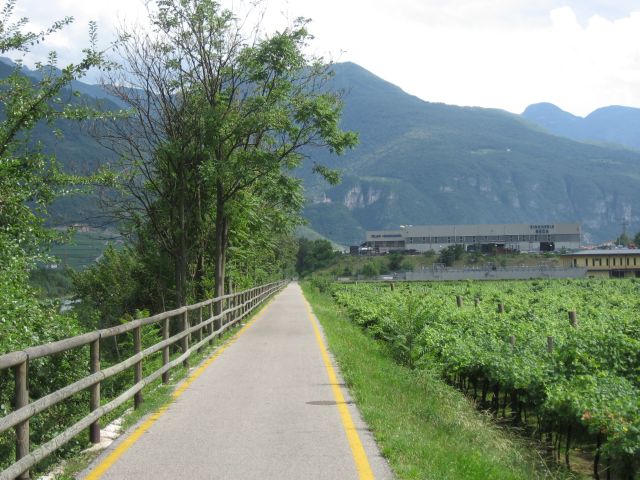 We push on, between vineyards and river
We had been told that the pathway was well marked, and that all we had to do was to follow the signs. You'd think between the signs and just following the river, you couldn't go wrong. We had just proven that you could. We were also told that Eurobike had signs along the entire pathway with a little "E." We had yet to see one, but here we did.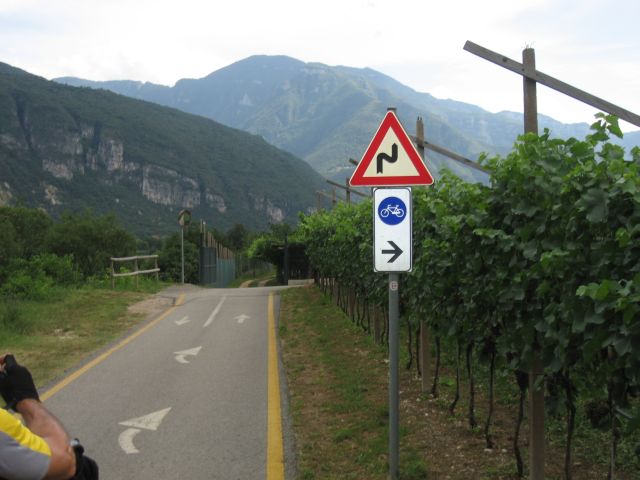 The bike path signs, including a small "E"
In this picture you can't see it very well, but there's a small "E" for "Eurobike" on the pole underneath the arrow. Maybe you can't see it here, but in real life you couldn't see it very well either. This was the first one we had seen, and after this we did see quite a few of those "Es", but if you had to depend on them to guide you, you could end in France or somewhere like that.
For the first time there were hills on the path as it climbed above the river on the right bank. They weren't bad hills, but hills they were. Across the river we saw yet another of those castles or churches on top of an impossible cliff.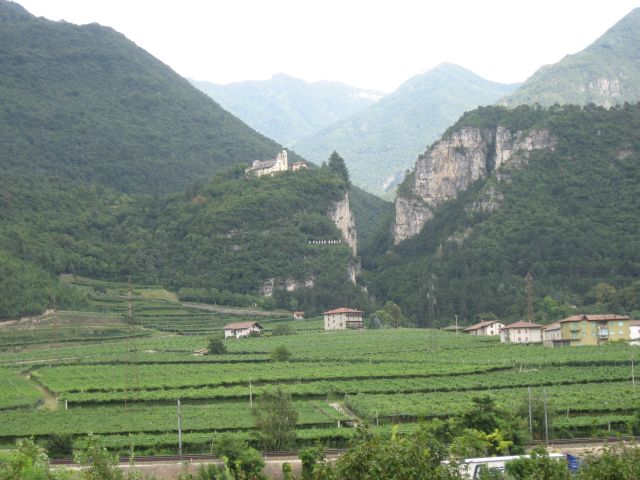 How did they get that church up there?
A little after 5:00pm we were approaching our destination, Ala. Even though it had been scheduled as a short 27-mile day, the detour in Revereto and the fussing around when we were lost had added about 8 miles. I was tired and ready for the hotel when we left the bike path and crossed the bridge towards Ala on the other side of the river. Our hotel was a mile or two away, and up a last, tiring hill.
Well, this wasn't exactly our hotel. We checked our directions again, and realized that maybe our hotel wasn't in Ala at all. The way the instructions worked there were generic directions to get to the destination and then detailed directions to get to whatever hotel they had booked for you. Usually there were two or three possible hotels that they used. We had elected to book the more expensive trip with the better hotels. On this day the generic instructions took us to Ala, where one of their "lesser" hotels was located. But where was ours?
Len watched the bikes while I went into the "lesser" hotel across the street. It certainly qualified as a "lesser" hotel, so I'm not mentioning its name. No one there spoke English. I found someone at the bar who knew where our hotel was. We went outside and the man waved southwards, gesticulating and mumbling unintelligible (to me) Italian. Len was across the street watching and laughing. All I caught was the word "Rivalta."
We studied the instructions, which really were confusing, but to which we should have paid more attention in the first place. I slowly came to the realization that, not only would we have to retrace our route back across to the bike path, but that our hotel was another 17 km (10 miles) away! Just when I thought we were finished, and I'm exhausted, we suddenly have 10 more miles to go! It was crushing.
Well, I put down my head and turned the pedals and paid little attention to any scenery for those 10 miles. So no pictures.
Finally we arrived at our hotel, the Hotel Palace in Rivalta. Was I ever glad to get there! What had been promised as a short day turned into an even longer day than the first one.
We rang the bell at the gate and a young man met us to open the gate to the hotel. Now two bad things happened. First, he was holding a phone, and it seemed that a man from Girobike wanted to talk to us to complain about our not taking their rented bikes back in Bolzano. Len talked to him for quite a while, explaining that the bikes were not as we had specified (no panniers, handlebar bags, seat, etc.). The man wouldn't give up, and Len handed the phone to me. I said the same things Len had said and had the same lack of results.
Now the other bad thing. The young man explained that there had been a mistake in our reservations. He had the wrong date, and there were no rooms available at his hotel. He had booked us at another, better hotel -- or so he said -- only "100 meters" away. It was, like, the last straw. He said that he would drive us to this other hotel. But since it was only 100 meter away, we said we'd follow on our bikes. Why is he driving that short a distance, we wondered?
Well, of course it wasn't 100 meters. It was, like 3 km, including a steep hill. When we got there it didn't look like a hotel at all. There was no sign. It was just a big house in the middle of nowhere.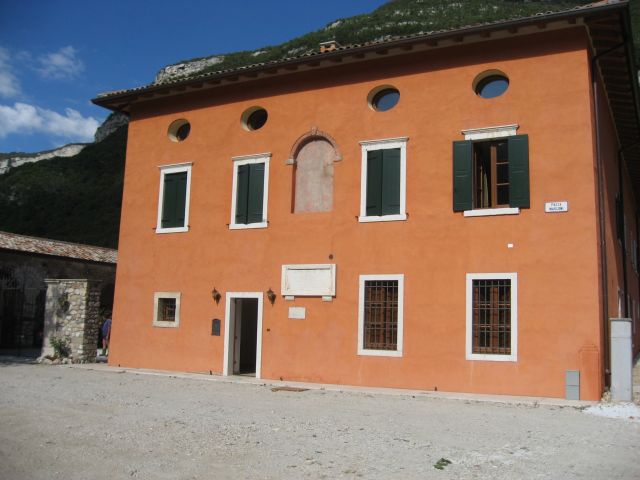 The other hotel
Now Len got pretty mad, saying that we were being taken advantage of. They should throw someone else out of the hotel. The young man apologized, saying that he had never made such a mistake before. I tried to intercede. I was just tired and didn't care so much anymore. To make things worse, there was no restaurant at this out-of-the-way hotel, nor was there any other restaurant within walking distance. We would have to return to the first hotel for dinner, and since it would be dark, we wouldn't be able to ride our bikes there.
The young clerk said that his mother would pick us up and drive us to dinner and would drive us back after dinner. Really, there wasn't much choice. A small woman ran this other hotel, or whatever it was. She spoke no English and watched our conversation placidly. Finally, she showed us to our rooms. There was no telephone or television, but the rooms were new and large and had air conditioning. It could have been worse. Apparently we were the only guests in this "hotel."
After showering we explained with hand signals to the hotel lady that she should call for our pickup for dinner. A few minutes later the young clerk's mother showed up in a car. She was wearing an apron, and Len asked if she was the chef. She shook her head yes. She had left the kitchen to go get us.
Dinner was actually quite good. There was no menu; just what the mother was preparing, which was a large, fresh, green salad followed by spaghetti Bolognese and watermelon. The mother was very pleasant and engaging, and really helped a lot to undo the damage of our botched reservation.
After dinner we declined the offer of a ride and walked out into the small town square. There was a pay phone kiosk -- the only one in town. I tried to call home for my nightly check-in, but the display on the phone said "temporarily out of service." It was in English, actually. You could push a button that changed languages. But what did "temporarily" mean? Alas, we couldn't wait long enough to find out. We walked back to the "other" hotel in the dark.
Proceed to Day 3 of the Italy trip
Back to the overview page for the Italy trip