A Circular Bike Tour of Holland, Day 2
Hilversum to Nieuwegein
The route that I had laid out on the computer, but was unable to use on the GPS, would take us southeast towards Amersfoort, then south through an area of parks, and finally circling west around Utrecht and to our hotel in Nieuwegein.
The morning in Hilversum was cloudy, windy, and cool. Apparently it had already rained, and more was threatening. After breakfast at the hotel I organized my panniers and stared out my second floor window at the street below. There was a constant procession of bikers, unfazed by any rain or threat thereof, and almost all of them seemed to be the pretty young girls with flowing blond hair. Of course, nobody wore a biking helmet. We had noticed this the day before and kept remarking on it throughout the trip to come.
The hotel clerk explained to us how to exit the town on the highway towards Amersfoort, and we followed his directions through the town center past a flower market and a church.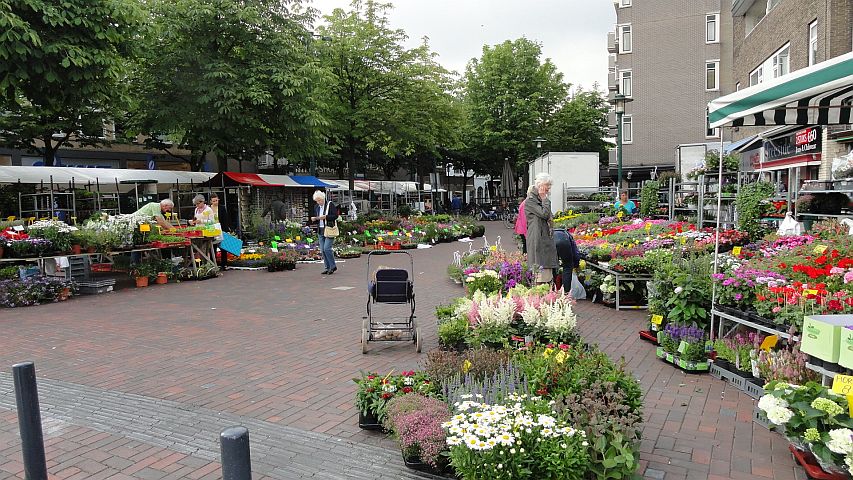 The morning flower market in Hilversum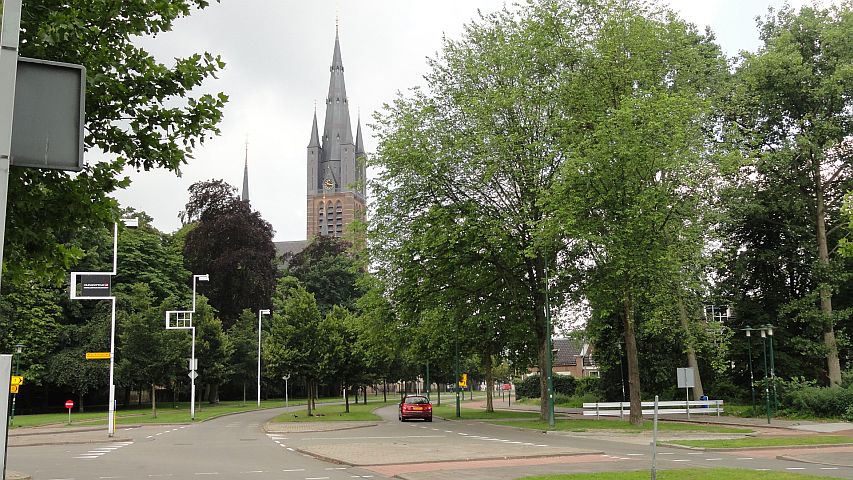 The church we couldn't escape
We soon joined the highway towards Amersfoort on its accompanying cycle path. Unlike the previous day, trying to leave Amsterdam, leaving Hilversum was turning out to be easy.
Well it was easy for a while. At an intersection near the town's outskirts, there was construction ahead and the bike path was closed. Momentarily we turned south on the cross road, but realizing this wouldn't take us where we wanted to go, we cut dangerously across traffic to the other side of the highway. Len was ahead of me and determined to get around the construction onto the highway we wanted. I was dodging cars and trying to lift my heavy bike across the divider when I saw a police car pull up and stop Len. Clearly, we wouldn't be allowed to get through that construction.
When Len joined me he said that the policeman had been polite, but had said that we had to go back on the highway and circle around to the north to rejoin the highway at a point after the construction area. We took some small backroads that seemed to be in the general direction he had indicated, but soon we arrived at a hospital at a dead end of the road. A woman was unlocking her car there, and we asked her if she could help us with directions. She was explaining a route to us when a man, apparently her husband, walked up and started giving us a different route. After a bit of this back and forth, Len and I stopped listening. We began to retrace the backroads we had been on and trying some other alternatives. Nothing seemed to work.
At another point in this aimless wandering we were stopped by yet another construction area. This was getting really aggravating. Again we asked directions from a passer-by, a woman walking a dog. While she was giving us directions an older man walked up and was suggesting something quite different. Momentarily they argued in Dutch. We gave up and just biked randomly. This was ridiculous; we couldn't get out of this town. At this peak of frustration, we looked up and saw that we were back at the church shown in the photo where we had been an hour or two before. We could only laugh.
I said we should just forget about my planned itinerary and take the road past the church towards the south. It was called "Utrechtseweg" and from its name went sort of where we wanted to go, although I did want to avoid Utrecht (only because of its size). It was too bad that we would miss the park area that I had planned, but enough was enough. We had to get out of this town, one way or another!
When I got back home after our bike trip I studied the GPS track for where we had been in trying to leave Hilversum. In fact, it seems that there never had been any way around the construction. You can see this in the figure below.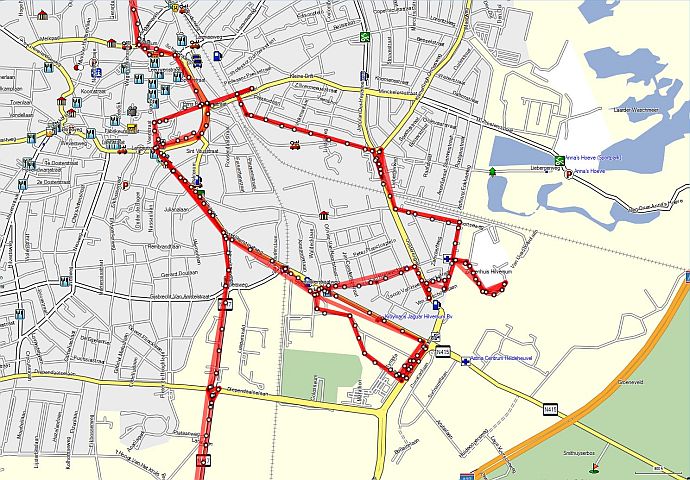 GPS track of our futility in Hilversum, trying to leave towards the southeast
The new route was really quite nice. Maybe this was all for the better. The bike path went through a wooded area, and after all the frustration in Hilversum, this was a real pleasure.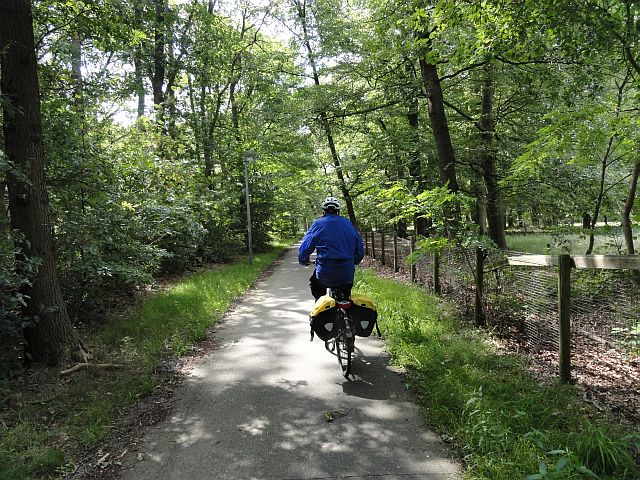 Cycling south from Hilversum
Our revised plan was to cycle southeast at the first opportunity, which would be at the small town of Maartensdijk. As we neared that town I stopped to take a picture of a pretty house. In fact, something that had greatly impressed me was that almost every house that we had seen in the country could have been described as pretty and well kept. I kept thinking: where are the poor and dilapidated houses? I never saw one.
A pretty, and almost typical, house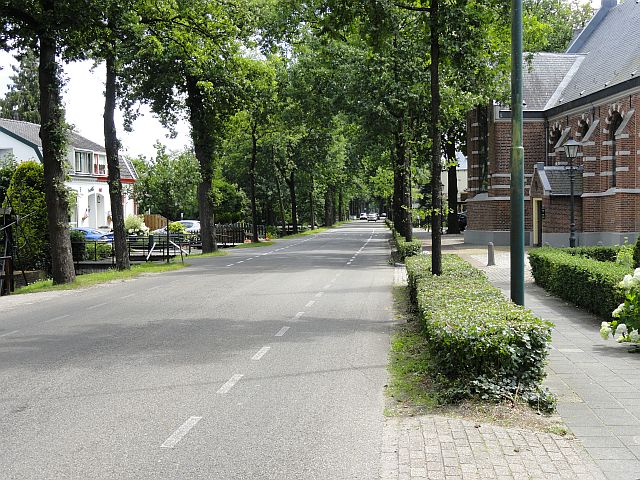 Entering Maartensdijk
As we entered Maartensdijk we were looking for a place to have lunch. In such a small town, there would be few choices, so we stopped at the first restaurant we saw. It took some time to lock our bikes together. We hadn't yet mastered the art of doing all the locking and unlocking stuff. Actually, we never did. But while we were going through all this bother, a man came out of the restaurant and asked if he could help us with something. We said thanks, but no, we were fine. He looked puzzled. I soon found out why.
When we walked in the door of the restaurant, the first thing I noticed was that there were no tables and chairs. My first thought was that this was a take-out place. Then I took in the rest of the scene -- sawdust, a man sanding some kind of furniture, tools all around, and nothing whatsoever that resembled a restaurant. I fled the scene, embarrassed, while Len spoke to someone there. This establishment was a restoral facility, not a restaurant! I couldn't get the bike locks undone fast enough!
Further down the street we found a real luncheonette and over sandwiches we laughed at our blunders of the morning. Everything can be an adventure when you take the right attitude.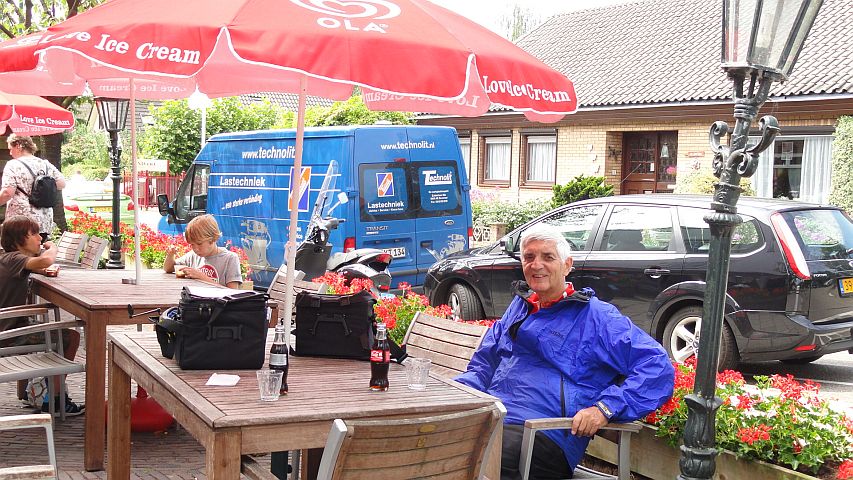 Lunch in Maartensdijk
Just outside of town were several mansions. This was the middle of nowhere, and I wondered how these mansions had come to be and what they were now.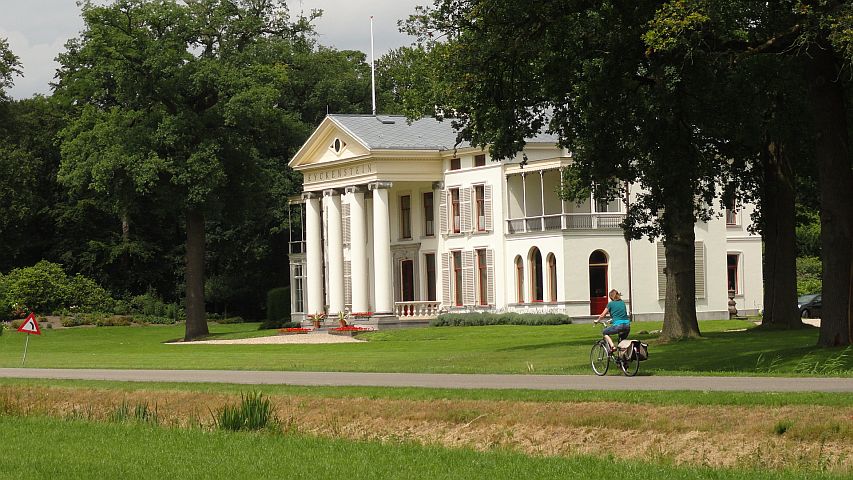 A mansion in the middle of nowhere
We cycled east through a large wooded park. The cycle path had disappeared, but traffic was very light. The road was like a dark tunnel through the dense trees.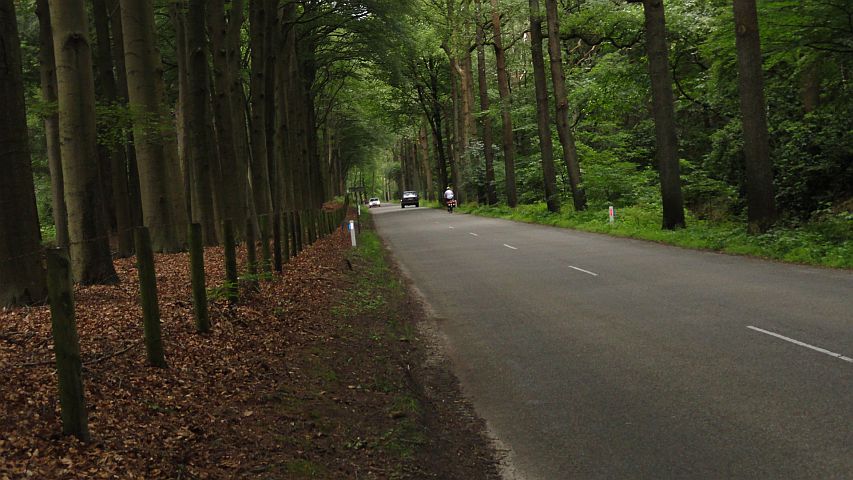 Through the dark woods
Somewhere around here Len stopped, and when I caught up to him he said that he had forgotten his gloves back at the restaurant. He was going to cycle back there now, and I should wait. It would be about 20 minutes, he guessed.
I waited in the dank and darkness alongside the road for about a half hour before I got concerned. Should I start back to find him? Just about then a cyclist emerged from the gloom, but I didn't think it was Len. However, it was. It seemed that it had poured down rain on his way back to the restaurant (it was only about two miles), and he had stopped to change to rain gear. So he looked quite different than when he had left. Meanwhile, it hadn't rained where I was waiting at all.
As we biked out of the wooded area to turn south on a highway, it started to rain, and for about ten minutes it rained rather hard as we continued to bike. Then the rain let up and there were even intervals of sun. The plan was to get to our hotel in Nieuwegein without going through Utrecht. I had worked this all out beforehand, of course, but that plan was, as they say, OBE (overcome by events).
At an intersection of highways we studied our inadequate maps and the tiny GPS. We couldn't decide what highway we were on or what highway was crossing it. The crossing highway had a better bike path, so we took that one. Several times we stopped and tried to decide what road we were on and just where we were on it, without any notable success. But it was a good bike path.
We were nearing Utrecht. It seemed that all roads led to Utrecht in this area. Try as we might to avoid cycling through Utrecht, it wasn't meant to be. It was like a giant magnet sucking us in.
Here we are in the last futile throes of trying to avoid Utrecht, sharing the bike path with a couple of horses. I wasn't sure they were allowed on the bike path, but there they were.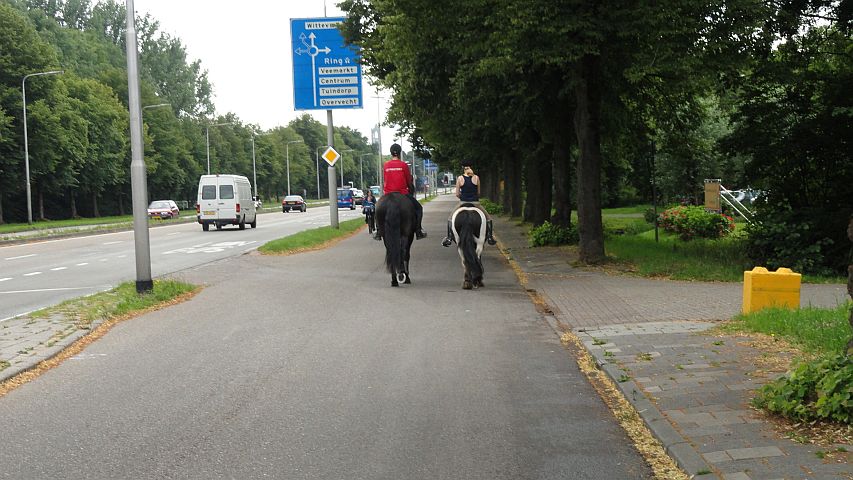 Approaching Utrecht, whether we wanted to or not
So we cycled through Utrecht, and what we saw of it was quite beautiful -- peaceful canals, leafy parks, children's playgrounds.
Passing through Utrecht
Other than being in Utrecht, we didn't know where we were, but the GPS was coming into its only use thus far -- end point navigation. It would tell me the direction and distance to the waypoint at the destination hotel. I would point and tell Len that it was 2.3 miles in such and such a direction, and we would take whatever street or highway seemed to be going that way.
We were close to the hotel, but there was a problem that was becoming familiar: we had to cross a major road, the A12. The street we were on was headed the right direction, but stopped abruptly at a dead end right at A12. So back we went and tried another road. This road did cross A12 in an underpass, but bikes weren't allowed. Back we went again, and someone told us to go down a sidestreet where there would be a bike path across. Here's the GPS track of our three attempts to cross A12.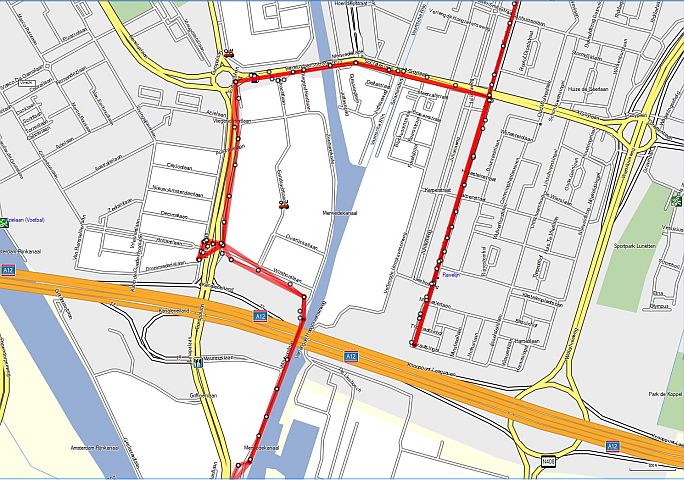 GPS track; trying to cross A12 in Utrecht
The rest was easy and we found our hotel in Nieuwegein. It was a large conference hotel at the intersection of two major highways. Unless you wanted to play in highways, there was nowhere to go in the vacinity. We had dinner there. This final picture shows our bikes locked together in the garage with their very serious chains. I think they are sleeping here.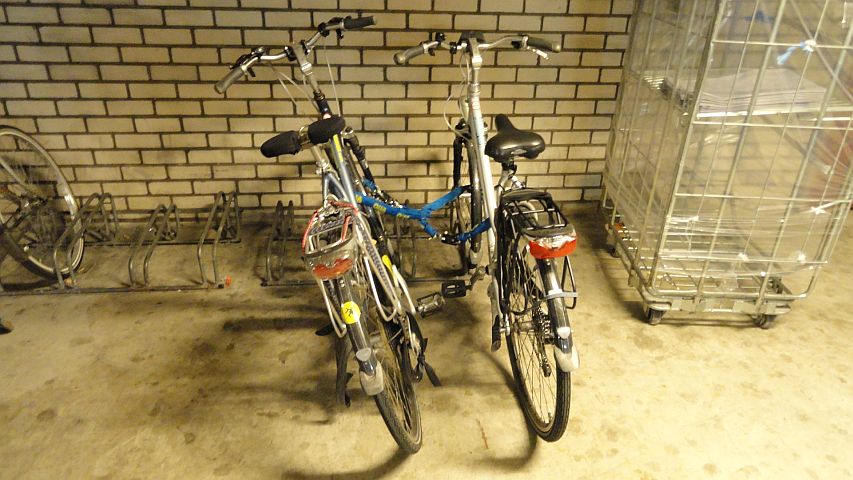 The bikes, locked for the night in the basement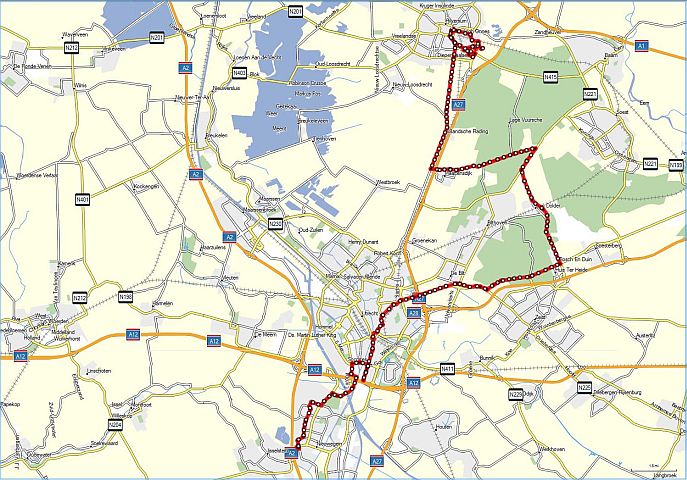 The Track for Day 2, Hilversum to Nieuwegein