A Circular Bike Tour of Holland, Day 3
Nieuwegein to Gouda
Len had had a great idea the night before. Maybe 3 great ideas. He had realized that we could use Google Maps to check out our routes before we left the hotel. He had made sure that each of the hotels where we stayed had free wi-fi for guests. (Not always a given in Europe) We each had a small device we could use for access -- Len a smartphone and I an iPod touch. Given that all of our belongings had to be carried on our bikes, neither of us wanted to take our laptops.
That was the first idea, and I couldn't believe I hadn't thought of it before. The second idea was to make Google choose "walking routes," which would be much more likely to be bike-friendly then the routes Google normally chose using superhighways. The third idea was rather an unexpected discovery. If you panned the routes on Google to follow them through, then our appliances seemed to store all that data, so it could be accessed out on the road where we no longer had Internet connectivity.
So after Len had these ideas, I had let Google choose a walking route between our hotel in Nieuwegein and our destination in Gouda. It looked like quite a better route than the one I had originally plotted, both in terms of using backroads and being shorter. It looked to be quite an easy day forthcoming, but there was one difficulty -- any route to Gouda would involve crossing the A road immediately in front of our hotel. That north-south superhighway was an effective barrier between us and the easy cycling beyond.
In the morning I stared out of my hotel window at the highway below. I had a partial view of the highway that crossed the A-road. I looked to see if any cyclists were crossing. Maybe I saw one or two, but I wasn't sure. It was rush hour, and there was a lot of traffic. This would be the third time in three days that crossing a major highway would be a problem.
We started out from our hotel on our bikes to join the highway, and waited for a green light at the intersection in front of our hotel. Here, now in retrospect, is what we faced as seen from Google Earthview: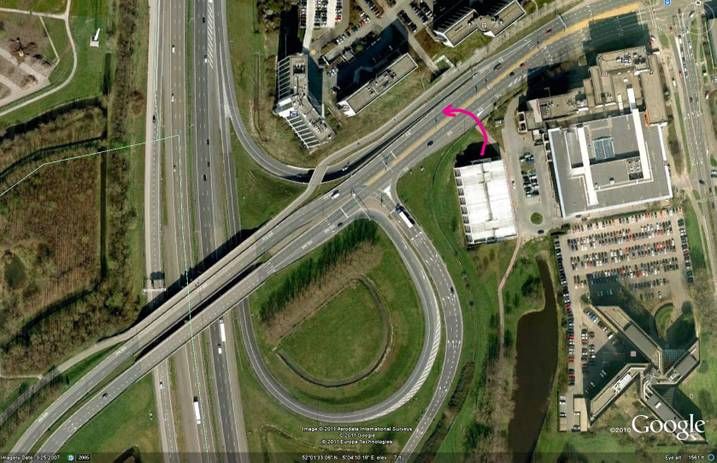 Getting on the highway from our hotel in Nieuwegein
I've drawn a red arrow showing where we entered the highway to cross over the A-road. There are about ten lanes of traffic here, and actually there was separate bike lane at the furthest to the top of this photo. But we didn't see that from the ground view, and it was relatively inaccessible from where we entered the highway. We went to the furthest lane we could reach and started to cycle over the overpass. Cars started to honk at us, people were yelling, and traffic was stopping. Rather than being in a bike lane, we were in a bus lane. A driver pointed to the bike lane, but we would have to lift our bikes over a barrier to get there. And those bikes were both really heavy and really unwieldy. This was both scary and difficult, but we survived to tell the tale.
The rest of day was a piece of cake. Almost immediately after the chaos on the bridge we turned into a country lane. The morning was beautiful and the rural setting instilled a calmness that we were in need of. Here is one of the immaculate houses we passed.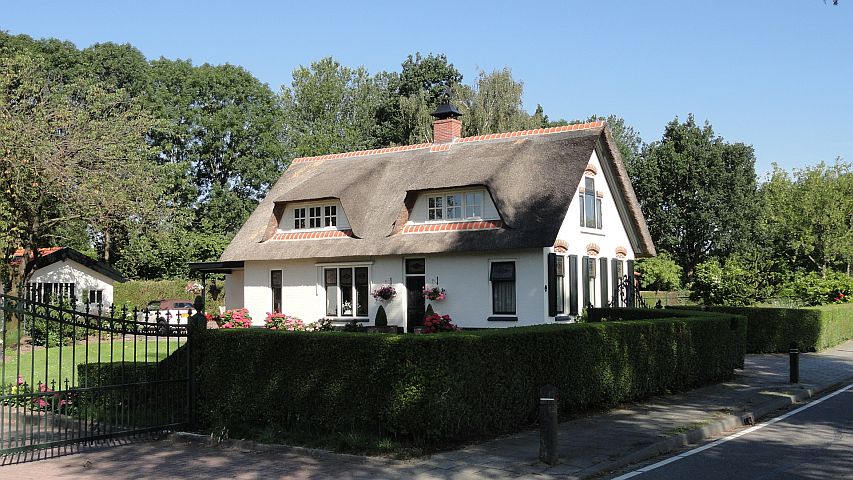 An immaculate country home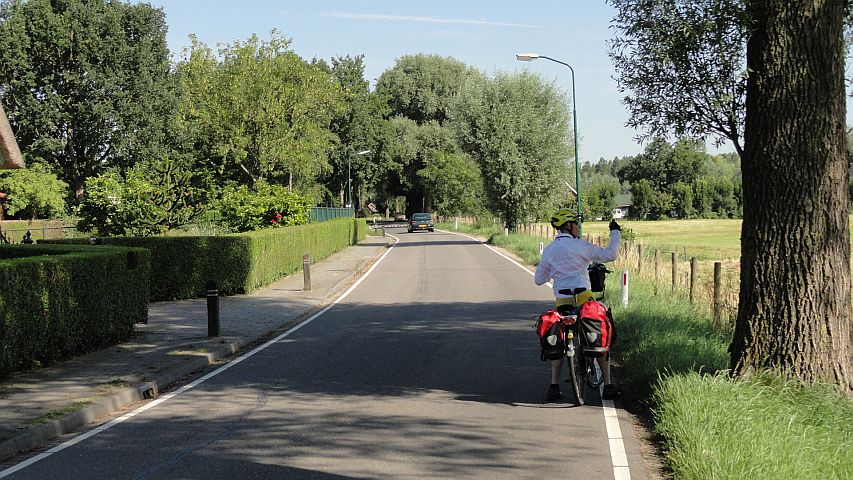 The country road
There was a cafe of some sort, and we stopped for coffee. I remember it as one of the best times of the trip. The morning was beautiful and the rural setting charming. As we sipped coffee two young girls glided by on their bikes, solemn and quiet, adding a kind of youth and vitality to the environment.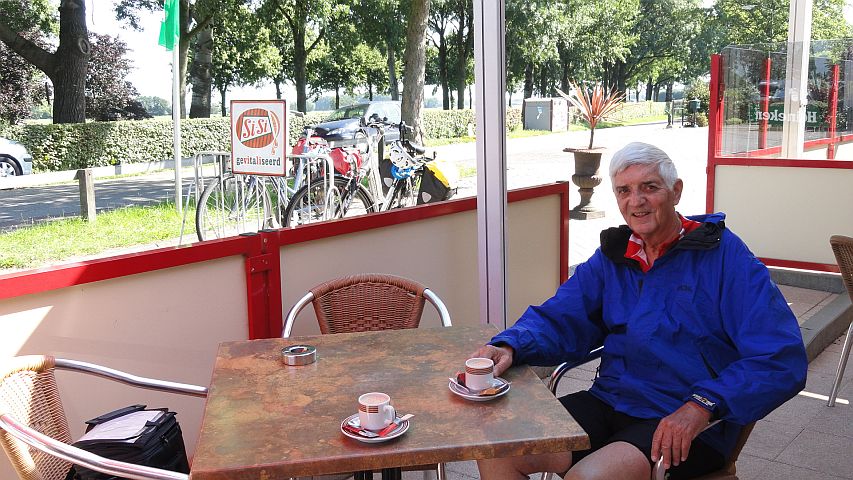 Morning coffee on the country road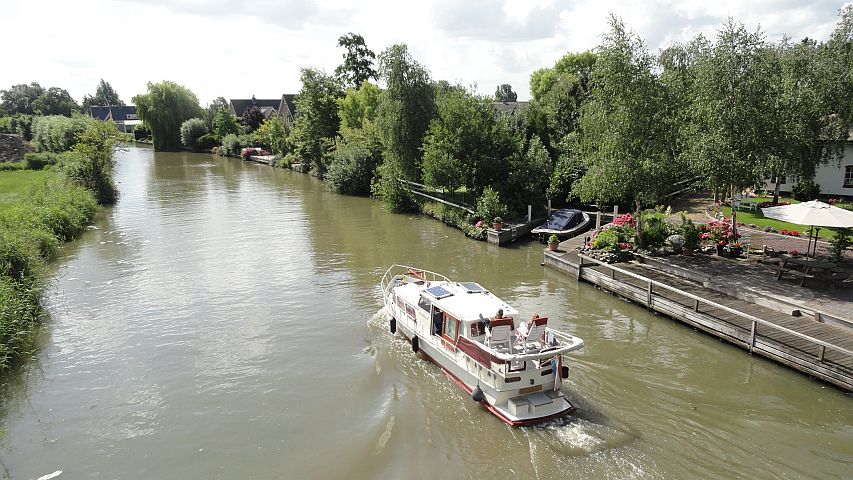 The road crosses a canal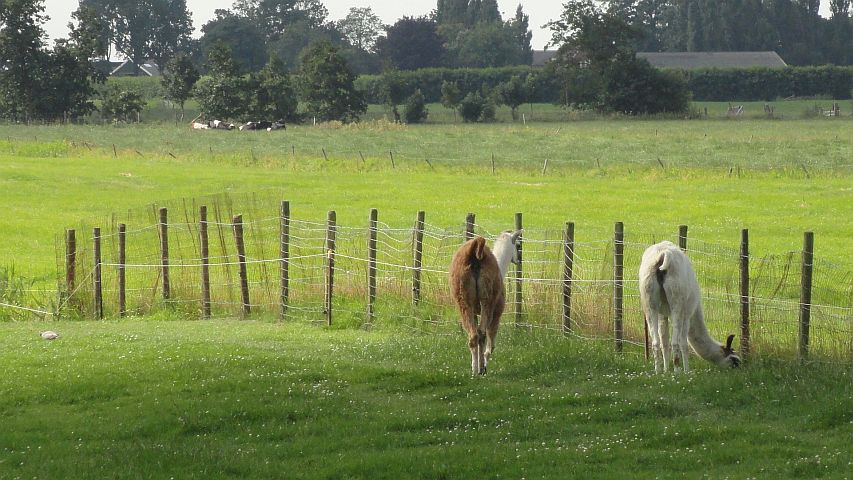 Llamas?!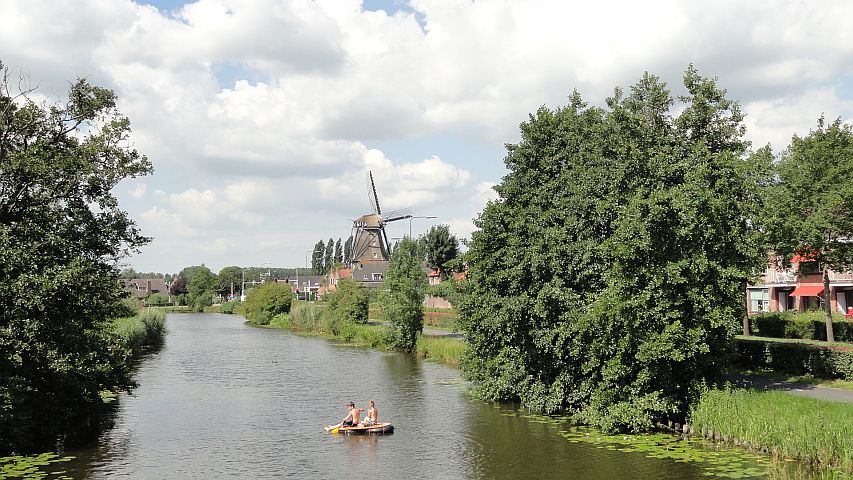 Quintessential Holland scene -- boys rowing on a canal with a windmill
We left the highway to turn into the small town of Montfoort. I think we were looking for a fort, which we didn't see, but the town itself was charming. It was such a quiet morning that even the main street seemed sleepy and deserted. I couldn't bike past the bakery without stopping. The smell was overpowering, so I succombed to an apple tart and a coke.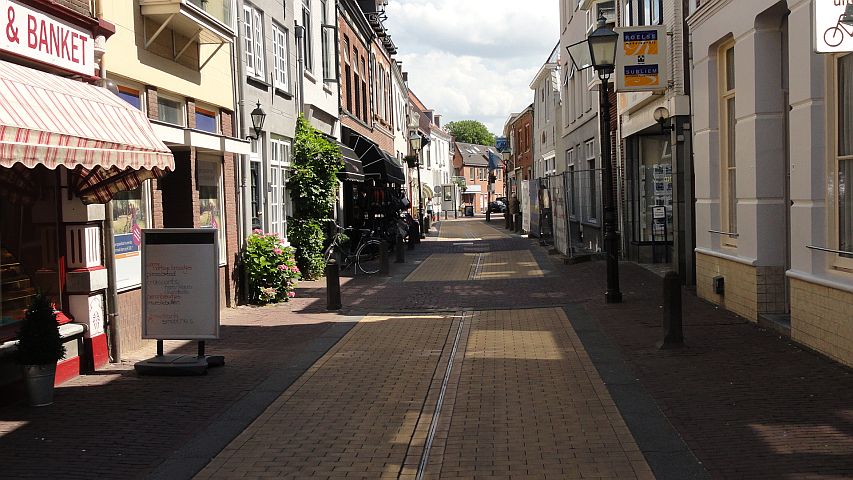 The empty main street in Montfoort
Some easy miles later we again left the highway to visit the town of Oudewater. I had read that the town had a scale that had been used to weigh possible witches. Long ago, of course. Just as we had failed to find a fort in Montfoort, we didn't see any scale in Oudewater, but no matter - the town itself was quite charming. Here are two scenes from the visit.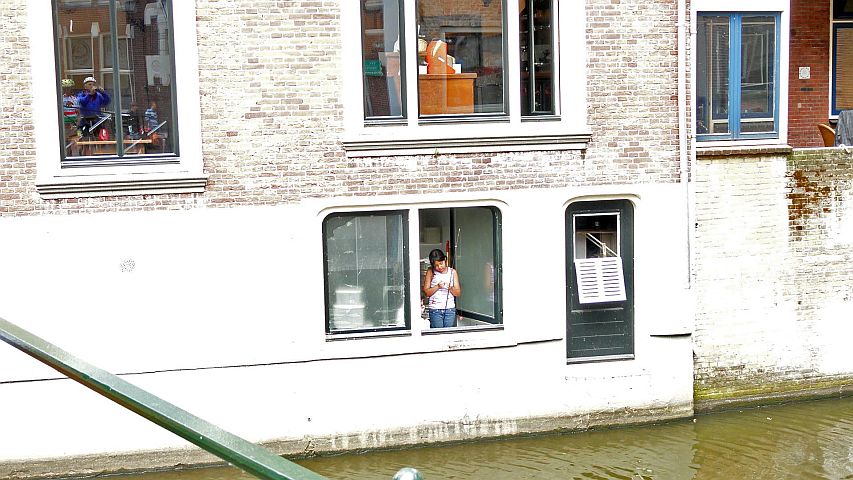 A girl fishes in the canal from her kitchen window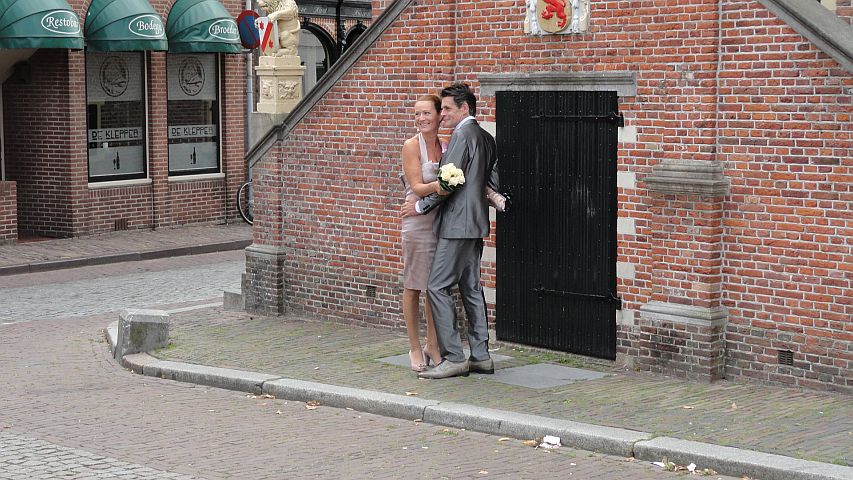 A bride and groom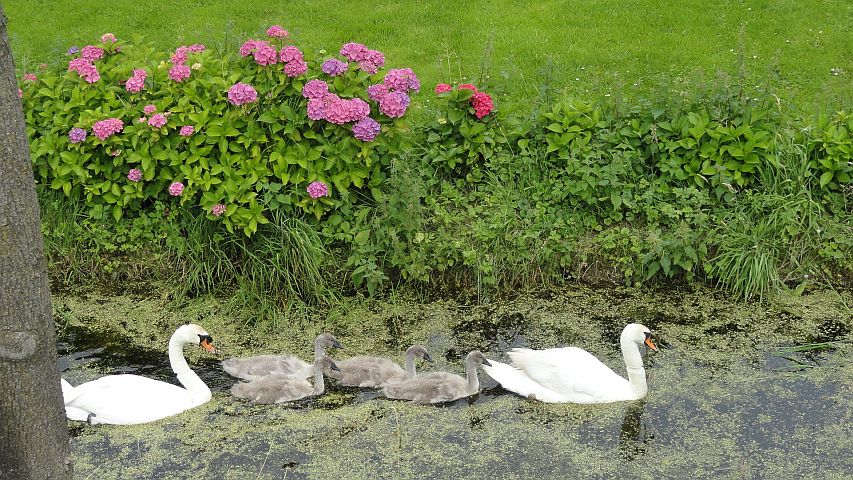 Swans protect their young
Further miles down the highway we approached our destination, Gouda. As we had left our hotel that morning, the desk clerk had asked Len where we were headed. "Gouda," he said. But the clerk had never heard of that town. After some back and forth, she finally understood. In Dutch it is pronounced "How'-da" with a rasping 'H'.
We had no plan on how to navigate into Gouda, but it wasn't a problem. We just followed the red bike signs to "Centrum."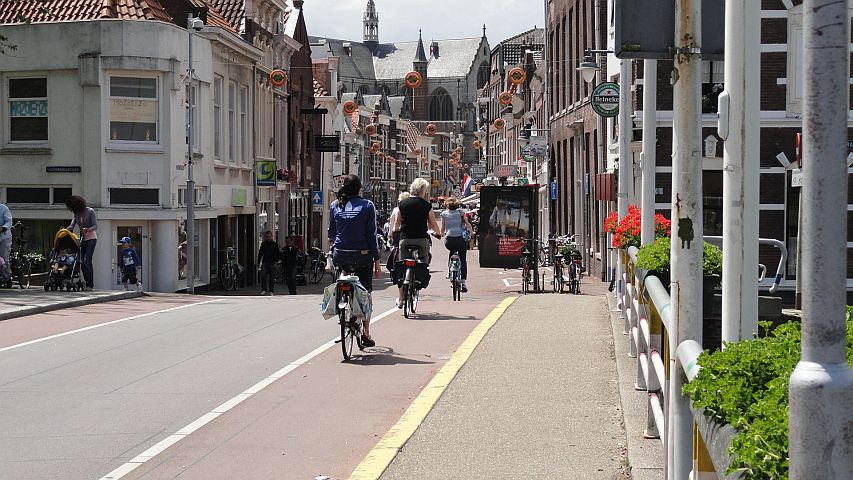 Joining the bike parade into Gouda
Gouda was fascinating and lively. There were bikes everywhere, beautiful canals, and the place was full of tourists and stores catering to them. We walked our bikes to the main square where the cheese is auctioned. At this time the auction area around the church was empty, but the square itself was lined with cafes, all of which were full of people enjoying drinks and snacks in this mid-afternoon.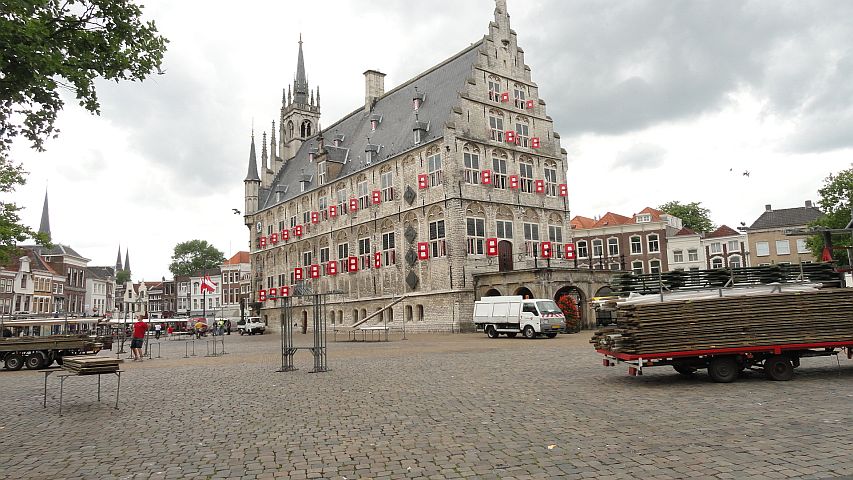 The main square in Gouda
It looked like all these restaurant patrons had a good idea. Len had been looking to get a sandwich with Gouda cheese. After all, when in Rome, etc. He had already asked in several stores, but had come up empty. So now he was asking the waitresses at the outdoor cafes whether they could serve him a Gouda cheese sandwich. I think there was some question about this, but we did have sandwiches at one of the cafes, and Len may have gotten his Gouda cheese. Or maybe not; I forget.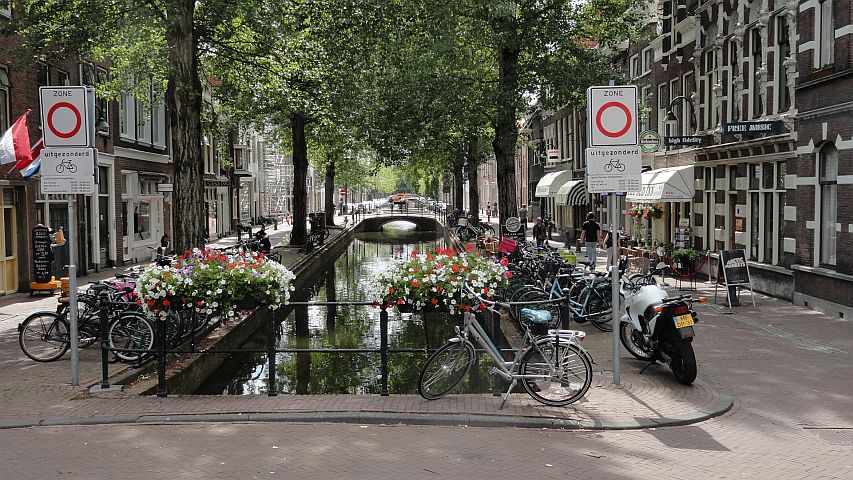 A canal in Gouda
Our hotel was outside Gouda, and once again we followed the GPS, telling us 2.3 miles towards the left, or whatever. When we arrived it was in a small industrial park on a highway. Again, there was nothing for the evening but dinner at the hotel.
In my room before dinner I brought up Google Maps on my little iPod and asked for a walking route to Leiden, which was an intermediate destination for the next day. I was fascinated that Google's walking route went directly out of our hotel, crossed the big highway out front, and then went for a mile in a direction in which there was no road whatsoever. I had to see this for myself, so I went for a little walk. Sure enough, there was a small underpass beneath the highway and on the other side was a walking path alongside a canal. Some boys were fishing on the small canal.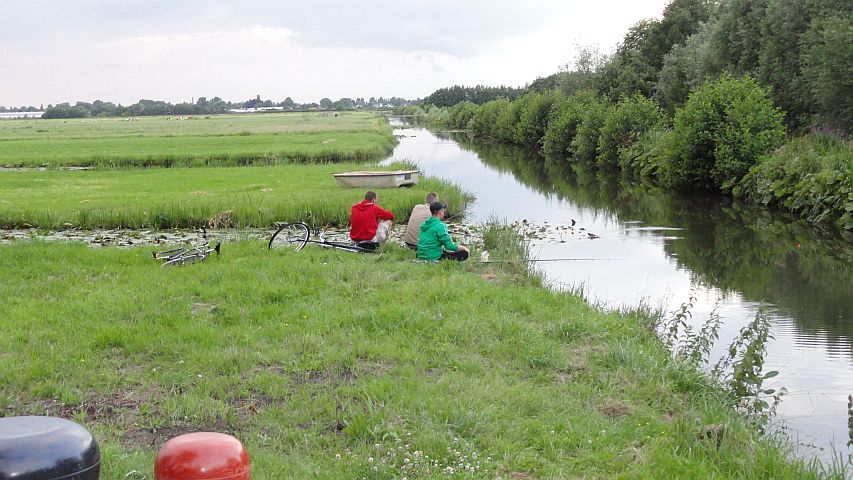 Google's walking path towards Leiden
There was a path alongside the little canal, but it was only shoulder-width through high reeds. It would have been tough to walk a bike there, but what was important was that there was a bike path running perpendicular to this view, and alongside the highway -- but going in the right direction for us and on the far side of the highway. So there was a magical way to cross the highway the next morning, a secret tunnel-like passage underneath the road.
Finally, here is the recorded GPS track for this day's travels.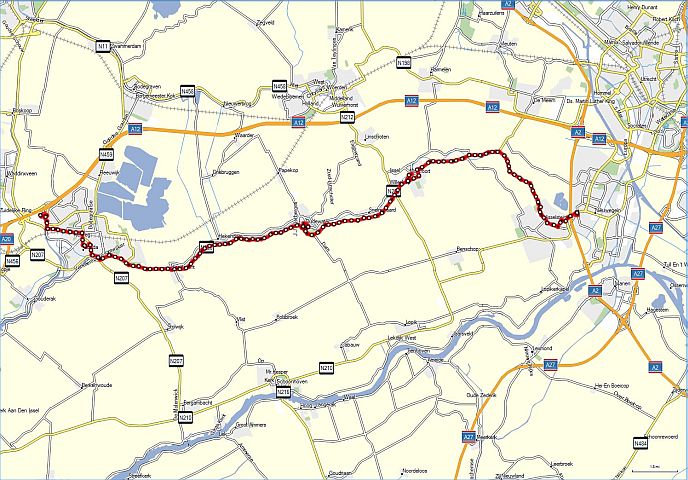 GPS track for Day 3