Day 6 -- Stratford to Tewksbury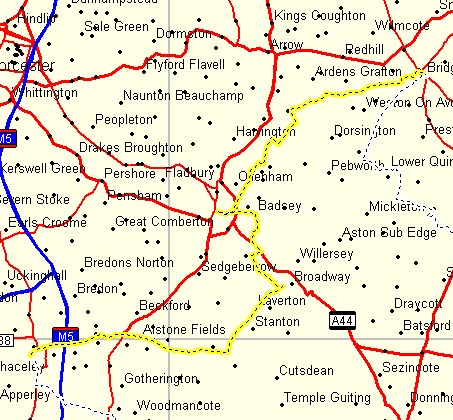 Route for day 6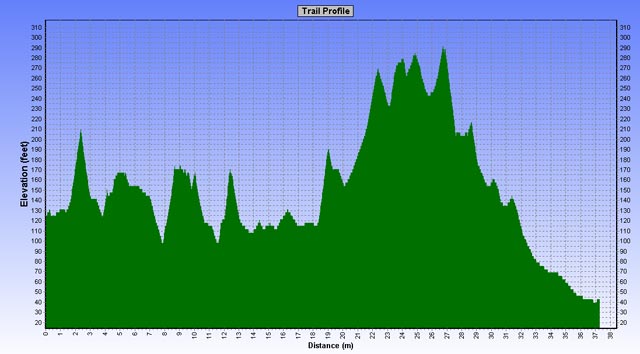 Elevation profile for day 6
After breakfast we walked across the bridge to Stratford's shopping streets, looking for a bookstore and some oil for the bikes, which had been making a lot of unpleasant noises. As we walked across the bridge, Len asked an older man on a bike whether there was a bike store in town. (Len was still looking for a mount for his handlebar bag.) The man gave us totally incomprehensible instructions. His accent was unfathomable to me; I just kept nodding like I understood. Finally he rode off and we shrugged our shoulders.
We didn't find any good books, but we got some WD-40 oil, which we sprayed on our bikes back at the bed-and-breakfast. We debated whether to take the can of oil with us, but neither one of us wanted to carry anything extra, so Len gave it to a grateful delivery woman at the door.
After starting in the wrong direction, we got turned around and walked our bikes back across the busy bridge, then rode along the shopping street behind buses and taxicabs for a short distance before turning off onto a side street to escape the city. We both remarked at how quiet our bikes had become because of the oil, but that was only to be temporary, as we soon found out. Leaving town we got the wrong road at an intersection. We quickly realized our mistake and started to turn around, but we had to wait for a lady backing out of her driveway. As we waited she gestured strongly that we shouldn't turn around, but continue the way we were going. She gestured and we waited. Finally we had to pretend to continue in the direction she indicated just to get her to move. After she had gone we realized that this street was the road to Anne Hathaway's cottage. She must have assumed that every cyclist she saw was heading there, but we were the exception.
Up until now, through the first five days of the trip, we had been on the national cycle paths. Now we were striking out on our own. That meant no more cycle paths or off-road cycling. It also meant we would be facing unknown traffic and road conditions, but at least the navigation would be much easier. I had chosen the route to Tewksbury using the most secondary roads I could find on the map and taking into consideration the hills we would face on various alternatives. As we left Stratford it didn't seem like my initial choice of roads had been very good. This one, B439, was very busy. It was narrow with no shoulder and many lorries speeding close past us. The road was straight with some long hills, although not particularly steep.

B439 out of Stratford-upon-Avon
Finally we turned off this highway onto a much more pleasant road. At the intersection was a delightful town, Bradford-on-Avon. We stopped on the narrow bridge to admire the view of the town and the river.

Bradford-on-Avon
Here we encountered a couple walking their dog. They said they were soon going to visit the United States on holiday, going, of course, to Florida. Once again we were asked where we had cycled from, and when I said London, the man said, "Good show!"
I said what a beautiful town they lived in, and he said yes, but there were problems. Then he walked across to the other side of the bridge and picked up a piece of paper. "People from Birmingham come down here and litter," he said disgustedly.
When we said that we were heading to Tewksbury he went on a long series of directions to something that we absolutely couldn't miss. It turned out to be a pub somewhere or other. We smiled, but had no intention of going there. He also said that we must certainly visit Winchcombe, which was only a little out of our way. I thought we might, based on his description of it.
We had been debating whether to visit the town of Evesham, which was about ten miles from where we were then. Our path went right by it, but it seemed like a rather big town, and it would require a bit of a detour to enter. We asked the man's advice, and he said we should give it a miss. "A big market town," he said, "full of traffic." Enough said.
We stopped at a small town, Elidsey, to buy water and snacks, and shortly thereafter Len stopped to take off his shoes and remove all the burrs that had worked their way inside his socks. This was one of the small inconveniences we endured from time to time. The burrs were obviously genetically engineered to worm their way as far as they could get, and they were good at it.
Removing the ever-present burrs
From time to time we passed quaint houses and cottages. Here's one that was especially pretty.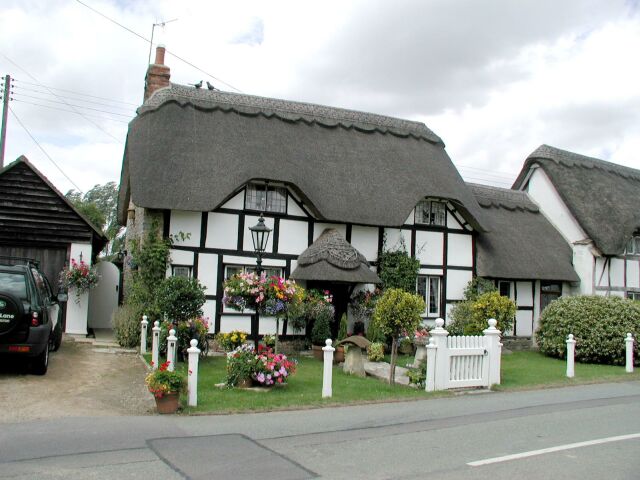 Thatched roofs on pretty houses
From here it was rather easy cycling all the way to Broadway, the picturesque town that is the center of so many Cotwold tours. I could see all the high hills around Broadway, and I congratulated myself in finding a route into the town that avoided these hills. In fact, I remember even being challenged in a car going up these hills in past visits.

Broadway
We locked our bikes to a post in Broadway and set off on foot to explore. I remembered well when I was first here many years ago, driving almost at random and happening onto Broadway, where I had gotten a room at the Lygon Arms. I had been back to stay there several times since then, and always it got more expensive. I think now it's exorbitant. But Oliver Cromwell stayed there, and it is said to be the most famous coaching inn in England.
The Lygon Arms in Broadway
We walked up to the door of the Lygon Arms, and were immediately intercepted by a doorman. "Can I help you?" he said with rising inflection. Obviously we didn't belong there in our ratty biking clothes. I explained that I had stayed there four times in the past myself, and I wanted to show my friend the inside. That made it ok, I guess. He let us in and I showed Len the marvelous dining hall and the elegant, darkly-furnished lobby rooms.
I treated myself to a healthy lunch of snacks -- an ice cream cone, a pastry cream horn, and a candy nougat bar.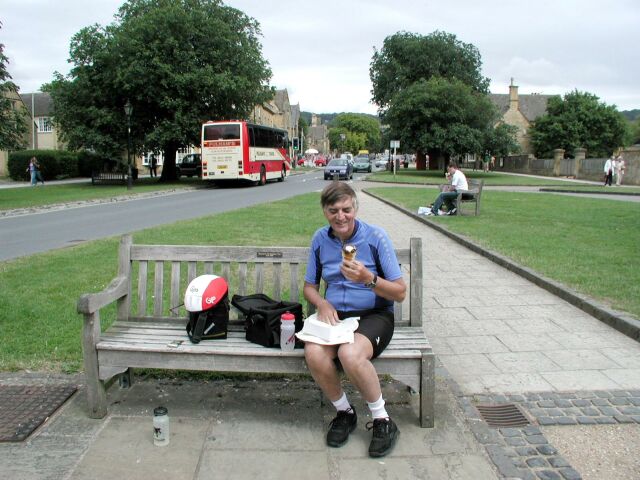 Refreshments in Broadway
The sky looked ominously like rain and there was a strong breeze in our faces as we left Broadway. About five miles down the road we reached the intersection where we would have to turn off to visit Winchcombe. It looked like there would be a downpour any minute, and reluctantly we decided to skip it. While we were stopped to agree on this, Len suggested that I should tie an undershirt to the back of my bike for visibility. It was a good idea. My rain jacket is dark blue, and for oncoming cars I'm not nearly as visible as Len is with his bright yellow jacket. The problem is that Len is always out front, so his visibility doesn't help me. So I sacrificed one of my undershirts in the interest of safety.
Tewksbury was one of those seemingly-small towns on the map that looked like a metropolitan area when we cycled in. We biked alongside a busy highway at evening rush hour in the beginnings of rain. There was a cycle path, but there were so many intersections and difficult round-abouts that we were stopped more than we were cycling. All this traffic, however, was on the outskirts, and when we reached the old town itself the traffic had mostly disappeared.
We followed the breadcrumbs on our GPS, which I had plotted to lead us directly to the hotel. However, when we reached the end of the day's track, we looked around and didn't see any hotel. We found it back down the street. I hadn't gotten the street number location quite right.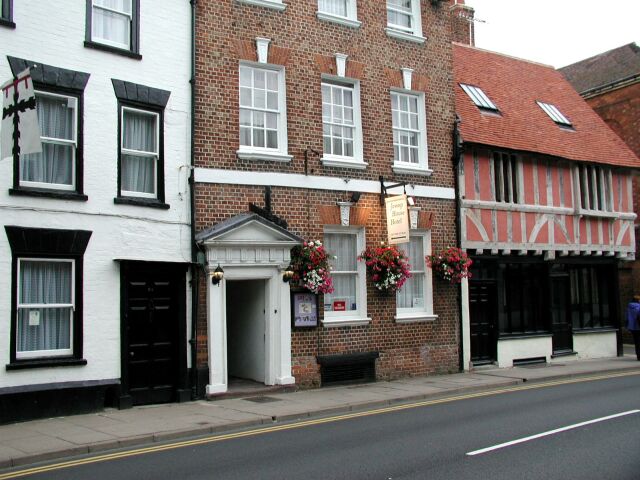 The Jessop House in Tewksbury
The owner of the Jessop House greeted us warmly, and we had an extended conversation. He had lived in San Diego and Ottawa. We asked if he had many American visitors here, and he said no. "Only one every two or three months." Nevertheless, he was fully booked -- during the week it was business people and on the weekends it was British tourists. "We don't see Americans anymore," he said.
We were amazed to discover that he had a 802.11 Wi-Fi hotspot at this bed-and-breakfast. Of course, we didn't have our laptops with us, but this touch of modernity was unexpected. He said that the service was free for guests, and the reason he had it was that he only had two phone lines, and before he put in the hot spot, people using modems would clog the lines. While we were talking we were interrupted by the phone, and we waited while the owner carried on a conversation about hexadecimal and US Robotics (modem manufacturer).
We asked what we should see in town, and he said, "Well, there's the abbey, of course." Then he sort of run out of things to see, so after we had showered and changed we walked over to Tewksbury Abbey, which is said to be the second most important abbey in England after Westminster.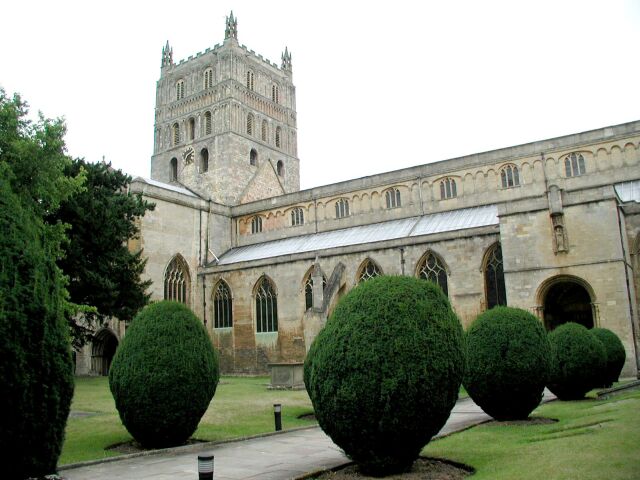 Tewksbury Abbey
I was curious as to what distinguished an "abbey" from a "cathedral". I was told that an abbey housed monks, at least at one time. I asked the difference between a church and a cathedral. The answer: a cathedral has a bishop. Then as a bonus I was told that at one time in England the difference between a town and a city is that a city has a cathedral. So an abbey has monks, a cathedral has a bishop, and a city has a cathedral. Simple.
The Abbey was not especially impressive from the outside, but the inside was quite beautiful. We weren't allowed to take pictures, but here's one from their web site.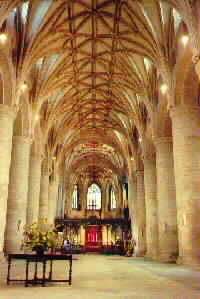 Inside Tewksbury Abbey
It was about 7:30pm, and when we went in the abbey there was a congregation forming, and quite a few clergy were parading around in very impressive vestments. Everyone in the congregation was white-haired, whereas all the clergy looked young and as if they had just graduated from Oxford. We were told that we could walk around if we were quiet, and I was interested in the organ, which was built about 150 years ago and is said to be the oldest in England. I wanted to hear it played in this grand setting. An usher told us that we could sit in the back and hear part of the service, and then we could leave when we wanted.
The service started with a quiet note from the organ. I was disappointed that there was no choir, but then a number of people in white robes began to file in, and indeed there was a choir after all. The choir began with an a cappello rendition of an agnus dei. The sustained notes of the choir seemed to resonate with the cavities of the abbey, and the experience was wonderful. They followed with an organ accompaniment to something by Elgar and it was so beautiful that it brought tears to my eyes. I turned to Len and said that I couldn't believe that a little town like this could have such an incredible choir.
Actually, the next morning I found the answer to this dilemma. At breakfast we had commented to the owner about the music in the abbey. He motioned to a couple eating breakfast at the other table. "You can thank these two," he said. "They were singers there last night."
I did thank them, and then inquired if they were from Tewksbury. "Heavens no," the man said, "we came from all over England to sing here last night at this special occasion. We're all music professionals."
So we were very fortunate to have been in the abbey at exactly the right time for this great musical experience.
After leaving the abbey we had dinner in a pub up the street a little ways, and then walked back to our B&B in the quiet night.
Dinner in a pub in Tewksbury
Proceed to next day's cycling -- Tewksbury to Cirencester