Day 7 -- Tewksbury to Cirencester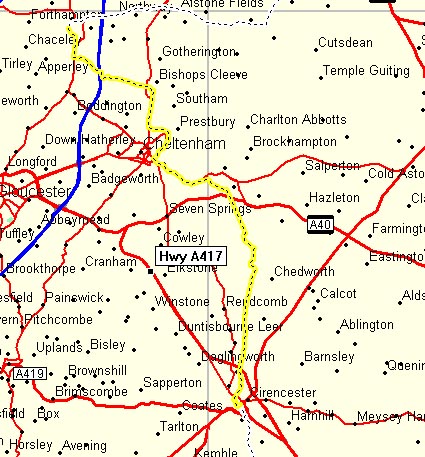 The route for day 7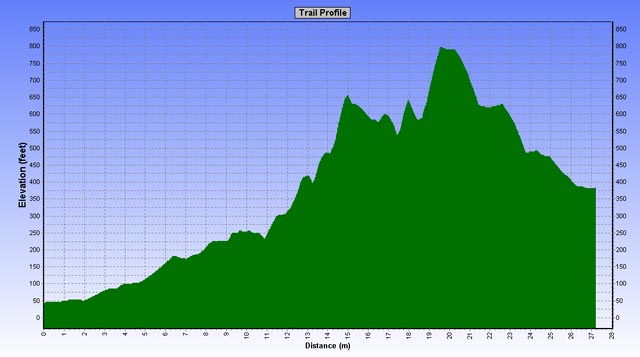 Elevation profile for day 7
Look at the elevation profile. The day would be one big hill. Between where we were in Tewksbury and our destination in Cirencester was a ridge running north-south. No matter which route we took, we would have to climb the ridge. I had selected a route that took the ridge on directly using back roads, whereas other routes that I had considered required climbing the ridge several times. In retrospect, maybe I could have done better though!
At breakfast we spoke to two of the singers that we had enjoyed so much the previous night. At our table someone had left a magazine with a cover story on the impending burst of the Wi-Fi bubble. I was reading the story aloud for Len's enjoyment, since he had founded a company whose business was software supporting Wi-Fi. He took it all in stride, however.
The day was cool and cloudy as we said goodbye to our host at the Jessop House.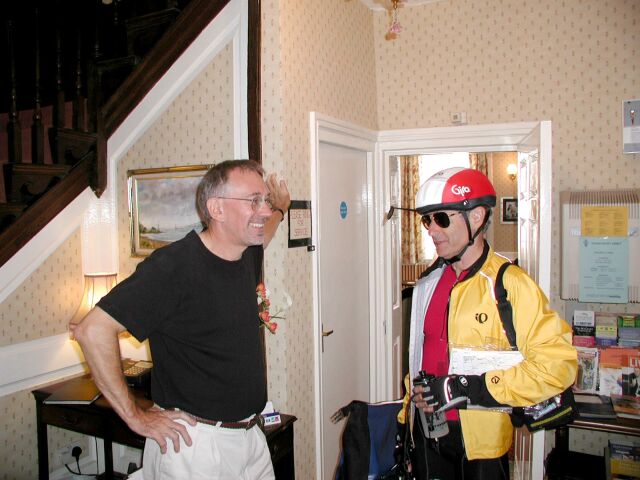 Leaving our bed-and-breakfast in Tewksbury
We cycled south from Tewksbury on an "A" road with quite a bit of traffic, before turning off onto quiet back roads. I watched my odometer as we moved along. I figured I had 11 miles of easy cycling before the big hill. We skirted Cheltenham on a bypass and started slowly gaining altitude. This wasn't too bad, I was thinking. I was now past 11 miles and it was still relatively easy. The elevation was already almost 400 feet -- halfway to the top. The bad part was that we were now on a main road and there was much traffic. Len was complaining about all the fumes we had to breathe. But here was our turn off onto a back road.
As soon as we hit the back road, there was a really steep hill. Back roads do this, and in retrospect I'm wondering what the main road would have been like had we continued on it.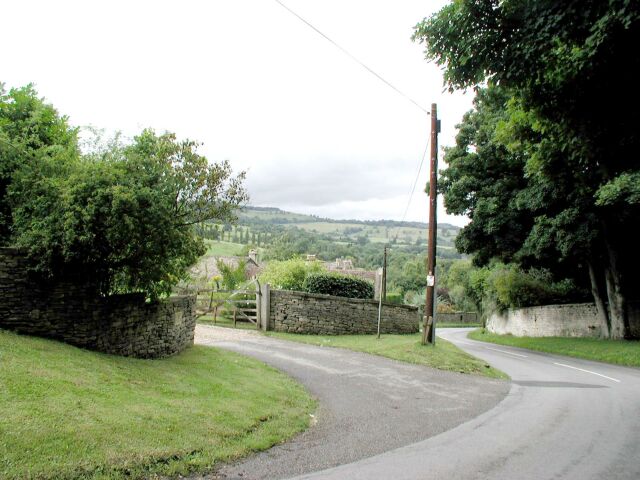 Up the hill on a back road
Pictures of hills never do them justice. I used the excuse of taking this picture to catch my breath. There was an old church here looking over the valley below.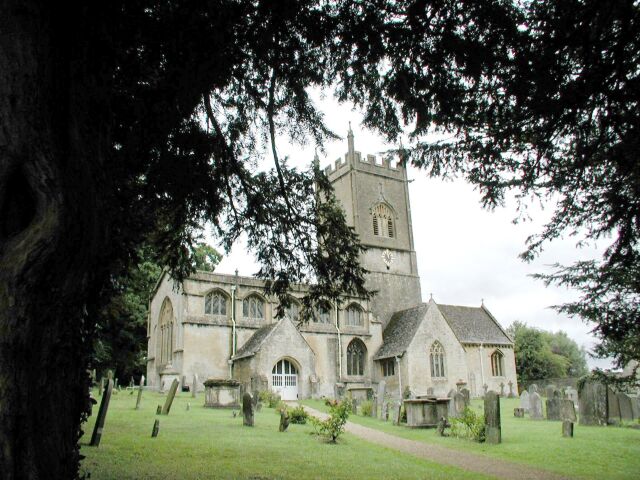 Country church on the hill
This was the second worst hill of the trip. It wound steeply through woods and after several more breath stops I emerged at the top where the elevation was a little over 700 feet. I was tired, but I figured this was the worst of it, because the peak elevation of the ridge was only about 150 feet higher.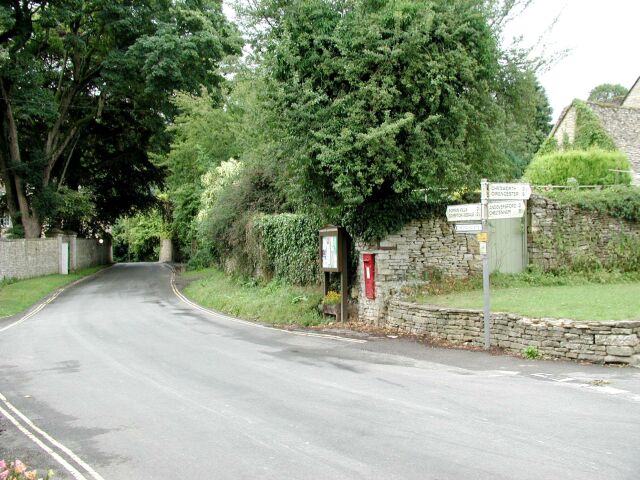 Top of the first hill
Unfortunately, the road then began to go down. Don't do this, I thought. But it kept going down until we were at 490 feet. Along here we passed a very small village -- only a couple of houses -- and here Len had another bout with chain trouble. This seemed worse than before; the chain was jammed somehow, and we had to unload his bike and turn it over to undo the trouble.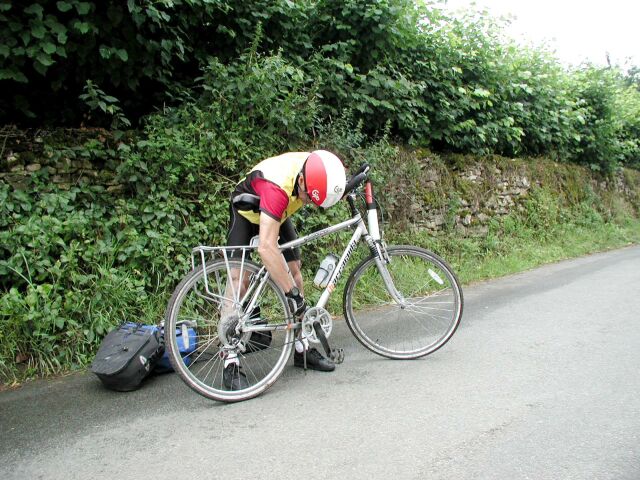 Chain trouble
Then the real hill started -- the worst of the trip. Even Len had to take several breath stops as we endured a steep climb. I tried walking my bike for a bit, but that was at least as tiring as cycling. But eventually it ended, and I came out here on the top at 850 feet elevation. I look beat, and I am beat in this picture.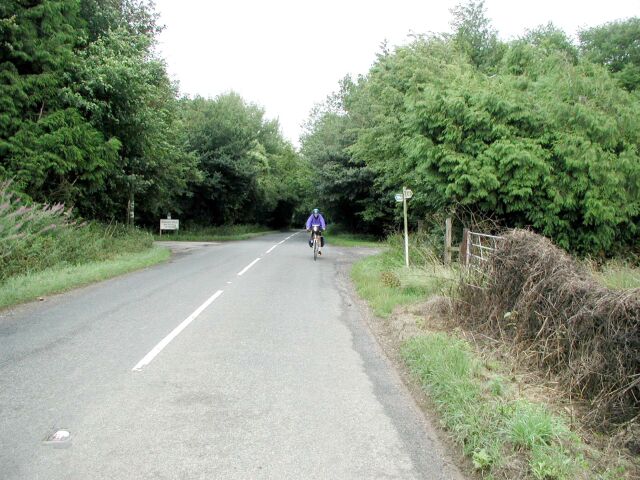 Finishing the climb
I would like to have enjoyed the feeling of having conquered the hill, and now having only downhill to Cirencester, but even though the road was now level, the weather conspired to be unpleasant. Suddenly there was a strong wind in our faces. Len said that the good part about the hill was that it had shielded us from the wind. (Of course, there was a bad part too.) It was considerably colder on top and it was starting to rain.

Along the top of the spine
We paused for refreshments, and I wanted Len to take me picture sitting in the grass. But it was wet and cold, so off we went. We were approaching the end and now I could see end of the track in my GPS, only a few miles away. Kind of sad, in a way.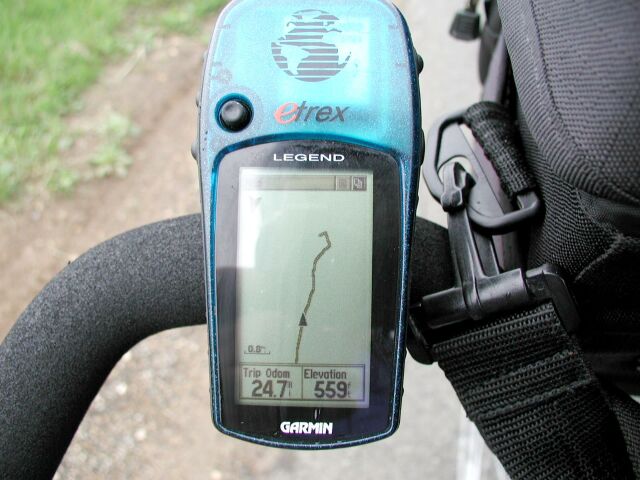 The track on the GPS comes to an end ahead
Nearing Cirencester we saw a little pretty village down in the valley.

A small village in the valley
It was raining when we cycled into Cirencester. We stopped at the main square to admire the church, and then followed the "breadcrumbs" on our GPS to the end of the track. We stopped, and Len looked around. "OK, where's the hotel," he challenged. Well, we were standing right in front of it.
This was the end of our trip, and we wanted to celebrate the occasion with a picture. There was a man walking by, and we asked him if he would take our picture. "Right in front of this beautiful house," he said.
"That's where we're staying," we told him.
"I own the place," he said. And so he did.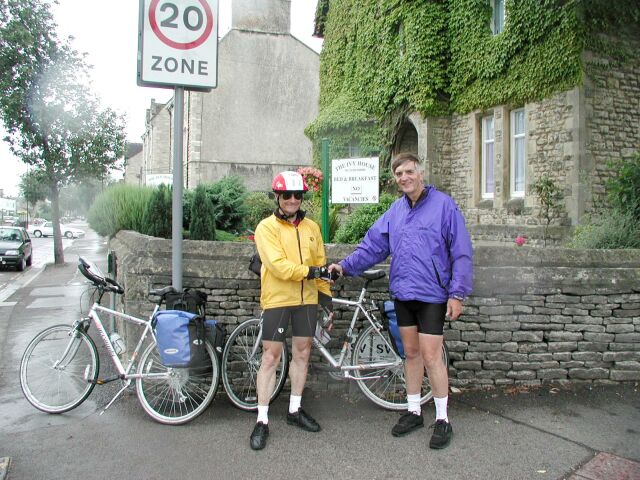 We reach the end of the trip in Cirencester
We unloaded our bikes for the last time and removed our panniers, bags, and GPSs. I had a spacious room on the ground floor, where I enjoyed a hot shower before walking into town in the rain. We went into the church where it was warm and dry, and then lingered in a bookstore. This time I found a good book and so did Len.
With time to spare before dinner (it had been a relatively short day) we decided to have our first drink at a pub. We'd meant to do this all along, but time slipped away each day. Here I am, having a drink at the local.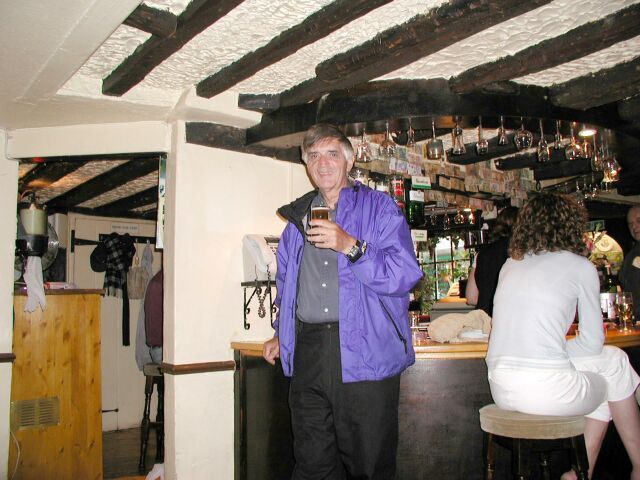 A drink at the pub
I wonder who the girl in the picture is, and whether she will ever see this? She was talking to two men at the bar about going to Delhi. I thought she was quite beautiful, but Len didn't. (There's no accounting for taste!)
We had been recommended to an Italian restaurant next door, but when we went there the door was locked. A man came to open the door and told us curtly that they didn't open until seven o'clock. Forget that place. We had a nice dinner across the street. Also Italian, once again.
The end. Almost.
_________________________________________________________________________________________
The next day
Now that we weren't cycling anymore the morning was a beautiful sunny day. The evening before we had spoken to a local cab driver about taking us to Swindon where we had reserved a station wagon at Alamo rent-a-car. First thing in the morning Len called the cab driver to ask if our bikes would fit in his cab. He didn't know, but said he'd come by early and make a try.
He had a small cab, but the back seat folded down and, incredibly, both bikes and the three of us could squeeze into the little car. He agreed that he would return and drive us all the way to Staines, where we could take our bikes on a train to London. We negotiated a fee. He named a price, and we said ok.
First we went for a walk in the town. This picture of the old church is much better than the one I took in the rain on the previous day.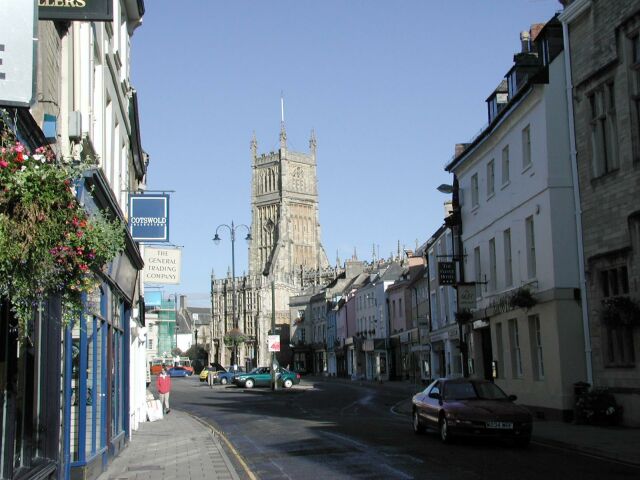 Cirencester
Len called Alamo to cancel our reservation, and was told that we didn't have a reservation. Good thing we got the cab! Len had a reservation number and everything, but Alamo had screwed up. (So there.)
Duncan, the cab driver, took us to Staines, about 80 miles, and here we are getting out at the train station and waving goodbye. On the way Duncan had explained the rules of cricket to us. I didn't get any of it. It's even a whole different vocabulary. Maybe Len understood it, but I sure didn't.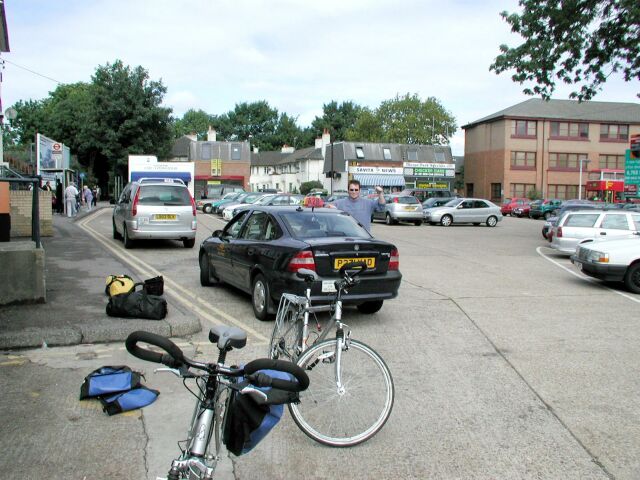 Waving goodbye to Duncan, the cab driver, at Staines
We took our bikes on the train to Waterloo station and returned them at London Bicycles.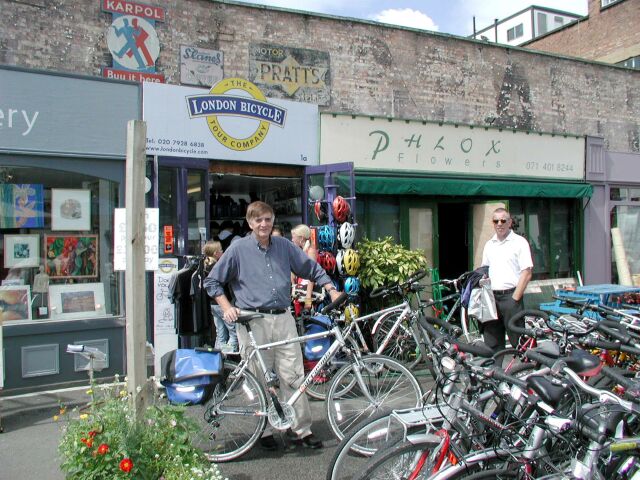 Saying goodbye to my bike
Len's bike was rented out before they even put it on the rack. I wanted to tell the man that he would have trouble with the chain, but thought better of it.
I'd like to say that my trip back to the US was pleasant and uneventful, but it wasn't. The catering truck for our airplane accidentally hooked the door of the airplane and drove away with it. Needless to say, you can't fly on an airplane without a door. But eventually I did get back home.