Biking Northern California -- Wine Country and Coast
Day 4-- Healdsburg to Guerneville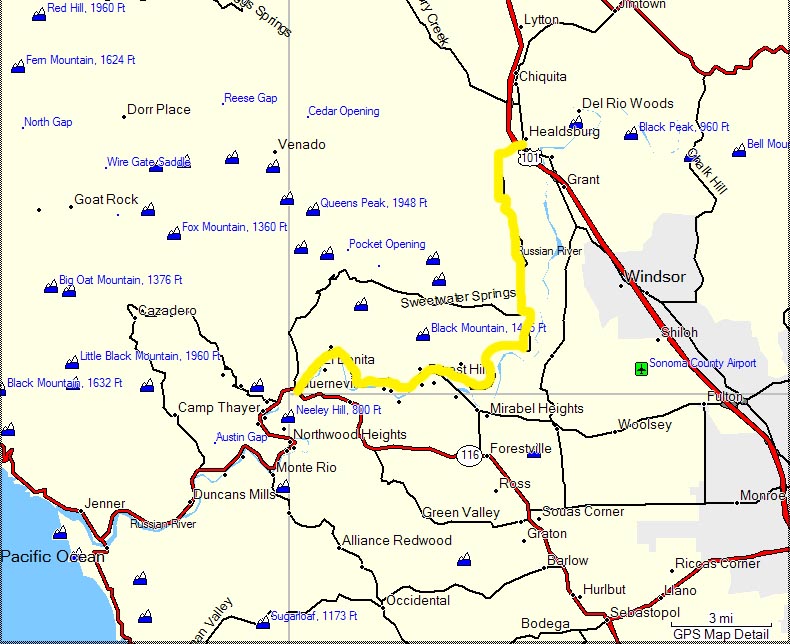 Route for Day 4
Sunday morning broke even colder and cloudier than the previous days. In fact, it was either raining or the air was so wet that it seemed to be raining. I wore every piece of clothing that I had, which wasn't much. I had my biking shirt, my pajama top, my sweater, and my biking jacket, as well as my rain pants.
As we had the day before, we walked to the French cafe for breakfast, hoping that it was open early on a Sunday morning. It was. For a change I had a delicious Belgium waffle. Before leaving we both got sandwiches from the cafe to take with us. During breakfast we had been staring at all the plaques around the cafe marking gold medals from various competitions for their different breads. Might as well find out about these prize-winning breads.
The trip this day was not a long one -- only about 22 miles -- and promised to be moderately easy. Given how cold and wet it was outside, we waited as long as possible before setting out, but finally around 11:30am we had to get going. It was still cold and wet as we headed west out of town, retracing for a few miles the route we had taken into town the previous evening.
Once again the terrain was rolling hills. Some were rather difficult, but on the whole it wasn't too bad. As I worked up a sweat, the sun broke through and it quickly began to heat up. Len stopped and took off his jacket, but my problem was that there were areas of deep shade that were still cold, followed by sunny areas that were hot. You couldn't win.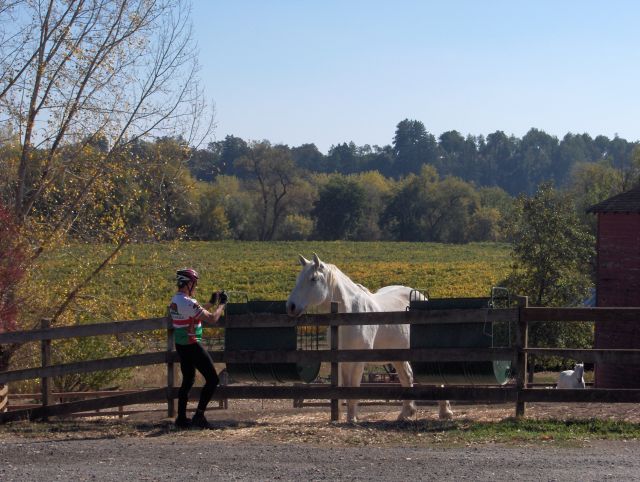 A white horse by the road
Once again we stopped at a vineyard for a wine tasting. We were getting out of the wine country presently, and this was to be our last chance to listen to one of those lectures.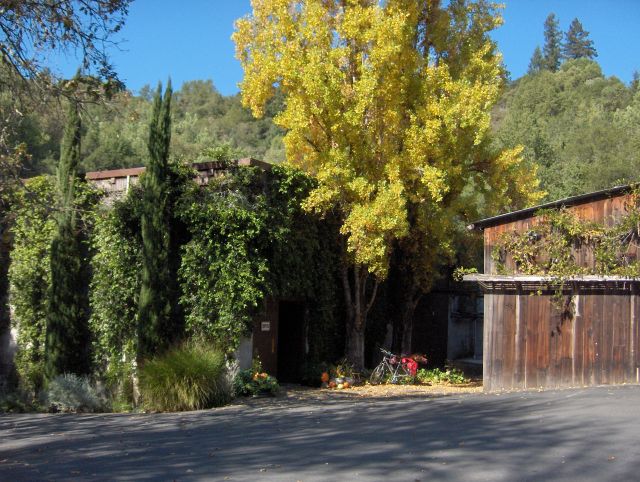 The Davis-Bynum Vineyard
We were practically the only visitors to the vineyard, so we were treated to an engaging lecture by the young man stationed behind the counter. He said that he had previously been the wine expert at some upscale restaurant. At one point the restaurant had some cases of a rather mediocre wine that they were trying to get rid of at $40 a bottle. He suggested that they raise the price to $60, and they sold more at the higher price. So they raised the price again to $80 a bottle and sold even more. Finally at $140 a bottle they couldn't keep enough of it. I think there's a moral in there somewhere.
Leaving the vineyard we were looking for a place to eat lunch, and Len found an especially nice pull-off overlooking another vineyard.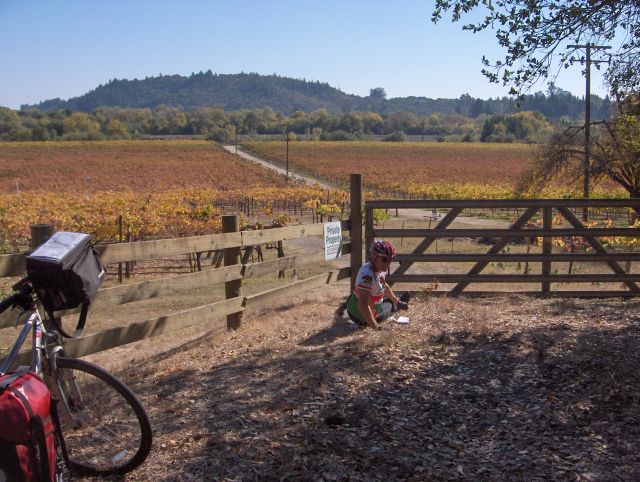 Enjoying our lunch along the way
I was remarking how quiet it was here and how we had never seen anyone or any machine in the grape fields we had passed. I suppose this was the season when the plants had to fend for themselves. I did marvel, however, at how there we no weeds growing between the rows of grapes. How did they manage that, I wondered, and were all the grapes picked by hand? These things remain mysteries to me.
From here the road climbed up a last few rather challenging hills before we descended to join the Russian River. I didn't realize it at the time, but this was end of the wine country. We would follow the river to the ocean, and the fields of grapes would become forests as we went along.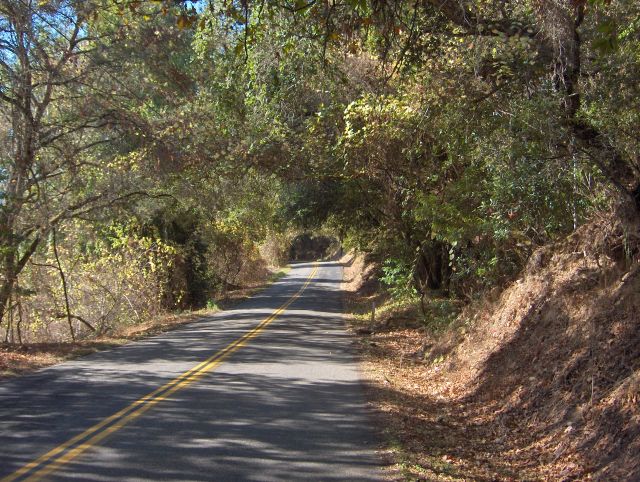 The road climbs through pretty tree-lined hills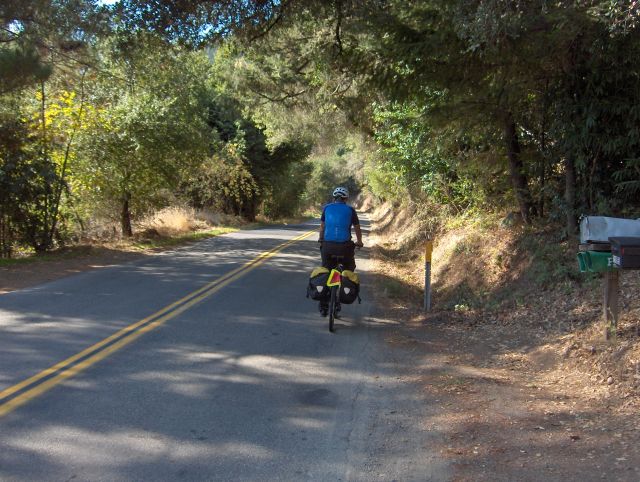 Last miles before joining the river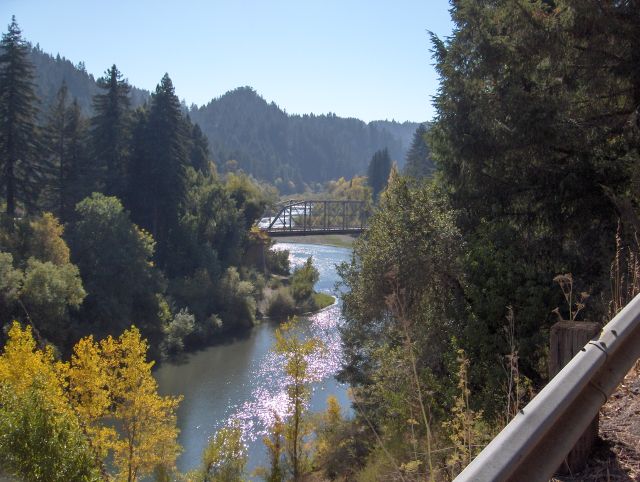 The Russian River makes its appearance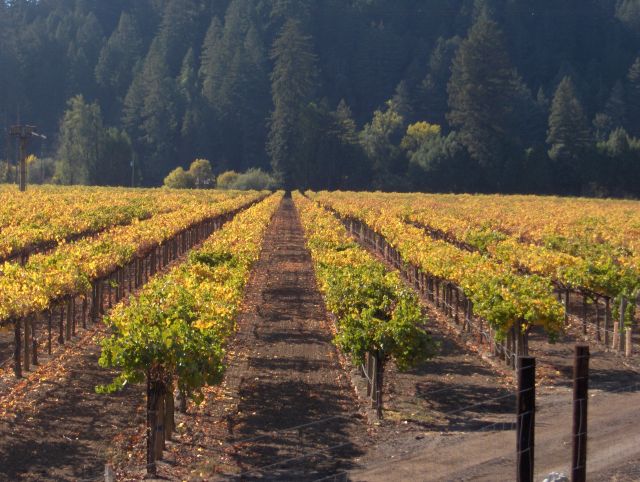 A last, perfect, field of grapes
From here to the town of Guerneville the road followed the river and was mostly flat, easy going, along what was becoming a major highway -- at least for this sparsely-traveled region.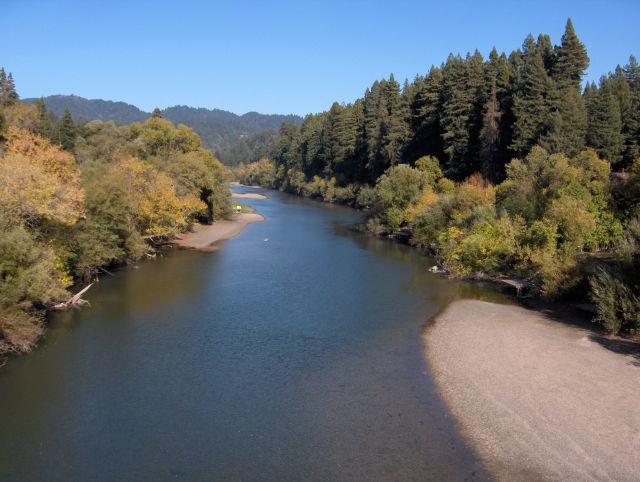 We follow the Russian River towards Guerneville
Our hotel for the next two days was the Applewood Inn, which was about a mile outside of town along a highway. Since that highway intersected the road we were on before we reached Guerneville, we reached the Inn before seeing the town itself. This time we were to stay at the Inn itself, rather than at some annex. The Inn was really quite nice, and though our rooms were slightly on the small side, there were many public rooms with books and newspapers. There were even trick-or-treet baskets of chocolates in these rooms. It was slightly unusual too that all the many empty bedrooms had their doors ajar.
Our guidebooks said that the only decent place to eat in Guerneville was at our Inn, so we asked the manager about dinner reservations. He said he was sorry, but the two nights when we would be there -- Sunday and Monday -- were the two nights that the restaurant was closed. We would have to ride or walk into town for dinner. But since it would be dark, riding was out of the question. I was disappointed about the restaurant being closed, but I didn't know at the time that was going to be a lucky break for us. A real treat awaited us in town.
It was only 2:30pm and we had hours to kill in our rooms. I turned on the television to watch the NFL football game in progress at Oakland between the Steelers and the Raiders. I grew up in Pittsburgh, so it was hard for me to take the game in which the Steelers outgained the Raiders 430 yards to 98, yet lost. That's what happens sometimes, but it left me in a down mood as the time to find dinner neared.
Len is always equipped for everything, so he had a small flashlight to guide us safely along the pitch-black highway towards town. Down the road we walked across a bridge and turned down the main street of Guerneville. This was a town completely different from Healdsburg, which had been an upscale town of preppies. Our guide book described Guerneville as being "quirky and gay." It consisted of one main street that looked right out of some movie setting for a western. There was even a 5 and 10 cents store, which I hadn't seen anywhere in years. As we walked along the dark street it seemed that every store had a Halloween display in the window. It was Sunday, October 29. Halloween was to be on Tuesday. This town was making a big deal out of it.
The pickings for a restaurant seemed slim. We passed one grill with almost no one inside. After a couple of blocks we reached the other end of town, which seemed to be the Mexican end. Heading back up the other side of the street we passed a small group of people who appeared to be homeless. They eyed us with subdued interest as we walked slowly by.
Other than the empty grill and a couple of Mexican restaurants, we hadn't seen any place to eat. Now we passed a pizza joint, called the Main Street Station.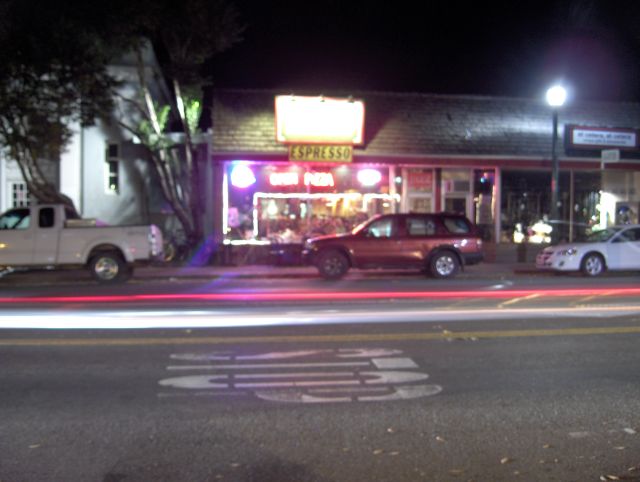 The Main Street Station Restaurant
This looked to be only choice we had, so we looked at the menu posted on the sidewalk. Besides pizza, there was spaghetti, and that appealed to us particularly. Ever since a memorable meal of spaghetti at an upscale Italian restaurant on a rainy night in Banbury, England, we'd had a fixation on that kind of meal after a day of biking. Of course, you can never recreate these experiences, but we try anyway.
The menu also said that on some nights they had music and then there was a cover charge, but Sunday didn't seem to be one of those music nights. As we were seated inside, Len asked the waitress if there was to be music. She told us that tonight was an "open mike" night. Anyone could come in and try their hand at entertaining. That didn't seem to be very promising. We eyed the old piano standing empty by the window and the handful of diners and people at the bar in the back. No one here was going be playing that piano. It was just a quiet Sunday night in the little town. But little did we know.
We got our traditional glasses of red wine and ordered our spaghetti. As we toasted ourselves an old man with long white hair and a flowing beard came in to join the people at the bar. I said to Len that he looked "authentic" for this place, like he was right out of some Western. Shortly thereafter the door opened and a woman in a mask and cat costume came in. What was this, I wondered? Then she was followed by a tall young man dressed as a devil.
The cat woman started throwing kit-kats (chocalate-covered wafers) around the restaurant. Before I could react to what was happening, one of the kit-kats plonked squarely into my wine glass. It was a perfect swish, not spilling a drop. The other diners applauded as I fished the kit-kat out of my wine. No harm done. More kit-kats were raining down, and I managed to catch a few and start to assemble a small treat for later.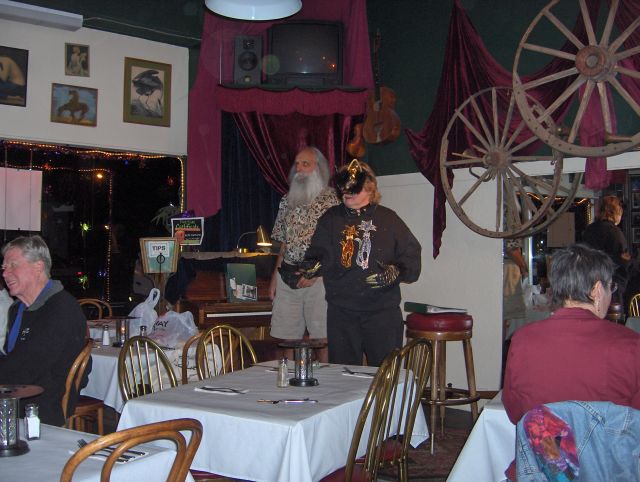 The cat-lady throws kit-kats to the diners
Now it seemed that the old man with the long white hair was a piano player, and as it turned out, quite a good one. The cat-lady was a singer, but not so good. She made up for her lack of singing talent with personality as she sang some old favorite songs, while the devil-man played the bass.
While this was going on, an assortment of people in costume was steadily drifting in the door. Finally, we realized that this was Halloween party night at the little restaurant. Given that this was a "quirky, gay town," some of the people and costumes were especially interesting. A tall woman in a long gown sat at the table next to us. I noticed the hairy, masculine hand "she" had on her lap. There was another table with a pair of obvious lesbians, and elsewhere a variety of undetermined types. Quite a few people were signing up to sing or entertain in their turn.
A couple of the volunteers came forward to the tiny stage. A tall man played some kind of wind instrument while either a man or a woman crouched on the floor, singing a very angry song of some sort. The man was very good. I couldn't decide from the voice or the dress whether the singer was a man or a woman. Whichever it was, they had a beef with the world.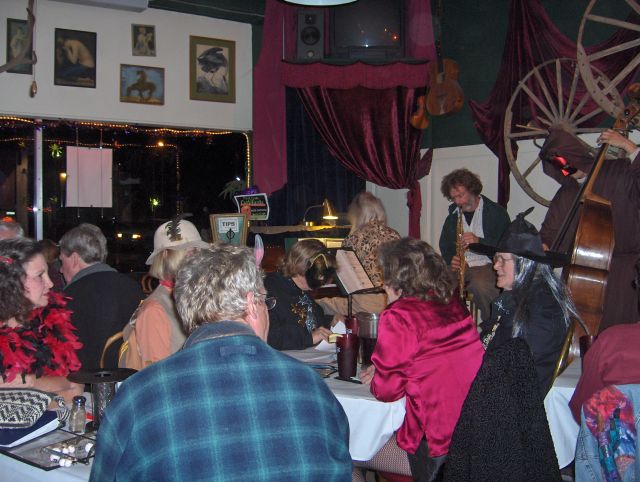 The restaurant fills up
We were having a ball and thoroughly enjoying the pagaent. But all good things must come to an end, and even after stretching out the meal with a large sundae, it was time to give up our table. Outside we took turns using the public telephone across the street. We had been amazed earlier to discover that our cell phones were useless not only in the Inn outside the town, but in the town itself. Neither Verizon or Sprint had coverage in the town.
In the dark we walked back to the Inn. As we crossed over the bridge we saw and heard a "haunted house" a little off the highway. There were perhaps a dozen cars parked in the lot. In the darkness of this small town framed in the forest and hills, the recorded "ghost" sounds intended to scare the paying customers were at once eery and pathetic.
Proceed to Day 5 of the California Trip
Back to Overview Page for the California Trip