Biking from Tralee to Ballybunnion
It was another overcast day as we retrieved our bikes from the hotel's storage shed, but thankfully, no rain. For this day I did have the detailed maps, and I had given them more study in the light of the knowledge I had gained from earlier roads. For some reason, every town where we stayed was situated near sea level in elevation, and everywhere we were headed required climbing a hill to leave town. Tralee was no exception, and the map designated "Church Hill" as the feature directly to the north of Tralee. There was no avoiding it, but as hills went, this one wasn't too bad.
The map noted a standing stone a little past the top of the hill off to the left. We stopped our bikes and looked in that direction, but saw nothing of interest. While we were looking at the unremarkable pasture next to the road, two apparent farmers came trudging up behind us, carrying large poles. We asked them if there was a standing stone somewhere around, and the older of the two said that there was, and that he would show it to us. It was his farm, and the stone was on his land.
He led us around a small barn, where we left our bikes, and pointed off into the field, saying that it was ok for us to walk out there. Before they went off, Len asked about the poles they were carrying, and was told that they were to scare off the crows. So Len and I started walking gingerly through the high grass towards the now-visible standing stone. There was a fence atop a grassy mound that had to be negotiated, but soon we were in the pasture itself. The grass here was waist high, and there were cows not far away. I was kidding Len about maybe there was a bull there, and how far were we from the fence? I pointed out that his outfit was red, while mine was blue, and that the bull would surely go after him. I think we hurried our steps a little after that!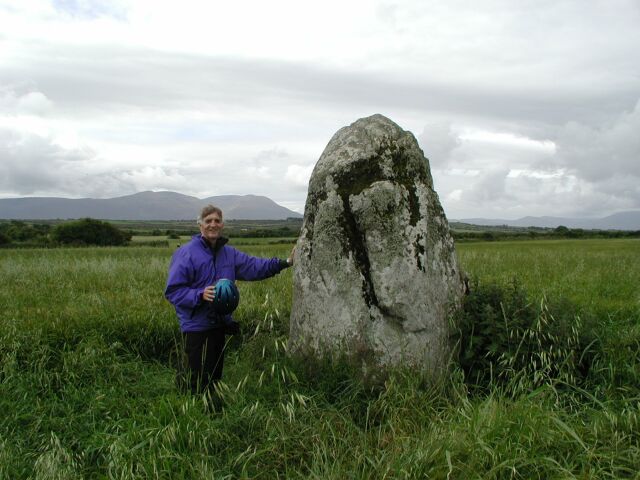 The Standing Stone
Going back under the fence, I brushed the back of my hand against some bush, and I felt an instant tingle. Stinging nettle! I remembered the feeling from a previous incident when I had been biking in England. It is amazing how quickly it reacts on your skin, but it merely tingles, rather than itches, and only lasts a couple of days. No big deal.
As we were remounting our bikes, the farmers came walking back. The older one told us that there was a fort that we might want to see across the road on the other side. This also was marked on the map. So we went back down the road a little ways, but whatever was back in there was behind a house that had a fence and a watchdog. We thought the fort could do without us, so we turned around and ran into the farmers again. They said it was ok to go back behind the house, but Len and I glanced at each other, and had the unspoken understanding that we wouldn't.
The old farmer was telling us about the history of the standing stone on his property. It was something about the chieftains, but I could hardly understand anything he said. A few times he seemed to ask me a question, and would pause expectantly. I tried to make arbitrary noises, not knowing what was expected of me. Finally, we left, and Len kidded me about my responses. He hadn't understood anything either, but I had been the one on the hook for the answers to the unknown questions.
Almost everywhere we went in the tourist world – hotels, restaurants, pubs, stores, etc. – the people were extremely friendly and were easy to understand. I loved listening to their soft accents. However, there were a few occasions, like that with the farmer, when we were out of the tourist world and the accent posed a problem for us. Regardless of the language, however, people everywhere were friendlier than Len or I had ever experienced elsewhere. Every day during the trip there would be some time when we would marvel at the friendliness of the people we encountered.
A few miles further down the road we entered the town of Ardfert, where there is a ruined 13th century cathedral. We bought tickets in the entrance foyer and listened to an extended description of its history while the woman seemed to hold our tickets in escrow.
No one else was there at the moment, so I felt obligated to stand and listen. Maybe she didn't get that much opportunity to practice.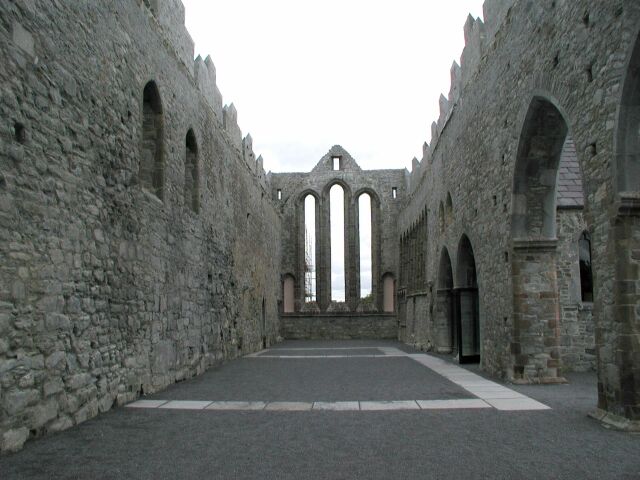 Ardfert Cathedral
We spent some time walking around the cathedral and the grounds, where there was a ruined chapel and an ancient stone assembly like the math symbol Pi (P), like a little piece of Stonehenge.
On the main road again, we biked northwest towards the little town of Ballyheige, where we would be on the seashore for the first time. This was a flat and relatively uninteresting run, but we made good time and were soon biking down the main street towards the sea. At the end was a small park with a statue, a ruined castle on a golf course, and a few stores. There was a little deli, where I gratefully ordered a ham sandwich on a French roll. We then enjoyed lunch on a bench in the park.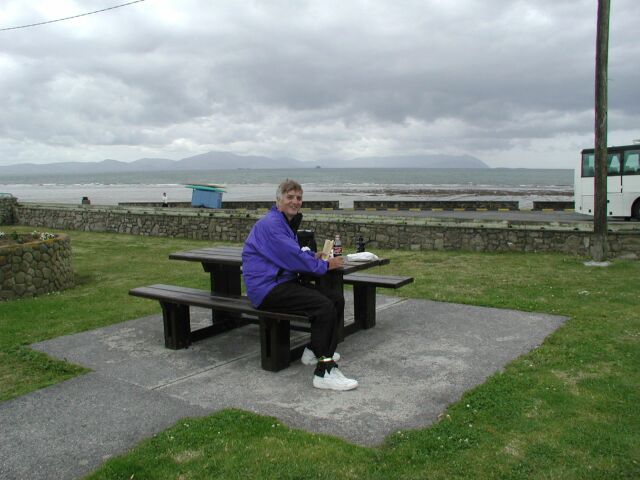 Lunch on the Shore at Ballyheige
Actually, this wasn't as pleasant as it looks. It was one of the very few times when I felt cold, and the wind kept blowing my things off the table. The temperature was almost always in the high 50s, but for biking this was almost ideal. Here, though, it seemed colder, and we were just sitting.
In the background of this picture you can see the Dingle Peninsula. Len took out his binoculars, and we surveyed the cliffs and beaches across the water. This is a famously beautiful place in Ireland, and many tourists tour the Dingle. I had toyed with the idea of biking around the peninsula, but we didn't have the time. Moreover, some of the stories I had read said that the tour bus traffic was terrible there.
From Ballheige we headed back inland and northeast towards Ballyduff. Along the way we passed this cemetery in the middle of nowhere.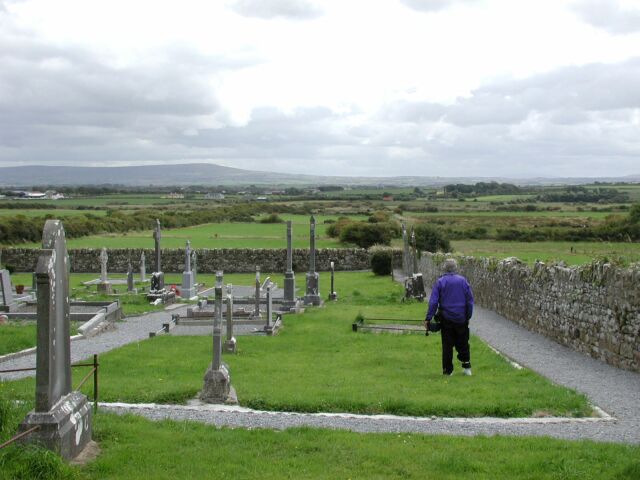 A Cemetery Along a Rural Road
We saw a number of such cemeteries, and I wondered how they came to be where they were.
This next picture shows a typical scene along the road to Ballyduff.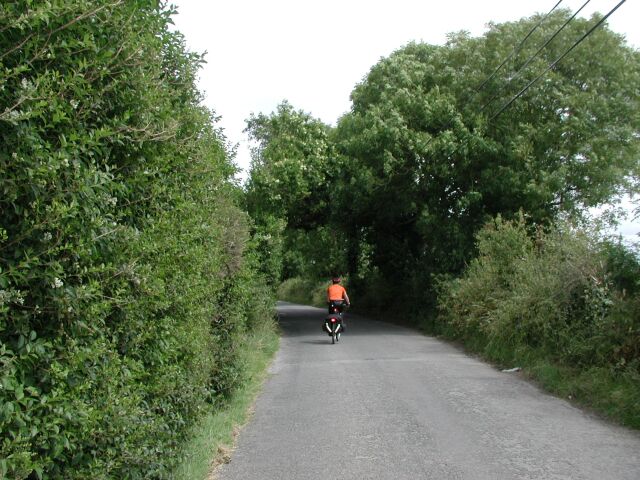 Len Biking on the Empty Road
As the days went by, we had a kind of running joke. Whenever one of us took a picture with his digital camera, the other would immediately take the same picture. Before the trip we tried to agree on how we would share pictures, so there was no need to take the same pictures. But neither of us could stand by and let the other take a picture that we didn't duplicate. So we have two of everything, and pictures like the one above showing Len would be matched with another showing me biking in the same place. But digital pictures are free anyway, so what's the difference?
After some relatively easy biking we came to the crossroads for our destination, Ballybunnion.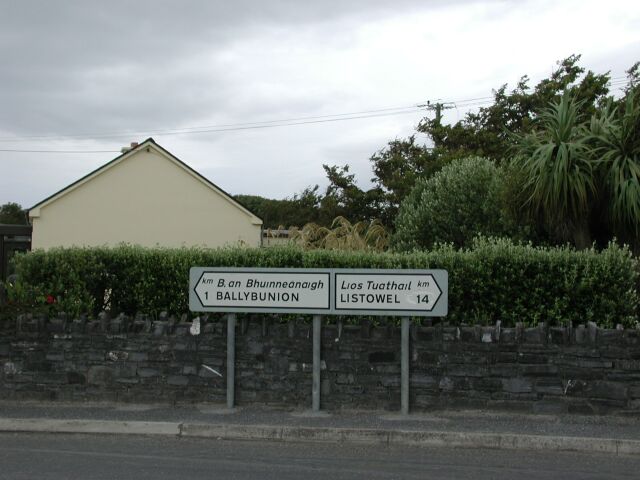 Ballybunnion this Way
I include this picture to show how all the signs were printed both in English and in old Irish (Celtic?). I read that people speak this language in some parts of the country, but we never heard it. (I do notice that the sign spells "Ballybunion" with one 'n', whereas all of my maps use two 'n's.')
As we turned west towards Ballybunnion, my biking was slowed by a headwind. I mention this because it was fairly unusual. Although the trip had been planned to have the wind at our backs, I was seldom conscious of any wind at all. In biking, that usually means the wind is at your back, but it can also mean there is no wind. For the most part, I just wasn't conscious of wind during the trip except for a few times when it was in our face.
Ballybunnion, like every other town we visited, consisted of a single main street. It ran east-west, and ended at a cliff surmounting the beaches below. At the beginning of the little business district there was a large statue of President Bill Clinton swinging a golf club. (When he was president he came to play golf at Ballybunnion.) Our hotel, the Southern Hotel, was situated on a side street that paralleled the cliff.
We always had this feeling of achievement upon reaching the hotel at day's end. Sometimes to celebrate this triumph over whatever adversities we had faced, we would take a picture, as if we had reached the summit of Everest. So in front of the Southern Hotel we got out our cameras. An older man was walking past the hotel, and Len enlisted his help with the camera. He showed the man where to look and where to push, and we posed at the front door shaking hands.
The man started waving the camera up towards the sky and pushing and punching every which way – on the side, front, and back of the camera. It was crazy. So Len patiently re-explained to the man. "You look right in here, hold the camera still, and push this button." But exactly the same thing happened. Len and I exchanged a meaningful glance, and thanked the man. Maybe he had never used a camera before. We then took the picture using the self-timer.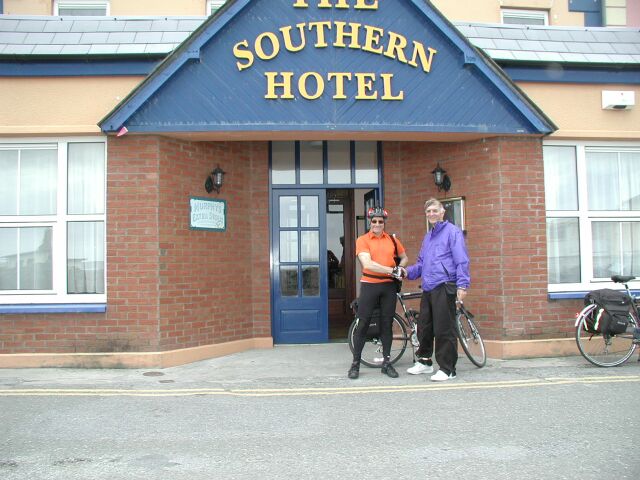 Arrival in Ballybunion, Taken with Self-timer!
I took a shower and watched some more of the Tour de France. Lance was doing well, and once again I felt humbled in comparison. After a brief rest we went walking in the town looking for a restaurant. It was raining fairly hard, and we were thankful that it had waited until we had finished biking. We passed several amusement arcades, where there were video games, skeeball, and bumper cars. It was honky-tonk like some Jersey shore town, and it seemed out of place in old Ireland. Many of the other stores in the little town featured golf memorabilia in their windows. The town seemed to be a combination of beach and golf.
There didn't seem to many restaurants, and we settled for one of those upstairs places at a pub. It was even hard to find the steps up to the restaurant. Len was wondering what kind of establishment would make itself so hard to locate. Maybe because it was hard to find, this restaurant was empty. We ordered our usual wine, and I got a Dover sole. While we were eating, one other table filled up with two couples. Len and I were talking about technical things, and I happened to mention Princeton in some context. The people at the other table looked up, and said that they were from Princeton – not the university, but the town. I thought what a strange coincidence that in this little restaurant in the little town of Ballybunnion, Ireland, the only people eating were from New Jersey. (Well, I include Len as an honorary New Jersey citizen.)
The two couples from Princeton were there to play golf. I asked if this was a good course in Ballybunnion. They looked at me like I was really stupid. "Well, it's one of the five best in the world," the man said. They returned to eating – obviously Len and I were unworthies in the world of golfers.
After dinner we did our usual pub crawl, starting with Tony's, where there was a woman singer belting out American songs like Kenny Roger's "The Gambler".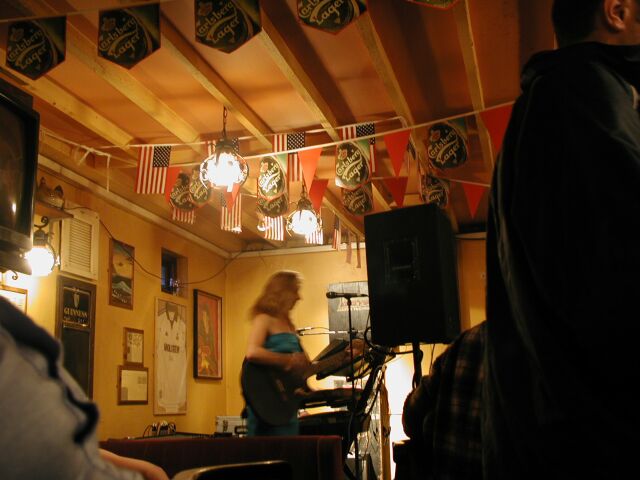 The Singer at Tony's
This picture doesn't do her justice. When she turned and smiled in our direction, as she did frequently, she lit up the room with a thousand-watt smile. We both thought that she was very sexy. She was also a good singer, but the songs weren't Irish, and neither was her accent. So on we went.
Across the street was President's. The sign outside said there would be a band at 9:30pm, and it was now after 10:00pm. But inside there was no sign of any band. Len went up to the bar and asked what had happened to the music. He came back with two glasses of beer in his hands and a smile on his face. "What's the story," I asked, though I knew he was going to tell me something interesting.
Len said that the bartender had explained that they did have a band. That wasn't the problem. The problem was that there were two bands. Through some mistake they had accidentally booked two different bands for the same night. "They're backstage fighting it out now," he said.
We waited to see how this would come out, and after a while a single man singer came out with a guitar.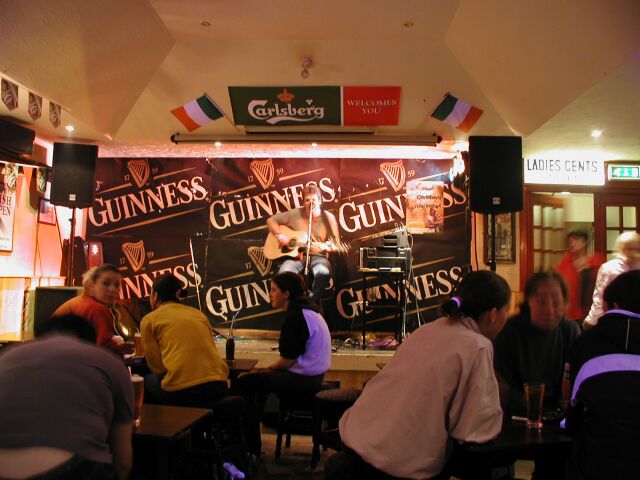 Singer at President's (well camouflaged)
This singer acted like he didn't want to be there at all. He belted out the Irish ballads in an angry voice, and never looked up at the audience. Once again, we heard the song Dirty Old Town -- this time, with anger.
I met my love by the gas works wall
Dreamed a dream by the old canal
Kissed a girl by the factory wall
Dirty old town
Dirty old town
With that chorus ringing in my head we walked down the rain-glistened street towards the hotel for the night.
Proceed to next day's biking, Ballybunnion to Lahinch