Antwerp to Breda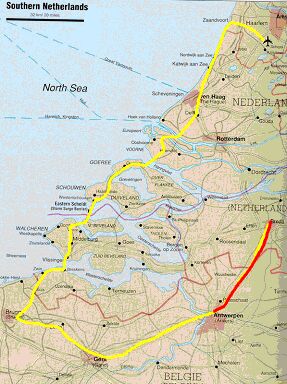 Antwerp to Breda (in Red)
In the morning it was raining again. It wouldn't want to spoil my perfect record, I thought, as I started out towards the southeast. That seemed to be the easiest path to the ring road around Antwerp. I would follow the ring road about a third of the way around, and then head out to the northeast on Highway N1. That was the plan, anyway. However, this wasn't to be my morning.
This was the last day of biking, and I had to reach Breda, a sizeable town north of me in the middle of Holland. According to my guidebooks and maps, there wasn't much worth seeing between here and there. Moreover, I had now reached the point where I just wanted to get there. Thus I planned to follow highway N1, which was supposed to have an associated bike path.
I reached the ring road with no problem, and began to follow a nice bike path alongside it. This was working out nicely, I thought. But after a mile or so I found myself on cobblestone city streets with trolley tracks, parked cars, no bike path, and signs to places that I'd never heard of. What happened to the ring road, I wondered? Just to make things worse, it began to rain harder.
I started back, retracing my route. I hated to do that – miles wasted. I discovered that the bike path had disappeared down underneath a culvert, and I had missed that when I went by the first time. Happily, I rejoined the ring road, following it northward towards my rendezvous with highway N1. After a few miles I saw the entrance to the Breda expressway – somewhere I couldn't go on a bike. According to my map, N1 should be right here on the near side of this expressway. There was some kind of highway, but it was unmarked, and signs mentioned cities that weren't on N1, and weren't in the direction I wanted. But there wasn't anywhere else to go, so I followed it for a while. Just because it didn't have a name, didn't mean it wasn't N1. Few highways advertised their designations, as they do in America.
I was headed northwest, not northeast, and with each turn of my pedals I grew increasingly concerned about my direction. Finally I turned off on an arbitrary road to the right, and followed it until about a half mile later it crossed the expressway. There was a sign that said, "Entering Antwerp." Wrong. I had to turn back. On my return I noticed an enticing bike path going down from the highway. I followed that until it ended in a school parking lot. Now I was getting very frustrated and mad at the Belgians for having such poor markings. They probably just did it just to mess me up, I thought.
I started back on the unknown highway. I kept checking my map, but this road didn't seem to correspond to any road shown there. Soon there was a helpful sign, though. It said, "Entering Antwerp." No! This was something out of Kafka! The morning was disappearing, and I wasn't getting anywhere. And if I was getting somewhere, I had no idea where.
I decided that the only thing to do was to follow this road wherever it went until it got to a town that was on the map. Then at least I would know where I was. And so it was that I eventually saw signs to Eckerin. At last I was on the map! I was north of Antwerp, but too far to the west. From Eckerin I followed the signs to Brasschat, which would be on that illusive road, N1. The rain stopped, and there was a little sunshine as I rode through pretty suburban streets. There were tree-lined roads and flower-filled parks, and quite a few people walking dogs. Finally I reached Brasschat. My bike odometer said that I had traveled 20 miles so far. The GPS said that I was 10 miles closer to Breda. Ten miles wasted!
I walked my bike down the long main street of Brasschat, looking for a café. It reminded me a little of Red Bank, New Jersey. Same length, same kinds of stores. This town didn't seem to have a square, and it looked more like a suburb. I went the whole length of the street without seeing a coffee shop, although there was a patisserie towards the far end. Then, around the corner, across the street from the patisserie, I saw a café with an outdoor seating area under umbrellas. I settled under an umbrella with a cappuccino, and ran across the street to get something from that patisserie. There was a line, and by the time I got back with a strawberry tart, my cappuccino was cold. The tart wasn't very good either.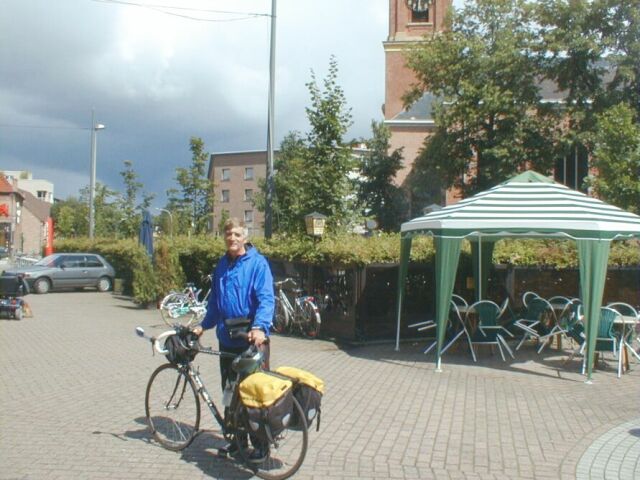 Coffee break at Brasschat
After this break I headed alongside a park in the same direction that I had been walking. There was a sign to a castle, but I didn't see anything in the direction that it pointed. This didn't look right. I turned around and started back, and the heavens opened up with a tremendous downpour. For a few minutes I huddled under a small tree, staring at those umbrellas I had just left at the café across the street. The small tree was useless, I was getting wetter there than biking. I crossed back to the café and went to the corner. There I saw a promising looking street headed in what seemed to be the right direction. Before long, there was a sign that said N1. At last! It would all be downhill now.
I stopped for lunch at the last town in Belgium, the nicely-named Wuustwezel, where I saw a small luncheonette next to a supermarket in a little shopping center. I had to get rid of my remaining Belgian francs, and I studied the menu, adding up the prices and checking the unfamiliar bills in my wallet. I had enough for a croque monsieur and a coke. After that I still had money left, so I ordered a Belgian waffle for desert. Two young women were running the little luncheonette, and they were working very diligently. It was good, cheap, and fast.
After lunch I passed through a couple of small towns where real people lived. No tourist things here. Alternately, the sun would shine and then it would rain. Now there was a considerable wind in my face. How could this be? I was headed in the opposite direction of the earlier part of my trip when I had had continuous wind in my face. I was getting weary as I finally approached Breda. I had read that my hotel was located next to the train station, and I saw on the map that the train tracks cut across the northern part of the city, so I figured all I had to do was keep going north, ignoring the ring road, and I would eventually cross the tracks.
I followed bike paths up small roads through town and eventually arrived at a main shopping street. There was a large church behind, and I biked the wrong way down one-way streets to get there. By this late time, I had finally come to understand the meaning of the Dutch word for "except", such as in "no entry, except bikes."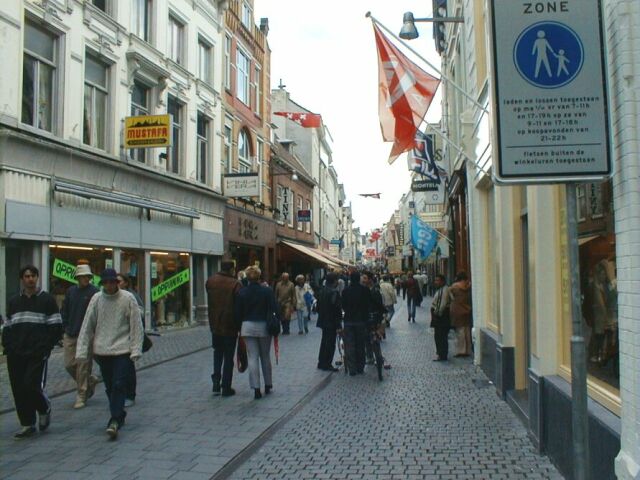 Shopping street in Breda
Behind the church there was a park with a moat separating an entrance building to a castle beyond. I walked across the park and asked an old couple where the railroad station was. They pointed right ahead. "There, (dummy)," they said. I pulled my bike up to the VVV next to the train station. I knew the hotel was right here somewhere. I patted my bike. Good job, I said. It was finished with its work for this trip.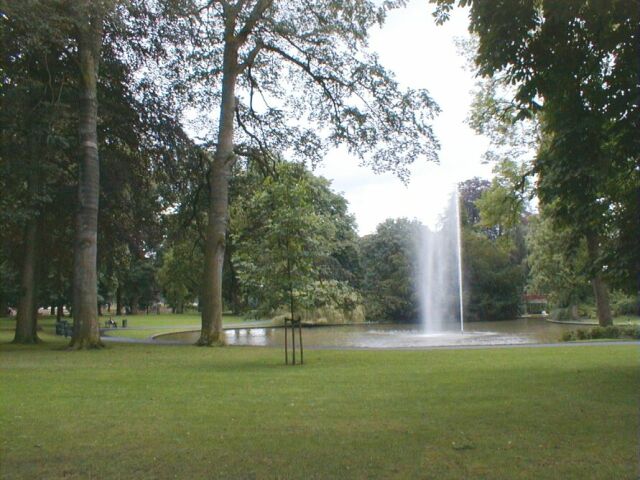 Breda park
I knew I was back in Holland when I entered the VVV. There were all kinds of bike books and maps displayed on racks. I saw the book about the long distance bike path LF1. Of course it was indeed in Dutch, but it had all these wonderful maps. I bought it, even though I was finished with the trip, and would probably never bike LF1 again. I intended to study the maps to see where I had been, and where I had gone wrong.
My hotel was right around the corner, next to the train station.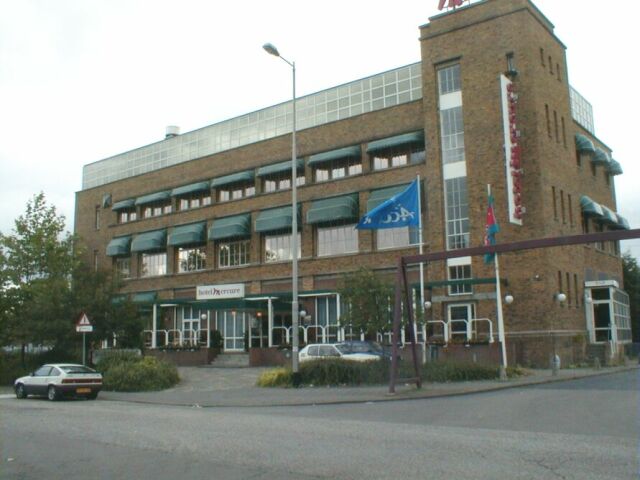 Hotel Mercure, Breda
As you can see, this hotel was entirely functional. No atmosphere here, just the proximity to the train station. I locked my bike in a shed with a sliding door, had a hot shower, and went out into the town for a walk. To get there, I went through the pretty park. Everything was green, as well it should have been with all the rain I'd been enduring.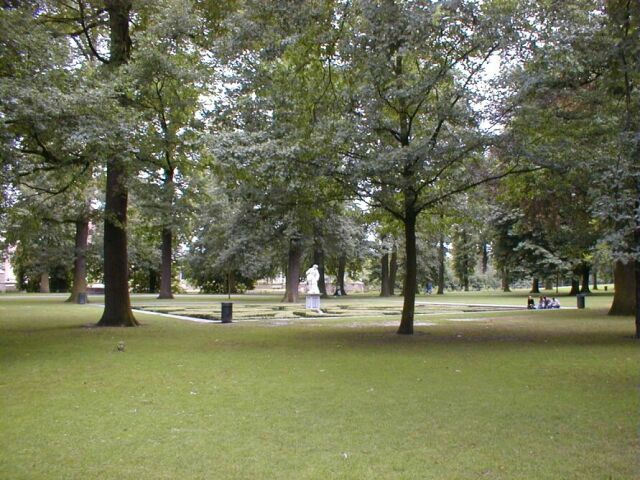 Walking through the park
I reached the main square, which was now relatively deserted.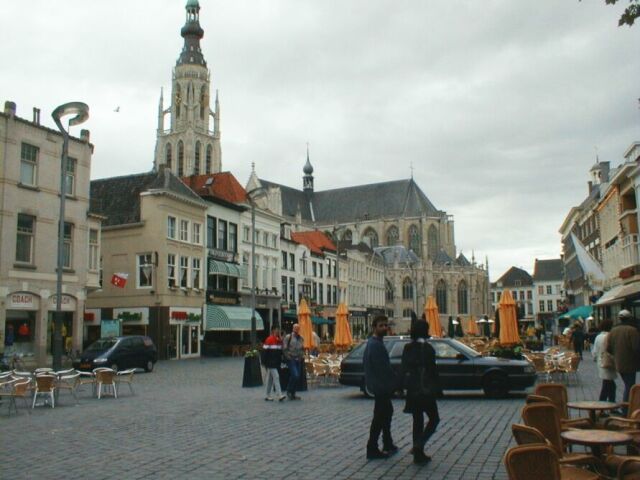 Breda square
There were lots of restaurants around the square. I chose an Indonesian/Chinese restaurant on the left side of this picture. It had a very extensive menu, although I suspected there were just a few things with many different names. I ordered a chef's special dish for two reasons. First, it would be served on a special sizzling platter with a flame. Second, the menu said that the dish had a secret ingredient. I'm a sucker for secret ingredients. Anyway, it tasted like any other Chinese dish – which is to say, very good, but similar.
One last look at the empty square as I headed back to the hotel. I suppose during the day this place must have been hopping.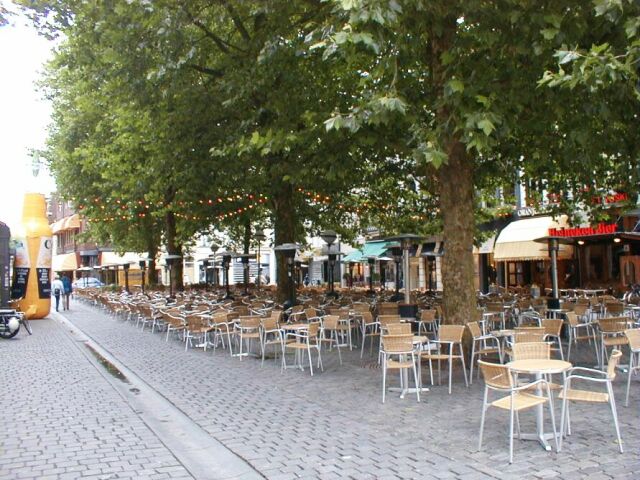 Empty chairs at empty tables
On the way back I browsed at lighted shop windows containing furniture and art. There's something appealing about a small city, closed for the night.
Back at the hotel I unpacked my panniers with a mixture of relief and sorrow. The next day I would take my bike on a train to the airport, where I would disassemble it and store it at the left luggage counter. My meeting in Amsterdam would begin on Monday.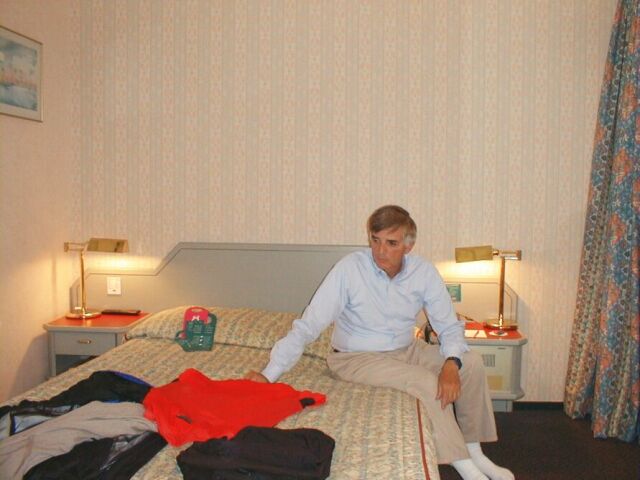 Finished biking