Bruges to Ghent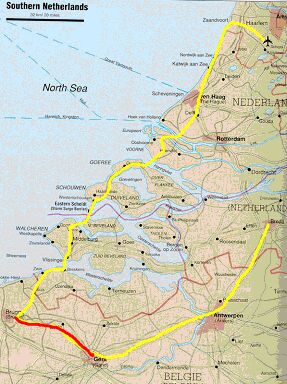 Bruges to Ghent (in Red)
I reclaimed my bike from the parking lot across the canal, where I had locked it to a tree. As I placed the panniers on the back rack it began to rain once again. It waits for me every day I bike, I thought.
The trip today looked very straightforward. All I had to do was to follow the Ghent canal southeast about 30 miles to Ghent. Of course, getting to that canal from my hotel might be a little tricky. Once at the canal, though, the map indicated a bike path that would take me the rest of the way. In actuality it wasn't that easy, but almost.
Leaving Bruges I biked past the Laundromat I had used yesterday. I had noticed that these cities seemed to awaken late, and at 8:00am there was little traffic. Maybe it was that the tourists slept in -- there isn't much to tour at 8:00am. Anyway, it was raining harder as I biked through an attractive park filled with large trees. I reached the ring road, where I expected to find a turnoff at the Ghent canal. It was poorly marked, and I biked past it before turning around. Even as I turned onto the canal path, though, I wasn't sure it was the right one. However, the GPS liked it, and that was a good start.
As I started out on the Ghent canal path I took this picture.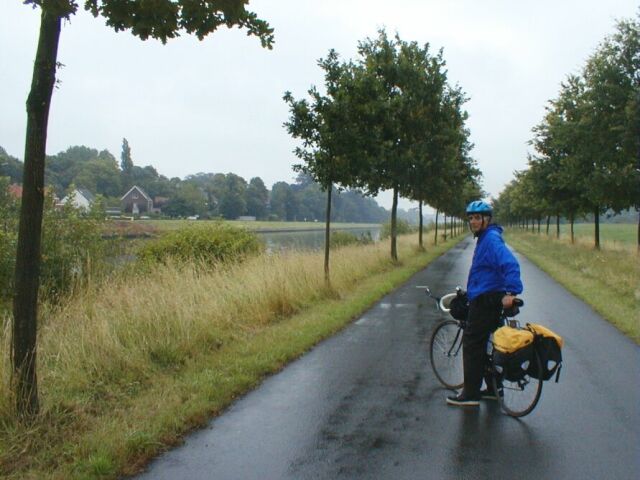 Biking the canal to Ghent
Now there was a succession of those little signs indicating a long distance bike path – in this case the Flanderen route LF5a. I expected this route to shepherd me for the rest of the day. For a while it did a good job of being a shepherd, but then followed a series of desertions. The path hopped from one side of the canal to the other, with some trickery in between. Then there was a section of several miles through woods. Then it took me onto some roads that seemed to be going nowhere. At one point it led me across the canal on a bridge, and then the signs disappeared. I circled around and tried to figure out where I was supposed to go. Eventually I went back across the bridge, onto a road, and after a while the signs for the bike path reappeared.
There was another place where the bike path signs pointed to a dirt path out onto a meadow. But about a quarter of a mile onto the meadow the path seemed to disintegrate into a series of puddles. I retreated and followed another random road.
I was remembering how just yesterday I had wondered how they made the canals straight. Well, apparently they didn't!
The whole way to Ghent I encountered no towns at all. Thus I was deprived of my customary morning coffee break. I thought I had found an ideal stopping point once when there was a large café at an intersection of the canal with a road. I parked and locked my bike, only to discover that the café was closed until noon. Greatly disappointed, I resumed biking in the drizzling rain.
A little later the canal passed by the industrial outskirts of some small town. I thought I saw a coffee shop, but it was some other kind of store. An old man was walking nearby, and I asked him where I might find a place to get coffee. He pointed off to a highway, and gave me complicated instructions about following the highway past various intersections and shopping centers to a place that he knew. I asked how far, and he said it was about 2 miles. "Pretty far to go for a cup of coffee," he added. Of course, that was too far for me to even consider, but I didn't want him to know that, so I waited until he had driven away before rejecting the highway in favor of continuing on the bike path. I was also somewhat interested that he had automatically given me the distance in miles, instead of saying "3 kilometers," as is usual here.
Nearer Ghent I saw a little grocery store near the bike path. It was about the size of a convenience store in the US. I was hungry enough to stop and search its shelves for some kind of snack. There wasn't much, but I settled for a Kit Kat, a small bag of peanuts, and a coke, which I consumed standing by my bike in the rain. While I was eating, I worried about the stuff for sale in the window of the little store. There was a big electric fan, a microwave, and some personal stereos. They looked really old, and I puzzled how a little store could keep things that became quickly obsolete.
As I biked away I began to see the three ancient towers of Ghent in the distance. Shortly thereafter it became apparent that my canal wasn't the one that went into the city. My canal veered off in a different direction, and it took some maneuvering to join a different canal that was headed for the city. It's never as straightforward as the map makes it appear.
I was slightly concerned about the traffic that I would encounter shortly as I entered the city. There was a succession of days here where each day I journeyed to a larger city. Starting with the tiny town of Goedereede, I had gone to the Zeeland capital of Middelburg, then to the sizeable city of Bruges. Today I was going to the large city of Ghent, and the next day I would go to the major city of Antwerp.
As it turned out, however, in entering Ghent I avoided the traffic almost entirely. I followed the signs for LF5a, which took me down a canal and then through a series of cobblestone back streets. It seemed like I was heading towards the Centrum, but I had no idea of whether LF5a went there. I was at its mercy, wherever it was going. While biking on one of these streets I passed the view shown here.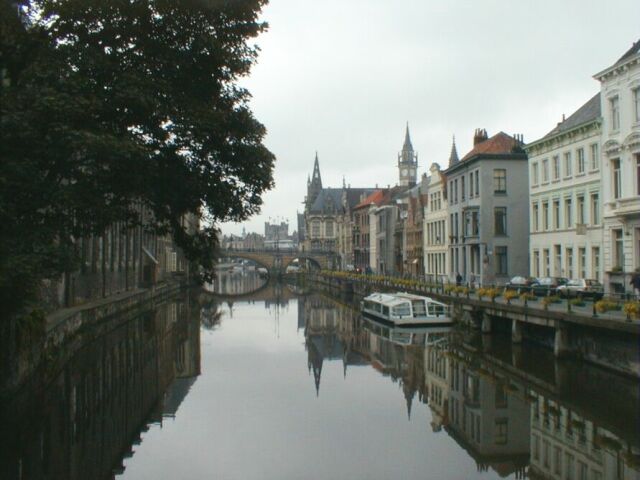 Entering Ghent
Soon I ended in a heavy pedestrian area that had the appearance of a town center. I locked my bike to a bike stand and walked to a patisserie on the corner. I had used a high-tech bike stand, and I saw a number of different varieties of such stands in my travels. In some you had to have your bike pointed to the sky. In others, I just couldn't make them work for my bike. Some were clever, and some seemed stupid.
It was around 1:00pm now and the patisserie was busy. I found a table, but had a great deal of trouble trying to get the eye of a young waitress. She seemed to have perfected the skill so apparent in experienced waiters where they look everywhere but at your table. Eventually I ordered a ham croissant and coke, which took forever to arrive. I left somewhat disgruntled. This was the earliest I had arrived at a destination city, but I had wasted quite a bit of time getting that small sandwich.
I was generally in search of the information center, the VVV, for Ghent. I pushed my bike through a walking street in a likely direction. Soon, however, it began to pour very hard, and I sheltered under an overhang. There was a travel agency next door to where I huddled, so I went in the door to ask directions. Two women were behind desks. Each was on the phone and ignored me completely. I was dripping on their floor. After perhaps five minutes I became embarrassed and left.
It turned out that I was only a block from the square where the information center was located. It was also the place where there was a large cathedral, but the square was dominated by an incredibly ugly construction of aluminum tubing that was perhaps seven stories high. The signs advertised this tourist attraction as containing the largest hanging basket, which was certified by the Guinness Book of Records. Within this aluminum scaffolding I could just make out the edge of this famous hanging basket. I thought this was really stupid, to take a beautiful medieval city like Ghent and junk it up with such a monstrosity. I could see a few straggling tourists walking around the top of the structure, presumably studying the hanging basket.
The VVV wasn't very helpful. They did know where my hotel was – only a block away – but they had no bike maps of the area. I found this same thing at other VVVs in Belgium. They were much less helpful than their counterparts in Holland. They just told me to go to a bookstore.
Here is my hotel, the Cour St. Georges.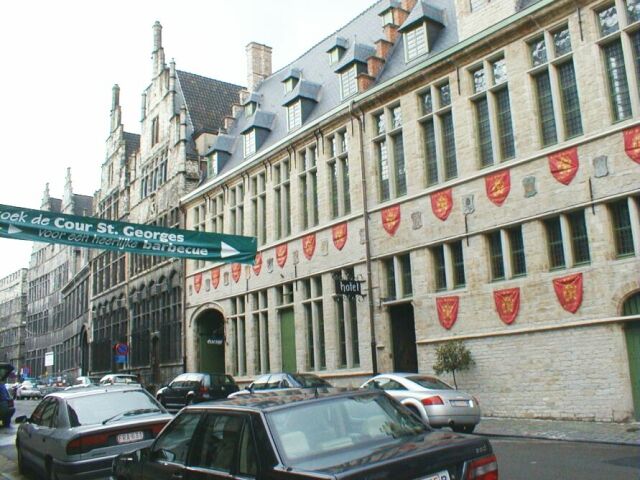 My hotel in Ghent
I think this was the best hotel of my trip, though many of the hotels were quite good. Supposedly, it is the oldest hotel in Europe. They brag that past guests include Charles I, Napoleon, and others like this. The treaty of Flanders, whatever that was (I apologize for my ignorance) was signed in the dining room here. The banner seen in this picture was just being put up as I came in. I was told that the next day was some special celebration in Ghent. It sure seemed like there were a lot of special celebrations going on. My room didn't have a number; it was called the "Josephine" room. Here is my bed.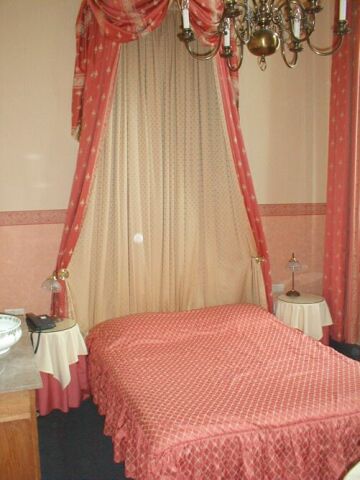 My bed in Ghent
I locked my bike in their private garage, and went out to walk in Ghent. Nearby was the big square with the giant hanging basket. I shook my head and resisted paying the admission fee to see the basket. There was a large church – they don't seem to call them cathedrals in this part of the world – which was yet another St. Bavo's, like its namesake that I had visited in Haarlem.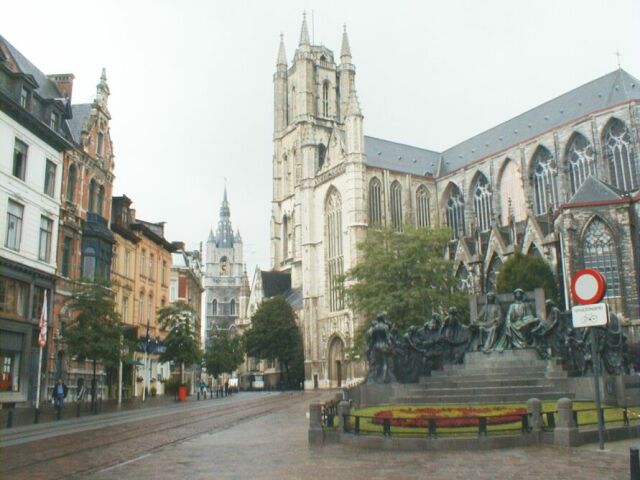 St. Bavo's in Ghent
Here is the inside of the church.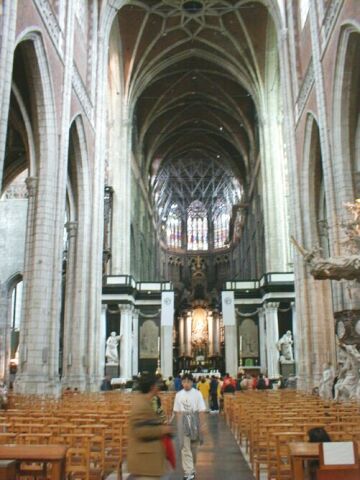 Interior of St. Bavo's
I found a large bookstore on the square, and for quite a while I looked at their large selection of maps. Like many European bookstores, it had lots of biking books also. What made the selection hard for me was that I didn't know (and still don't know) the names of the districts of the cities I was traveling towards. For example, there were many maps of Brabant – but where was that? I had to keep unfolding maps, while ignoring their titles. What did they cover, and did they indicate bike paths? Finally I selected a map that showed the road to my next destination, Antwerp, and another map that showed bike paths.
I stopped at a small coffee shop for some cappuccino, and sat outside under an awning in the light rain while I studied the maps. Tomorrow would be a complicated day. Having reached Ghent, I had exhausted my advanced route planning. For the trip up to now I had known of bike paths to follow. There were none that I knew of between here and Antwerp. Worse yet, aside from a major highway that I wouldn't be able to bike, there didn't even seem to be a road that went straight to Antwerp. I studied the map with increasing perplexity, and finally gave up for the moment. Somehow I would get there. Enough worrying for now.
I walked to one of the main canals of Ghent and took this panoramic picture. It's the only panoramic picture that I took during the trip. I was always concerned about the total number of pictures that I could take with my digital camera. I had enough memory for 162 pictures. Panoramic pictures took the memory of two or more pictures. However, at the end of the trip I still had enough memory for another 40 pictures. So I could have been more profligate with pictures as I went along.
Ghent canal
On my walk I encountered a castle. As castles go, it was on the small side. I tried to get in, and the found that the door was open (a funny concept for a castle). But a worker there looked surprised to see me, and herded me right back out. It was after hours.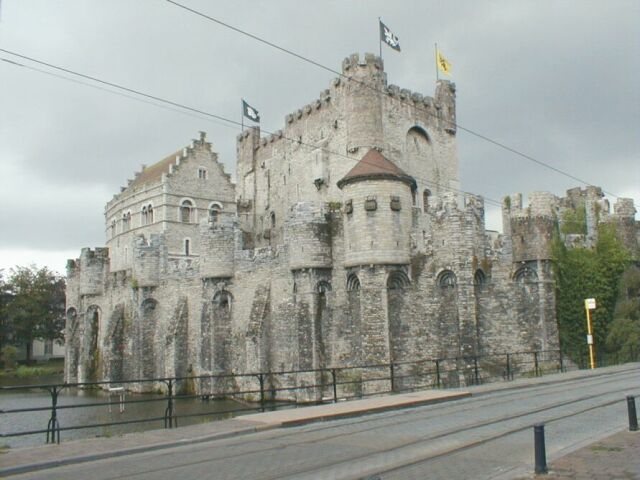 Castle in Ghent
The dining room in my hotel was very appealing. It looked like a place where treaties would be signed. It also looked like a place where there would be extremely good food. When I had registered at the hotel earlier, I had asked if I needed a reservation for dinner. Definitely, I was told. So I had made a reservation for 7:00pm when they opened.
It's a good thing I had a reservation. There were two other tables occupied during the two hours that I dined. The maitre-d' told me that, this being the eve of the celebration, whatever it was, the menu was a set 5-course meal. I wasn't clear whether this was an added choice, or the only choice, but it sounded good. And it was. There was a clear consommé and delicious tournedos in a cream sauce. Take a look at the dining room, and notice the knight's armor at the end of the room.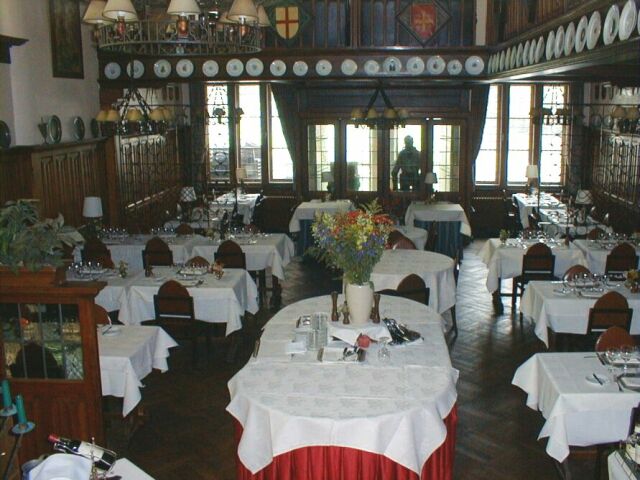 The dining room in Ghent
Thus ended my day in Ghent.
Proceed to next day's biking, Ghent to Antwerp