Schiphol Airport to Haarlem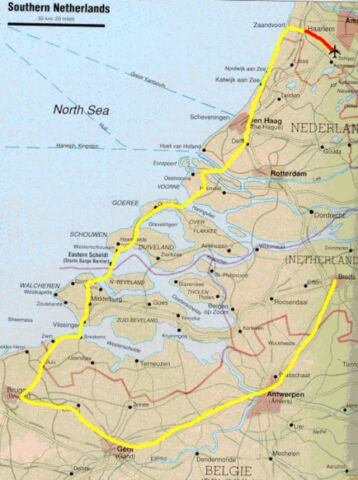 The Route for the Trip, First Day in Red
As the plane banked over the Holland coast, preparing for its landing at Schiphol, I had a sudden clear view of the sandy beach, the variegated dunes, and the snake-like bike path through those dunes that I had studied on the map for the last two months. It seemed just as I had imagined it would be.
There had been a considerable tail wind, and the flight from Newark was an hour early. The dinner had barely been cleared away when the sun rose and we had arrived in Holland. I'd had no sleep, but wasn't yet tired, since it was only midnight in New Jersey. I had all my carefully packed essentials for the two week trip in the gym bag that I had carried on the plane, but now I had to wait in the baggage claim area for the large cardboard box containing my disassembled bike.
I grew increasingly nervous as I watched all the baggage arrive, and one-by-one the other passengers disappear through customs. No bike. I began to consider alternatives for my carefully planned trip in the event that the bike was lost. Finally, I went up to the customer service counter to be sure that I was waiting in the correct place at the outsized luggage area. No one else was waiting there. Still more time passed, and there was no bike. Eventually everyone else had left with his luggage and I was all alone in the giant arrivals hall. It was more than an hour after arrival now. I was pretty nervous.
When the box did suddenly appear, all by itself on the conveyor belt, needless to say, I was most relieved! So much so that I simply sat by myself in the luggage area for almost an hour, reading a book. It was still only about 7:00am, and it just seemed too early to set forth on the biking journey. I had planned only a short trip for this arrival day – a mere 12 miles to Haarlem, a moderate-sized, arts-oriented city with memories of Rembrandt.
Now I visited the restroom and changed my clothes from my one good outfit that I had worn on the plane to my biking clothes. I debated a little what to wear, because even though the forecast was for rain – in fact, rain for the next four days – it did not appear to be raining outside, even though it was very overcast. Finally, I decided to wear my rain outfit for warmth, if nothing else.
I loaded my bike box on a cart, and proceeded out of the terminal to find somewhere to reassemble my bike.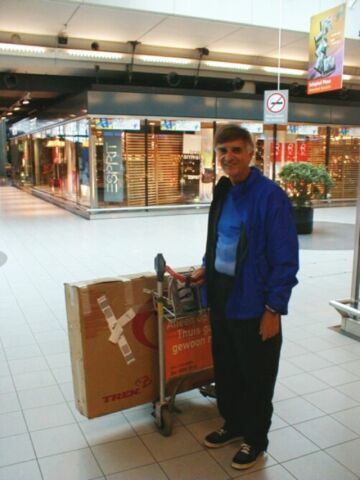 Leaving Shiphol with my bike
I sat on the concrete apron outside the Schiphol terminal and removed my bike and its various parts from the box. At first the reassembly went well. I had bought a Swiss-army-knife-like bike tool that comprised all possible biking tools into one handy unit. In addition to reassembling the bike, I had to install a headlight and a bell, which were required by law in Holland. In fact, I had felt ridiculous, buying a bell from my local bike shop in New Jersey. The bell had a sticker with a red heart that said, "I love my bike." It was obviously intended for little girls.
I was doing fine until I went to pump up my tires. I had a lot of trouble with the front tire, but I couldn't seem to get any air at all in the back tire. In spite of the cold weather I started dripping sweat, as I tried repeatedly to pump air into that confounded back tire. Finally I just sat there exhausted, the deflated tire staring at me accusingly.
After further agonies, at last I discovered that the hand pump that I was using was leaking air from its cylinder, which had become unscrewed. I hadn't even realized that the cylinder could be unscrewed. So a simple turn of the wrist and the pump started to work perfectly. I filled the back tire with as much air as I could under the circumstances, and screwed on the plastic retainer over the valve stem. Breathing a final sigh of relief, I sat on the bike for a trial ride. Imagine my consternation when I discovered that the back tire was completely flat again!
Well, this could become boring reading about this, but you can make about three more loops through the last paragraph, as I pumped the tire up, sat on the bike and found that it was once again flat. I became increasingly exasperated and exhausted. I had already wasted hours of precious time. Obviously there was something wrong with the tire, and reluctantly I decided to change the tube for the one spare that I carried for emergency. I had hardly thought that the emergency would occur before I had even started!
So I changed the tube – always a bothersome job, but especially since the back tire was new and hard to stretch. Finally, I pronounced the bike ready to go, and this time the trial ride was successful.
I took all of my belongings out of the gym bag that I had carried on the plane, and put them for the first time into my new panniers on the back of my bike. I was surprised that there was plenty of room to spare. I had spent so much effort in carefully minimizing all of my packing to the bare essentials, and now I discover too late that I could have taken more! Then I put the gym bag and some of the tools into the bike box, and went into the terminal to the left-luggage counter to store the box for my return.
Now it was almost noon already, so I stopped at the Burger King in the airport for a quick lunch. What an introduction to the country!
The book about cycling in Holland had promised me that there would be a bike path directly from the terminal at Schiphol, and as soon as I walked my bike across the entrance apron, there it was, beckoning me into the country. Imagine trying to bike away from a terminal at Newark or Heathrow, or just about any other airport in the world! You would be killed before making the airport exit. And so I was on my way, as soon as a friendly lady took this picture of me leaving on my first Dutch fietspad – the word for "bikepath" that I would see so often in the next two weeks.
The fietspad from Schiphol
As you can see, it was threatening rain. Moreover it was chilly and there was a moderate wind in my face. I didn't realize at the time that this was nothing compared to what I would face in subsequent days.
I reset my handheld GPS, telling it that I was now in Europe. I had previously programmed the GPS with the coordinates of the stopping places for each night. Now it told me that Haarlem was about 12 miles away, and that I was traveling in the right direction. Of course, that's the same thing that the sign on the fietspad said, but the GPS is more fun.
Within a few minutes of leaving the airport terminal I was among cows and horses and tranquil, if uninteresting, scenery. The bike path ran straight alongside a secondary road that itself had no traffic. Amazing that I was so near one of the larger airports in the world. An hour went by quickly, and then I was entering Haarlem, where I stopped to look at a map of the town that was posted alongside the road. I studied the map for a while, but could find neither the street where my hotel was located or where I was at the moment. Useless.
With little preamble, Haarlem was all around me, and I encountered the first canal of the trip.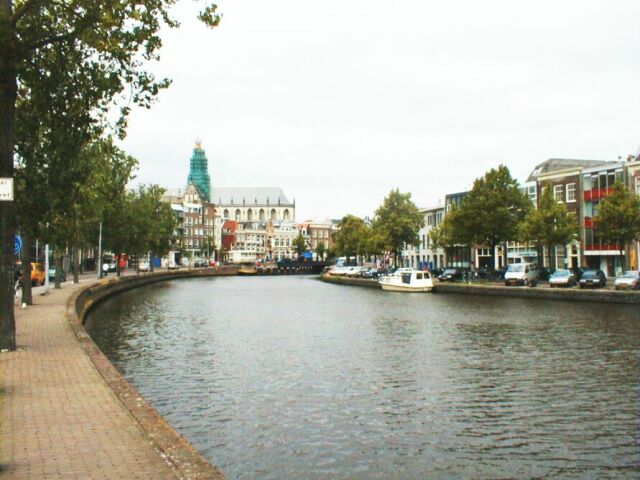 Haarlem
By the end of the trip I became pretty jaded on canals, but this first one was a pretty sight. The life of the town seemed to revolve around it, with pleasure boats, barges, and houseboats busy on the water.
I was lost. This became a daily event, getting lost in the morning leaving a town and again in the afternoon entering a new town. I hadn't the foggiest idea where the hotel was, so I wandered randomly into some city streets, and had the good fortune of crossing the street where my hotel was located.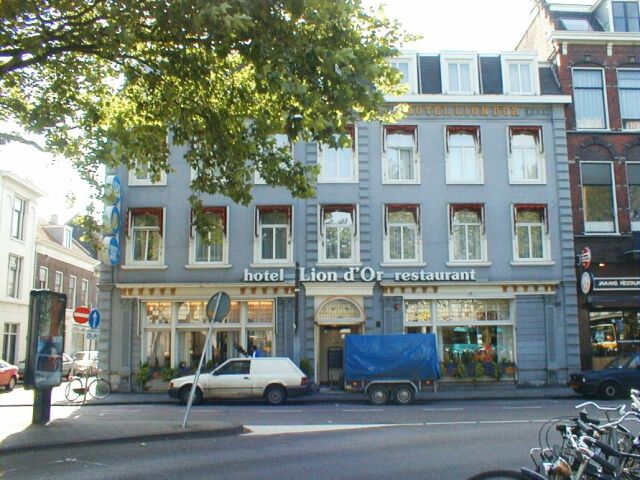 My hotel in Haarlem
After checking into the hotel and storing my bike alongside the refrigerator in the hotel's kitchen, I set out on foot to explore the city. First stop was the VVV across from the hotel. This is the Dutch tourist bureau, where you can get information in any city. I always found them most helpful. At this time I was in need of some good biking maps, which had been impossible to obtain outside the country.
At the VVV I explained that I would be taking the long distance bike path called "LF1", which ran down the coast of Holland, through Belgium, and into France. I understood that there was a book that described this path. "But it's in Dutch," she explained. So I ended up buying two road/bike maps that covered the country of the next couple of days in good detail, but did not indicate LF1. This turned out to be a mistake, and at the very end of my entire trip, I bought the book on LF1. Even though it was in Dutch, it had excellent maps, and would have saved me many hours of wrong turns and being lost during the trip. Alas.
Next I visited a bike store. I was worried about not having a spare tube, and my worries were made worse by the sales people. There weren't any tubes to fit my narrow tires in this country where everyone rode large tank-like, gearless bikes. I was going to have to make do with my patch kit and the defective tube that I now possessed.
By chance I discovered the main walking street, and soon I was in the central square with its large church and many outdoor cafes. At this time in the late afternoon, it was relatively deserted, and just for this picture I sat in one of the many empty chairs.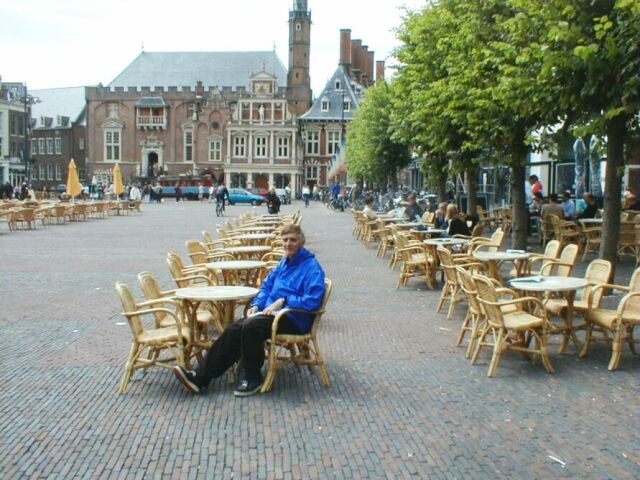 The Square in Haarlem
I found that in every town I visited there would be a central square that would be a beehive of activity until late afternoon, when it would become suddenly empty.
I went into the church, St. Bavo's, that dominated the square. They charged an admission fee, which seemed a bit unusual, but there I was and why not? The most interesting feature inside was an incredible organ at the far end – one that had been played by both Handel and the 12-year-old Mozart.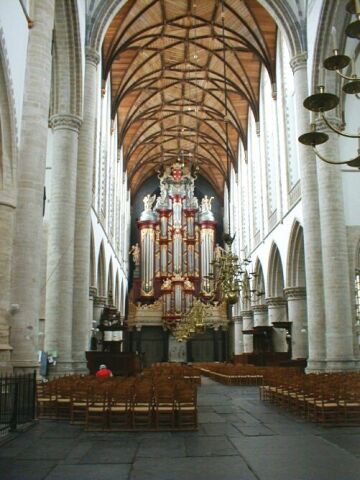 St. Bavo's in Haarlem
Returning to the square, I sat in one of the outdoor cafes and ordered tea. I was hungry, and noticed a lot of people eating what looked like apple pie. I asked for whatever it was, and it turned out to be a sort of apple tart with whipped cream. Subsequently, I saw these wherever I went. It seemed to be the most popular snack in the country.
While I was enjoying my tea and apple thing, an aged hippie with long scraggly hair appeared near the table and removed a guitar from its case. He had a youngish girl with him, and they began to sing. I wondered if she were his daughter. If so, it was very sad. They were singing in English the familiar Paul Simon tune, "The Boxer." "Li-la-li, li-la-li-li-li-li-li," they sang. Actually, it wasn't bad, but I felt embarrassed with the thought that these were my fellow Americans looking for money. They were working their way towards my table. I finished my tea quickly and left.
I browsed in several clothing stores along the walking street, looking particularly at sweaters and pullovers. I was conscious of how lightly I had packed for the cold weather, having only the single light sweater and no other warm clothes in my pack. But everything seemed to be too heavy, bulky, and expensive. I didn't buy anything, and never looked at any other clothing stores during the trip.
It was still early, but I hadn't slept, and I was for an early dinner and bed. I chose an arbitrary restaurant, called a "grill" restaurant, where I ordered wienerschnitzel. It was pretty awful – sort of like shoe leather. This was easily my worst meal of the trip, but I was too tired to care.
Back at the hotel I inspected the faulty tube that I had removed from the bike. I couldn't set out another day without a spare tube. Shortly I discovered that there was no leak in the tube itself, but that the valve was fragile and extremely sensitive. Apparently, screwing the plastic retainer over the valve stem would cause the tube to deflate. I decided that I could live with this as a spare, and that if I ever needed to use it, I would be extremely careful about the valve stem. With that worry off my mind, I collapsed into bed.
Proceed to next day's biking, Haarlem to Delft