Planning the Bike Trip to England
We spent months planning the bike trip, going back and forth with email and seeking information on the Web. It wasn't all time wasted, as we learned a lot and savored the anticipation of the forthcoming trip. If you're interested in how to plan a roll-your-own bike trip, this page may be of interest. If not, you may want to skip to the trip description.
The Major Alternatives
There are a lot of ways to organize a bike trip in a foreign country. Most people that I know who have done such trips have simply signed up with a tour company. These companies take care of choosing routes, arranging accomodation and bike rentals, handling luggage, and supporting their cyclists during the trip. My friends always say that they have enjoyed the experiences, but since I've never joined such tours, I have no basis for comparison. I do know that many of them are quite (and surprisingly) expensive. Moreover, they are packaged experiences. I find a certain satisfaction in the accomplishment of arranging my own individual trip, carrying my own luggage with me on the bike, and being independent of outside help. However, it isn't easy.
For a roll-your-own bike trip there are a number of fundamental decisions. Do you take your own bike or rent? Do you camp or stay in hotels? Do you pre-arrange accommodations? Do you choose the itinerary in advance or improvise at the time of the trip?
For my first bike trip to England, four years earlier, I took my own bike and did not pre-arrange either itinerary or accommodations. I had the maximum on-the-spot flexibility and freedom. Like everything, though, there are tradeoffs. One night in the little town of Stowmarket changed my mindset about the value of pre-arrangements. I arrived as dusk was setting after a long day of cycling. It was Saturday night in this modest-sized, market town. I used all of my coins at a phone booth in the railway station, trying all of the hotels and bed-and-breakfast places in town. The tourist information center had long since closed for the day. Every establishment told me that they were fully booked. There were three weddings in town that day. There was nothing for me.
I sat on the steps of the train station, feeling exhaustion and a sense of despondency. When you're driving, you simply go to the next town. When you're cycling, and darkness has fallen after a long day's trip, you're stuck. As it turned out, I did find an attic room in a local pub. But after this experience I felt a new uncertainty and worry about where I would sleep each night. I decided that the inflexibility of pre-arranged accommodation was worth the assurance of a waiting shower and bed. I could cycle longer each day and never worry about where I would sleep. (In the case of Stowmarket, I did realize later that I could have locked my bike at the train station and taken a cab to the next town.)
Ever since that early trip, I've pre-arranged accommodation for the bike trips that I have done in Europe. Sometimes when I awake in a foreign hotel to the sound of lightning and thunder and drenching rain, I wish that I had the flexibility to change my plans. But when I'm racing to beat the oncoming darkness to a destination town, I'm glad that I have a room waiting.
As for camping, I'm too old and too used to the niceties like hot showers. Also, the thought of all the extra equipment that needs to be carried on the bike is daunting. This is an easy decision for me; I'll stay in small hotels and bed-and-breakfasts.
The question of whether to take your own bike or rent is a no-win decision. I've done both several times, and either way the logistics are daunting. I've found that it's easy to pack your bike and take it to check-in at the airport. When you arrive at the distant airport, though, the troubles start. How do you get your bike to where your trip will start? How do you get it back to the airport, and what do you use for a box on return? Furthermore, there is the worry that your bike will be damaged in transit. For this trip in England my own road bike would not have been appropriate, and my bike is too new and expensive to entrust to any careless airport handling.
So the basic decisions for this roll-your-own trip were to rent bikes and to pre-arrange itinerary and accommodations.
The Route
England is in many ways a congenial place for cycling. There are lots of roads, and the distances between towns are small enough that there are many choices for overnight stays. Every area in the country offers attractions for cyclists and there are many guide books about where to cycle. In fact, there are too many choices about where to go. In the earlier trip to England I had cycled in East Anglia, beginning in Norwich and cycling in a jagged semi-circle to the south and west, ending in Cambridge. This time I wanted something different, but what?
My cycling partner, Len, discovered a web site, http://www.sustransshop.co.uk/, that had comprehensive information about the national cycle paths in England. A lot of the paths looked interesting, and somewhat arbitrarily I chose two of the paths -- the Thames Valley route and the West Midlands route. Past experience has indicated that we could bike about 250 miles in a one-week trip. The Thames Valley route is about 100 miles long, and the West Midlands route, which connects, is about 150 miles. Together they comprise exactly a one-week trip. I purchased the Sustrans maps for these routes over the Internet, and they arrived at my home about ten days later.
At first I was disappointed with the Sustrans maps. I expected a brochure, rather than the single folded sheet with seven or eight vertical strip maps that comprised each map. However, as time went along I began to appreciate the Sustrans maps more and more. I would certainly recommend them to anyone planning to cycle the national routes in Great Britain. I would never attempt to cycle these routes following just the posted signs on the path. Here is a small segment from one of the Sustrans strip maps, showing the cycle route in orange.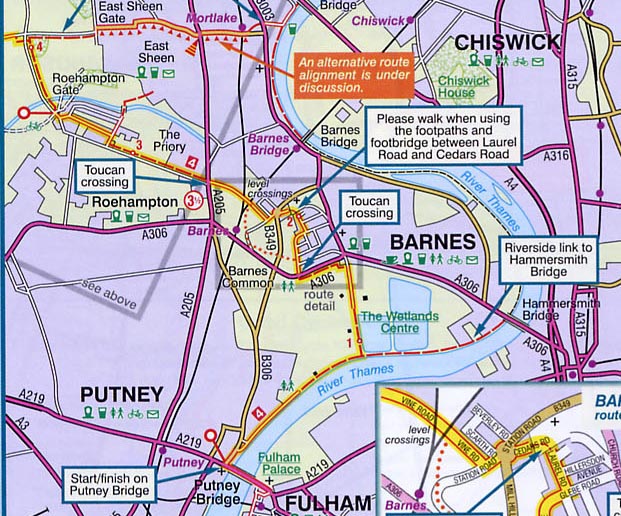 Portion of the Sustrans Map for the Thames Valley Cycle Path
Perhaps you can see from this small portion some of the difficulties. The maps are somewhat hard to read and interpret. Moreover, there are many, many turns on the routes. Perhaps on the average there is a turn every half mile or so. I am more used to getting on roads and cycling for miles and miles without a turn. In contrast, these routes require a lot of navigation. Sometimes that's part of the fun, but it can also be time-consuming and frustrating.
The combination of the Thames Valley route and the West Midlands route offered a nice one-week trip, but there was a problem with this simplistic route. The West Midlands route goes northwards beginning at Oxford, through Stratford and Birmingham and up to Derby. In contemplating this route I lost interest as it neared Birmingham. I decided I would leave the route after Stratford-upon-Avon and go somewhere else. I have nothing specifically against Birmingham, but cycling through a metropolitan area doesn't sound like a lot of fun to me. Also, the further north we got, the further we would be away from the airport and wherever the bikes would be returned.
In the end I chose to leave the path at Stratford and strike out southwest to Tewksbury and then southeast through the Cotswolds to Cirencester. It was an arbitrary choice based on which towns looked interesting from a tourist standpoint. In retrospect, after having completed this trip, I might rethink this route, but I'm not sure what would have been better given the various constraints.
On a large scale map, then, the route looked something like this.
The Route for the Trip
In planning the route I had the considerable advantage of having detailed maps of England on my computer. I had both the Fugawi European maps and the Garmin MapSource European Metro Guide software. After the route had been laid out on these maps, it could be uploaded into our GPSs on our bikes. Each of us had a Garmin eTrex Legend GPS. The detailed road maps of this part of England could be loaded into these little units, and then the tracks for the route could be overlaid upon these maps. As it turned out in practice, however, we never used the road maps we had loaded, and in fact they mostly obscured the tracks for the route on the small display. What was exceedingly useful was to have the tracks for the routes constantly displayed on our handlebars. All we had to do was to follow the arrow on the display and watch the passing scenery. That part worked great. We just didn't need the road maps underneath the route tracks. (Incidentally, both the Fugawi and MapSource software programs were frustrating, for different reasons, in the ways they displayed the map data.)
For planning the route, however, what was especially useful in the Fugawi software was the elevation data. I could trace out a proposed bike route and immediately calculate an elevation profile, showing the presence and steepness of the hills that would be encountered on that path. Here, for example, is the elevation profile for day 2 of the trip.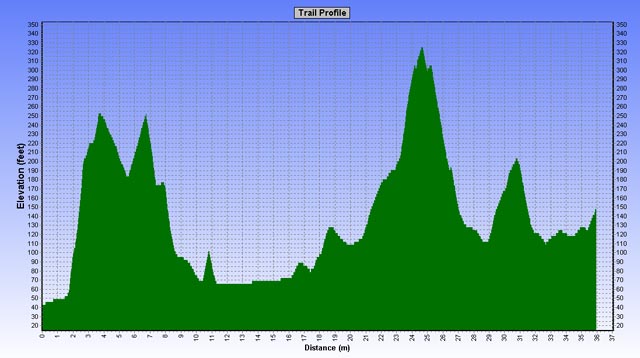 Elevation Profile for Day 2
The elevation data was particularly useful in the latter portion of the trip where we would leave the National Cycle Paths and strike out on our own through the Cotswolds. I knew from previous visits that there are some considerable hills in this part of England, and I wasn't especially anxious to challenge them on my bike. There is a ridge of "mountains" running north-south through this part of the country. There was no avoiding the necessity of crossing this ridge, but I chose a route that crossed it only once. Other routes that I tried went up and down the ridge several times. I was particularly glad to find a way into and out of the famous Cotswold town of Broadway that was relatively flat. Broadway is almost surrounded by steep hills, and navigating into this town with a conventional road map would probably take a cyclist up challenging hills.
Len and I printed out the elevation profiles for the route and took them with us on the trip. Each day we knew exactly where the hills would be and how steep they would be. I wasn't sure, however, that this was information that I wanted. Sometimes it's better to be unaware of the challenges that lie ahead. For planning purposes, though, the elevation data was quite useful.
Next was the task of deciding upon stopping places. My experience was that cycling about 35 miles a day was relatively comfortable, so I looked for towns about this far apart, and which offered tourist accommodations that could easily be obtained from abroad. The towns I chose on this basis were Staines, Reading, Oxford, Banbury, Stratford-upon-Avon, Tewksbury, and Cirencester.
The last step in planning the cycling route involved taking the path from the Sustrans maps and inserting it into the computerized maps where it could be uploaded to the GPS. This was laborious work. I had to trace the route on the Sustrans maps onto "real" road maps, turn by turn, street by street, path by path. I marked more than a thousand waypoints along the path in order to form tracks for the GPS software. Each of the strip maps in the Sustrans has a different scale and north orientation, and even the roads looked different on the two sets of maps. The Sustrans maps do not have latitude and longitude information, and the computer maps don't show any cycle paths. In the end I had computer tracks for the entire route, day by day, and on the roads there was great precision of the track, while on the off-road portions the tracks were only approximate.
Here is a sample of the track as displayed by the computer software, showing both on-road and off-road segments.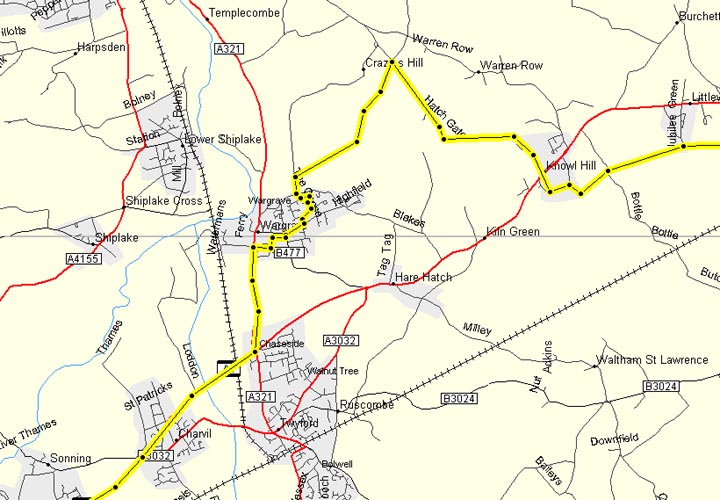 Sample Track on Garmin MapSource Software
During our actual bike trip we relied completely on the GPS tracks for navigation through all the turns on the cycle paths. I only recall two occasions when we looked at the paper Sustrans maps, and on neither occasion did we find what we were looking for. Len and I both just followed the "breadcrumbs" of the track on our GPS displays. Usually Len would be out of sight ahead of me, but I knew that he would be taking all the turns on his eTrex display, just as I saw on mine. There were several times when the signs on the cycle paths disagreed with our track, and each time we decided to follow the track on the GPS. It always worked out. When we were cycling roads, the tracks were so exact that you could almost tell which side of the road you were on. On the off-road cycle paths, since the paths were an approximation, there was sometimes an error as great as 300 feet, but more often it was less than 100 feet.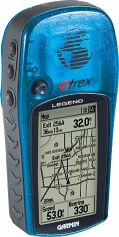 The eTrex Legend GPS
I believe that in a few years organizations like Sustrans will make GPS tracks available to their customers. GPS itself is becoming very cheap. Even now the main processing chips in a GPS unit only cost about $5. Most cyclists in the near future will have GPS on their bikes, but for now they seem to be a novelty. Wherever we went in England, people would marvel that we had our route displayed on the GPS on our handlebars. I would be glad to make available the tracks that I have for anyone who sends me email. I believe that these tracks can be uploaded to any popular GPS using the usual GPS software.
Logistics
After we had picked the towns where we would stop for the night Len spent a lot of time on the Internet making reservations at small hotels and bed-and-breakfast establishments. It was surprising to us how expensive the larger hotels had become, and we didn't want to cycle into such places anyway. In some of the towns it was rather difficult to find hotels, even though Len was making the reservations almost two months in advance.
Finding a bike rental ("cycle hire") place was more difficult. Few seemed to be listed on the Internet, and most of those either didn't respond to email or said they weren't in the business of rentals. Ideally, we would have liked to have found a bike rental establishment in Putney, which was the beginning point of the route, but no luck there. The only place we found was in central London, and Len eventually made arrangements for the rental with London Bicycles (www.londonbicycles.com), which is located on the south bank of the Thames near the Waterloo Bridge.
Now the difficult issues were how did we get the bikes from London to Putney on the first day and how did we get the bikes back to London from Cirencester on the last day? I had never faced such problems in previous trips. In France we had arranged for the bikes to be delivered and picked up. In Ireland we were able to rent the bikes in one city and return them in another.
The Thames Valley route, starting our trip, was about six miles from where we would rent the bikes in central London. It was certainly possible to cycle those miles, but it sounded dangerous to me. The original plan was to fly into Heathrow, take a train into London, rent the bikes, change clothes somewhere and pack the panniers, and then use a combination of walking and cycling to get to Putney. Then I had a dream that we went instead directly from Heathrow to our first night's hotel in Staines (only about 4 miles from the airport), got our rooms, changed clothes, and went empty-handed into London for the bikes. What a smart dream!
A friend who lives in the UK, hearing our plans, suggested that we take the Southwest train from Waterloo Station to Putney with our rented bikes. Waterloo Station is only a couple of blocks from the bicycle rental place, and the Southwest trains have wide aisles that would accommodate our bikes. This turned out to be a good way to solve our first day's problem. That still left the problem of returning the bikes.
Our route was to end in Cirencester, which was about 100 miles from London. We were scheduled to fly out of Heathrow that next evening. We had to get the bikes to London and then go to the airport by about 4:00pm that next afternoon. This was complicated. We kept changing our minds about how we would accomplish this feat. At first we were going to take a train, but there weren't any trains from Cirencester. We would have to bike to Swindon, about 16 miles away, then take the train from there. But reading about the uncertainties about taking bikes on British trains, I got discouraged from this option.
The next plan was to bike to Swindon, rent a station wagon, load the bikes onto the station wagon, and drive to London and then Heathrow. This plan held for a while, and we made reservations with Alamo to rent a car in Swindon for that day. When we left for our trip, that was our plan.
During the bike trip we discovered that we were making much slower time cycling than we anticipated. We rethought the plan to bike to Swindon that last morning. So we decided to take a taxi to Swindon, rent the car, drive back to Cirencester for the bikes, and then to London and Heathrow. That plan held for about a day. The next iteration was the thought that we didn't want to drive into London, where we would surely get lost. Instead we could drive to Staines, park the car and take the bikes on the train to London. And so forth. However, we didn't do this either. At the last moment we negotiated with a taxi driver to take us and the two bikes in his little cab (amazingly, they fit!) directly to Staines. That was about 80 miles, and the fare was expensive. I don't want to tell you how much! From there we took a Southwest train with our bikes into London, and then the Underground out to Heathrow. Whew!
As I said, the logistics can be complicated.
Packing
After four previous cycling trips in Europe I had developed a packing list. Each year I took things off the list that I hadn't needed the previous year. It is surprising how little you actually can get by with, particularly if you're willing to do at least one washing during the trip.
Most bicycle panniers hold about 2400 cubic inches of contents. I purchased a small cheap duffle bag that held just about this much, and which could be folded up and and packed into the panniers itself. (The more expensive duffle bags are of higher quality and don't fold up so well.) In this rather small capacity you have to have to be prepared for heat and cold, rain and sun, biking and evenings, repairs and emergencies. Additionally, since Len and I had a business meeting as a prelude to the biking, we had to have some business clothes.
The panniers were augmented by the capacity of our handlebar bags. We took our own handlebar bags and installed them on the rental bikes. I like to have these bags, because they hold all my valuables right in front where I can see them. When we stopped and left the bikes, we could unsnap and carry the handlebar bags to be sure we had everything that we couldn't afford to lose. Moreover, the bags act as map holders. The handlebar bags were our carry-ons for the airplane. Unfortunately, we had to check the small duffle bags, since they contained security-unfriendly bike tools.
Here's what I packed:
Regular clothes
one pair pants, dress shirt, casual shirt, knit short, pajamas, 2 undershorts, 2 t-shirts, 6 pairs thin silk socks (for easy washing)
Bike clothes
2 bike pants, bike shirt, bike jacket, rain pants
Bike equipment
helmet, all-purpose bike tool, GPS and mount, mirror, elastic pants band, handlebar bag and mount, water bottle, bungie cord
Toiletries
small shaving cream, small toothpaste, toothbrush, disposable razor, deodorant, vitamins, aspirin or equivalent, shampoo, nail clipper, comb, bandaid
Miscellaneous
paperback book, maps, sunglasses, alarm clock, camera, 8 lithium AA batteries, fanny pack, hand wipes, 4 nutribars, plastic bags for packing clothes, passport, tickets
Proceed to first day's cycling
Back to cycling England overview page