Day 4 -- Oxford to Banbury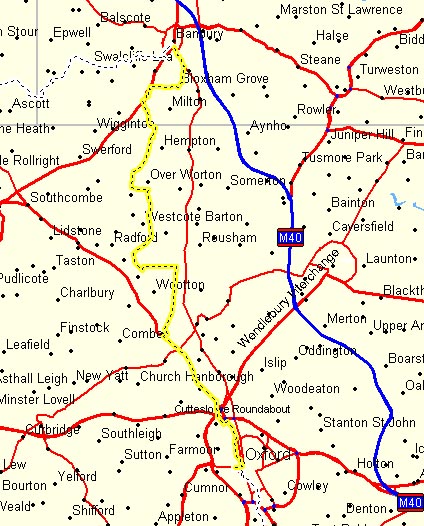 Route for day 4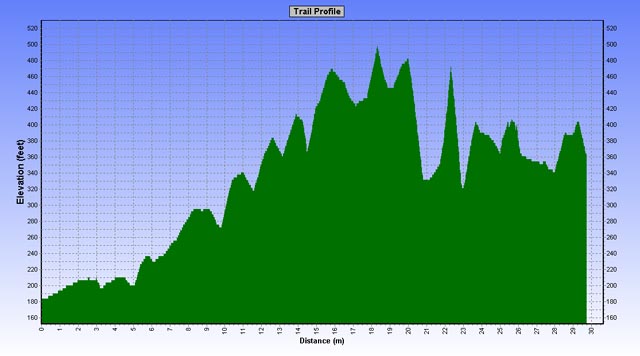 Elevation profile for day 4
After breakfast in our hotel we tightened Len's brakes, and then slunk away from the hotel on our still-muddy bikes. We were looking for a bucket or something to throw water over them, but didn't find anything. I hated to even get on mine.
We first stopped at the nearby railroad station to enquire about trains to London from Swindon on our last day. We were still debating how to get the bikes back to London. But Len learned that we would have to change trains and that we would need advance reservations for the bikes. It sounded like a no go.
We cycled through the city streets of Oxford to a bike store near the university. Of course, the whole town is near the university, so that's hardly descriptive. Inside, Len asked about getting a new mount for his troublesome handlebar bag. I waited outside, watching the bikes and occasionally wandering into the store myself. I love bike stores, and this was an exceptionally good one. I had suggested that Len might want to get a new handlebar bag instead of continually troubling with the one he had. He was looking at a new one in the store, but the young man there told him that he would be just as well off with a cheap map holder, and to wait until he returned to California to order a new mount for the one he had. I was impressed that the clerk had talked the customer out of a sale.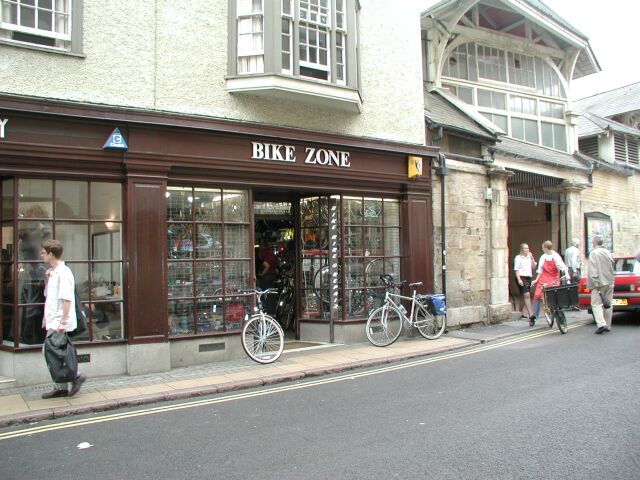 Bike store in Oxford
For a while we wandered around some of the Oxford University buildings. The place gave me a special sense of classic academia, and I felt a certain nostalgia and jealously that I hadn't had the privilege of attending such a place. Both Len and I feel at home in academic settings. Len has taught at UCLA for many years, while I've lectured at more than a hundred different universities myself. Still, Oxford is special. We were trying to think of an American university that had an equivalent atmosphere, but failed. Maybe Harvard and Princeton come close, but there's nothing like Oxford in the United States.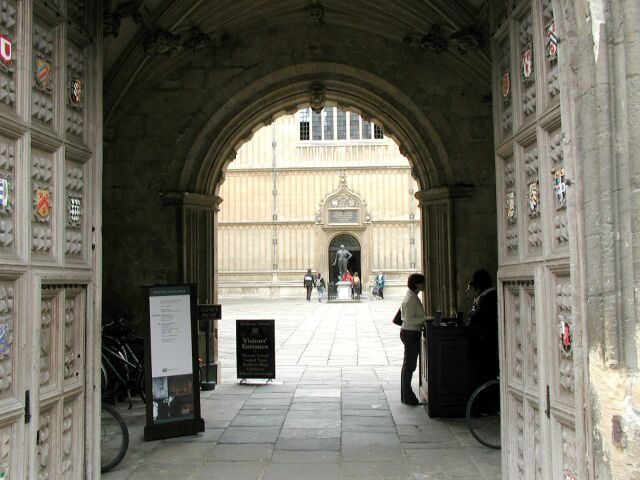 The Bodlean Library at Oxford
This was a Saturday morning and there were hundreds of tourists pouring through the university. Buses and tour guides were everywhere, lecturing in different languages. I suppose not many universities are such tourist attractions, and that is probably a small drawback to Oxford's fame. Len and I were discussing whether the classical atmosphere that hung over Oxford was conducive to studies in computer science and engineering. Len thought yes, I thought no. Anyway, that's more Cambridge's thing these days.
Reluctantly we left the sanctuary of the university and joined the traffic heading north out of Oxford. We rode along a park, and then cut across some streets, past Woodstock Road, and joined the residential streets marked for the bike path towards Banbury. Woodstock Road reminded me of the exploits of Colin Dexter's fictional detective, Inspector Morse, who frequented this road. I was saddened when Dexter inexplicably killed him off in his last book.
A little north of Oxford we joined a cycle path alongside the Oxford canal. There was a narrow tow path and the cycling was easy and pleasant. We had now finished the Thames Valley cycle path and were on the West Midlands path.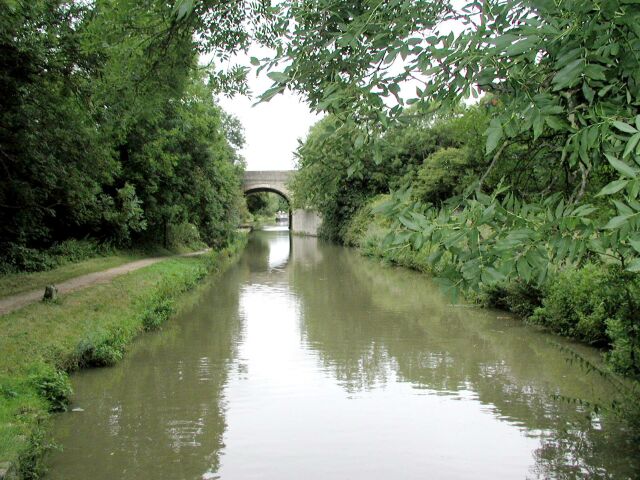 The Oxford Canal
We came upon one of the locks in this canal where a boat of young girls was waiting, and we stopped to watch them work the mechanism. One of them let out a big squeal, and then there was much laughter. They had dropped the key -- a big wrench that fitted the lock mechanism -- into the water, where it was lost. Very funny.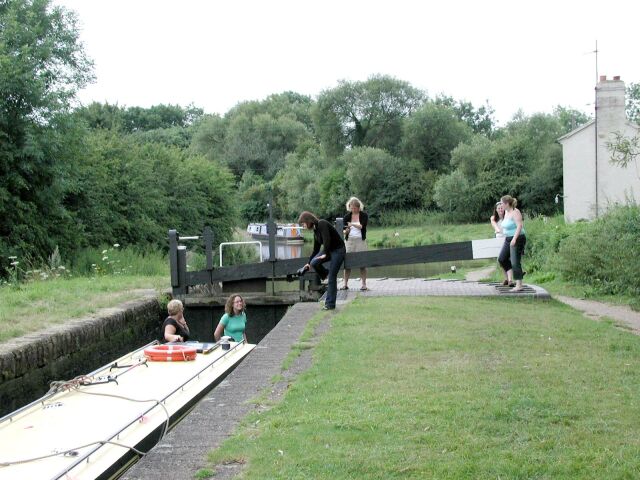 Girls lose the key to the lock
We asked the girls about the boat, and they said they were part of a wedding celebration. I was really surprised that they had the boat on their own. I expected there would be a captain or someone like that, but no, it was just them. Two of them had taken "lessons" the day before, and that was it. I later found that anyone can rent these so-called "narrow" boats. Just put your credit card down, and go. However, they are fairly well booked and you have to get your reservation in early.
Coming the other way was a man in another narrow boat. He was alone in the boat, and asked if we could help him work the lock. In return, he said, he would give us a lecture about the canal and the locks. Deal. I was fascinated with his boat. He said that he had bought the boat to live on after retirement, but soon felt that he could do without his house and simply live on the boat. He still worked in business, but lived here, plying the various canals as he wished. In the front of the boat I could see his study through the windows. There was an open book, glasses, and a laptop computer lying on the work table, a television set on the side, and bookshelves lining the walls. It looked very comfortable. I was wondering what kind of life this would be.
Cycling along the canal was idyllic, but it only lasted for a few miles. Soon we were alongside the Woodstock Road, riding a bike path near all the traffic. As we approached Woodstock, we stopped at the entrance to Churchill's Blenheim Palace. We biked down the driveway to the ticket booth. We just wanted to cycle in a little further and take some pictures, but we were told that it would cost 3.50 pounds each for us to cycle in. Needless to say, that was no bargain, and we settled for some rather mundane pictures of the palace from afar. I've toured there several times previously anyway.
Woodstock itself is a picturesque town. I had fond memories of the Bear Hotel there, where I had a meal some 37 years ago that I still remember. Steak Diane and English trifles. Funny how you remember some special meals and all the rest blur together.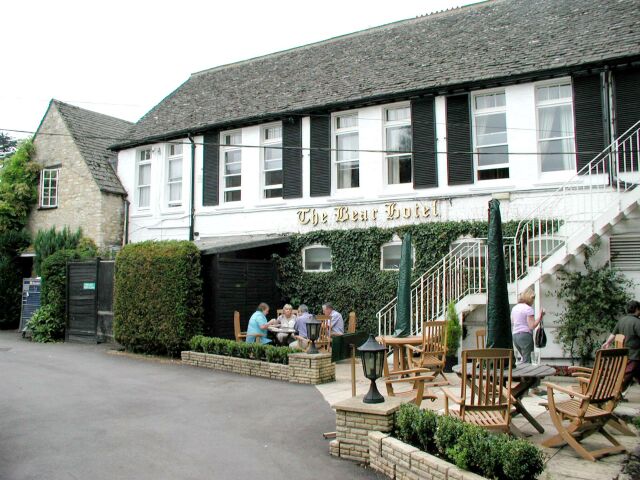 The Bear Hotel, Woodstock
We looked for a place to have a quick lunch in Woodstock and settled for a rather ordinary luncheonette. The lunch itself was quite good, but when we left I forgot to take the Sustrans map that I had been studying while eating. Of course, I didn't discover this loss until I was miles out of Woodstock and it was too late to retrace the route. Anyway, I had scans of the map on my computer back home. And I had the tracks from the map stored on my GPS. Still, I hated to lose the souvenir that the map represented.
Speaking of leaving things, Len had left the Clancy book that he had been reading in the hotel in Reading. He was looking for another book to read on the trip, and so we looked for a bookstore in Woodstock. However, this was a picturesque tourist town, not a place where people went to big bookstores, and all we found was a speciality book store with a small selection of strange books. Across from the bookstore, though, we were treated to a folk dance by some older ladies that had come from another city. Their dance was rather endearing, as they smiled (mostly, anyway) and gyrated their unwilling bodies in a facsimile of some, perhaps Irish, dance.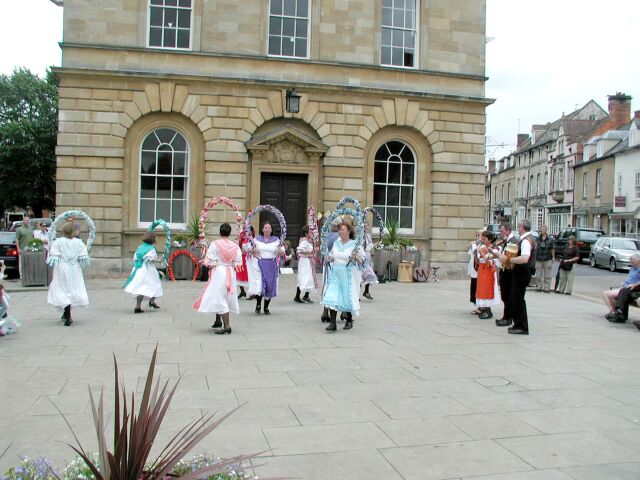 Folk dancing ladies in Woodstock
It was time to get out of Woodstock. It was already 2:00pm, and we had only cycled 9 miles. Where does the day go, we wondered once again? Leaving Woodstock we cycled on a sandy and partly muddy path through sparse woods and then back roads, climbing steadily until we had gained over 500 feet in elevation. I groaned inwardly when I saw that we would go down a steep hill into The Bartons (that's the name of the town), because I knew we would have to pump back up again immediately. And we did.
After The Bartons we passed an open field with chain fences and a Ministry of Defense sign saying that you would be shot or drawn and quartered if you trespassed. There was an impressive array of antennas laid as a mosiac through the field. They looked to be long wavelength, but I have no idea what they were for, or if they were any good anymore.
Somewhere around this point I took a panoramic picture of the view. It's a 360-degree shot of nothingness. But interesting, nonetheless. Lots of empty wheat field under a threatening sky, but in my mind it typifies what I remember about a lot of the trip. England is a small country with a lot of people for its size, but in the rural areas we saw vast panoramas of emptiness, and in a sense they were beautiful. Here's a segment of the panorama.

Vast emptiness with a kind of beauty
Then at about 21 miles we were on a dank rural road facing a steep hill. In retrospect it was to be the third worst hill of the trip. I was weary before I started on it, and I quickly tired. I think it required three breath stops for me. Len was waiting at the top, and I asked him to take a picture of me at the summit. He sat on his bike, holding my camera, for the picture, and as I watched I saw in slow motion him going over on his bike with his ankle trapped at a bad angle. I think that was his previously-wounded ankle too. Anyway, you don't want to see the picture he took. Here's the hill, but somehow pictures of hills never quite do them justice. It's hard to gauge the incline from a picture. You had to be there.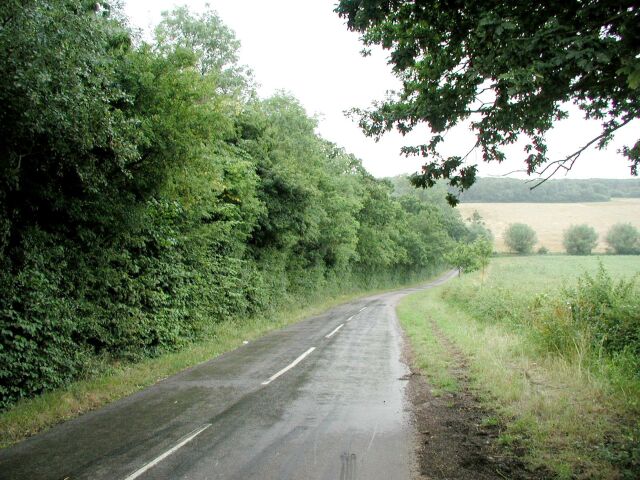 A tough hill, even though it may not look it
A little later we passed this pretty white horse. They're supposed to be good for a wish.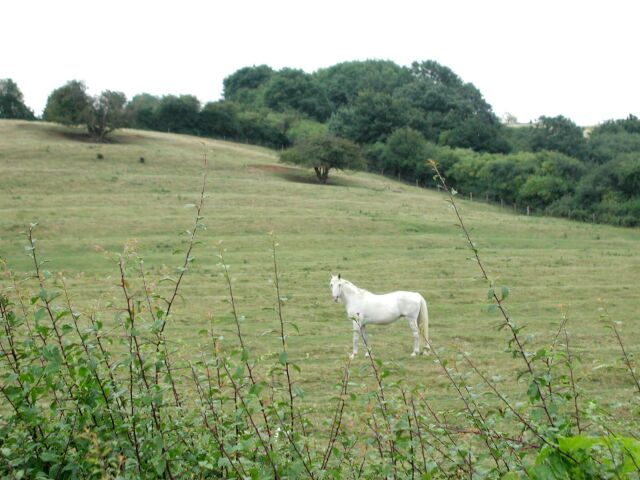 A horse eyes us curiously
As we neared Banbury the farms gave way to semi-rural houses and we passed a game of cricket. This was Saturday, so we assumed that it was more likely people would be engaged in such games. We stopped to watch for a while, but we had no idea what was happening. This is a strange game for non-Englishmen. I kept trying to apply the rules of American baseball, but they just don't seem to apply. The whole thing doesn't compute, if you ask me. A lot of people in the game just sort of stand around and don't do anything. Len said that baseball was like that too if you thought about it.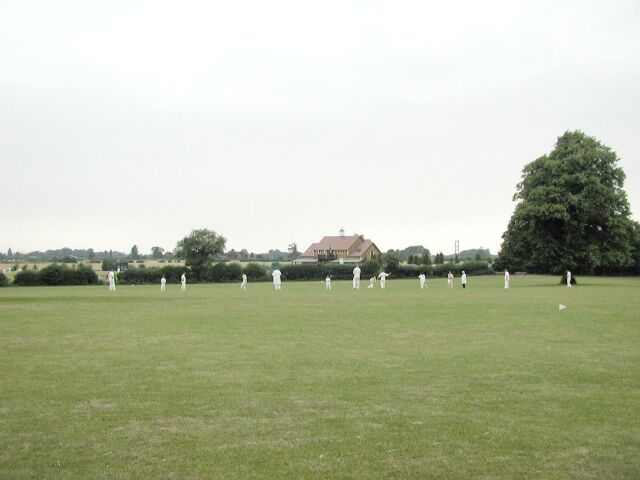 A game of cricket
We were approaching the outskirts of Banbury when the path turned off into a farm road. It didn't seem like we were headed into the town, and presently we reached the end of the road at a gate for a farm. Should we go through? No point in going back, so we opened the gate and cycled down the grass hill. I hoped we were getting somewhere, because I sure didn't want to have to go back.
Of course the downhill-on-grass thing led to an uphill-on-grass thing, and I was pretty tired when I finally reached the top. Now at least we appeared to be getting into town, and the cycle path led through some residential streets. After a turn the path seemed to lead, as well as we could tell, up someone's driveway. We stopped and debated. No, we really couldn't go there, so we went down the block and up several side streets to circle back. When we had circled, it did appear that the path had gone through that person's driveway. Yet another path mystery.
At last we were on the main street heading down into the town of Banbury. Our hotel was near the top of the hill, fortunately, but when Len went to register we were told to go up the hill a ways and to the back of the hotel. I trudged back that way, and found Len waiting at a corner. The road sign said "Lucky Lane". Because of my name, we took a picture of the sign, but only after an old man in an electric cart finally, and seemingly reluctantly, moved out of the way.
Our hotel, the Best Western Banbury House was really very nice. I washed all my dirty clothes and put my soggy passport in the pants press. The passport was so sad looking I didn't think I could do any harm. I had the idea that maybe it would all glue together like a brick. But later it came out ok.
When we met for dinner in the lobby there were some people in formal Scottish attire. They were celebrating the 40th birthday of one of their friends. They were really quite colorful.
It was now raining very hard and I donned my rain gear to walk to dinner past the famous Banbury Cross. (Ride a cock horse to Banbury Cross, etc.) We had been directed to an Italian restaurant, but we didn't get the directions quite right. Len stopped to ask someone about the restaurant, and the man shook his head. "I live here," he said, "but I don't do restaurants."
Then Len, who really is very good at this kind of thing, went into a pub and asked someone at the bar. The man came out of the bar with Len and pointed in the direction of the restaurant. He was so friendly we almost couldn't get rid of him. But we found the restaurant, got the last table available, and perused the long menu. I was embarrassed that the simplest thing appealed to me -- spaghetti Bolognese. Len agreed that appealed to him too. He said that after the biking, my body was crying out for carbohydrates. It needed spaghetti. The meal that later arrived was truly great. Our best of the trip.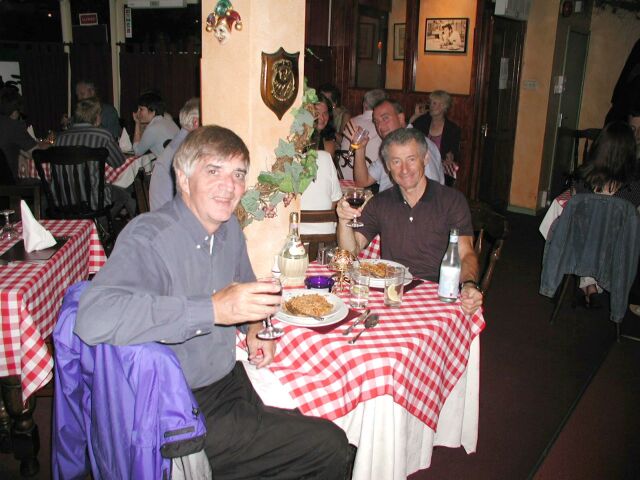 Spaghetti dinner in Banbury
On the way back to the hotel we passed a pub full of people on that rainy Sunday night. We peered in the window at a table of older women. One had bright purple hair and another had almost irridescent orange hair. On the other side of the pub was a table of older men, apparently completely uninterested in the women. Kind of sad.
Proceed to next day's cycling -- Banbury to Stratford-upon-Avon