Day 2 -- Staines to Reading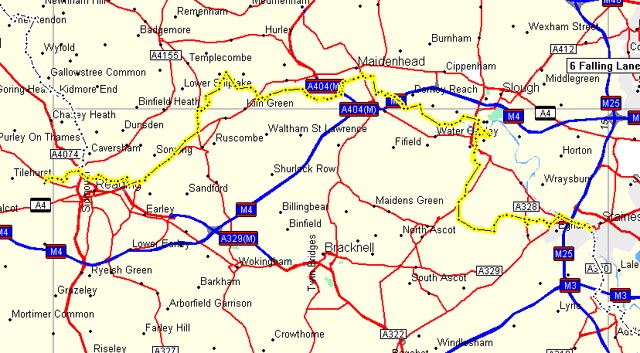 Route for day 2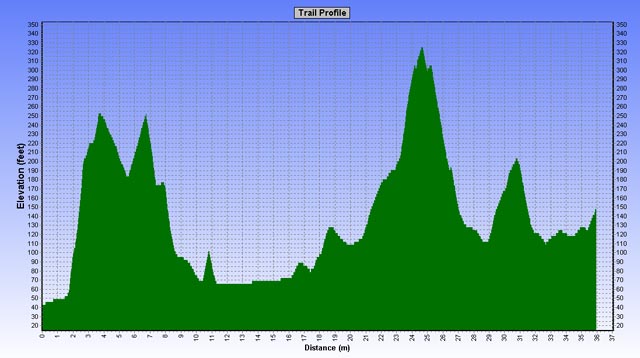 Elevation profile for day 2
The morning dawned overcast. The night before I had watched the weather report on television. It seemed that the weather would be partly cloudy, partly sunny, some rain, some showers, and in general, "unsettled." Len confidently predicted that it would rain. He predicted the same thing every day. After a few days of this unsettled stuff, I quit watching the weather forecast and listening to Len about the weather.
We started out from Staines in our rain gear, but before we had gone even a few blocks the sun came out. I didn't know it at the time, but this was to be a long, long day filled with mishaps and misdirection. It was to be one of those days when at the end of the day you've forgotten what happened at the start. The start and the finish would seem disconnected.
We knew that the path west from Staines ran along the river, but it was a little tricky getting there. The GPS track didn't know that there was a non-negotiable roundabout and other obstacles in the way. After a few random turns we were able to get to the river bank by cutting through a parking lot for some commercial building. When we got to the river bank, the view was idyllic.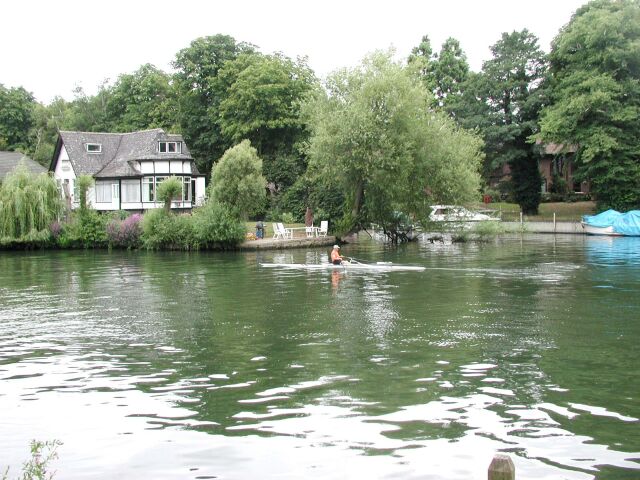 Morning on the Thames outside Staines
We passed by some kind of conference center on the river. Men were standing with coffee, quietly exchanging business-speak. It seemed incongruous to the pleasant morning setting. The path here was hard-packed dirt, and we passed over little wooden bridges and by small locks. For once I got ahead of Len, as I left him fiddling with his handlebar bag. He had rigged up some pieces of wood to help hold the bag on its mount. It didn't look secure, and it wasn't.
Passing over small bridges
I passed under a culvert, and stopped to take a picture. When Len hadn't appeared, I started to worry that he had taken a different turn. I headed back, and found Len at the foot of a bridge like the one pictured. He was standing by his bike wrapping a bandage around a bleeding finger. He had skidded down the bridge and crashed, cutting his finger and hurting his ankle. I figured he could get along without the finger, but I worried about whether he could continue with a sprained ankle. The finger was bleeding pretty badly though.
Fortunately, Len had some antiseptic ointment and bandaids in his panniers. I hadn't been as well prepared myself. Wounded as he was, he climbed back on his bike and we were off. The beautiful path didn't last for long, and we followed the breadcrumbs (the tracks for the route) on our GPS away from the river. We crossed a highway, and the breadcrumbs told us to cycle through the field we were facing. There was a small path through the wheat, but it didn't go the direction the GPS indicated it should. So we biked ahead, conscious that with every revolution of our peddles we were moving away from the Sustrans path.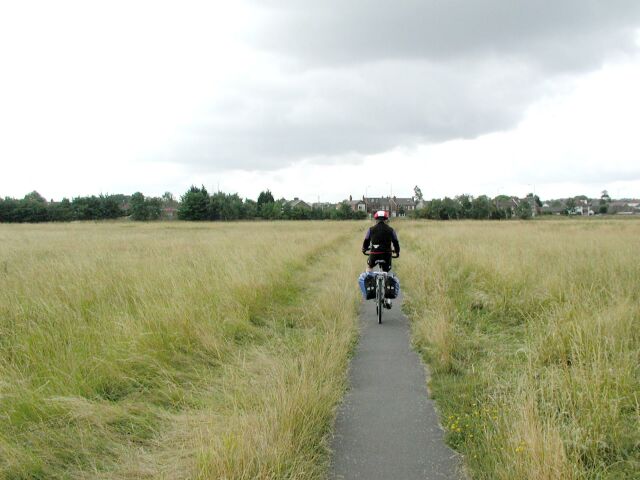 Path through the field
The path came out on a very busy highway. We could see on our GPSs that we could reconnect with the path about a half mile ahead, provided we could find some path there, and indeed when we got there, we saw a dirt path leading into the woods.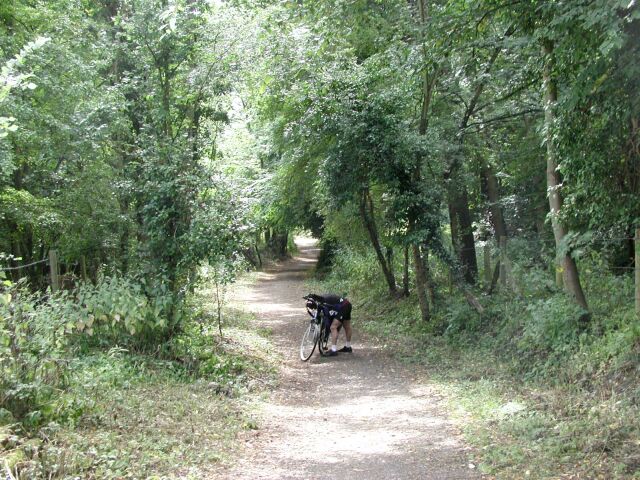 Through the woods up Cooper Hill
The path up Cooper Hill was steep, and the surface of dirt and gravel made for tough climbing. Len's chain came undone again, and he was reseating it in this picture. He did a lot of this. Moreover, his bike didn't seem to want to shift. But I was having a tougher time with the climb itself. For a while I dismounted and walked my bike. I was surprised to see another cyclist walking his bike down the hill. He had a cast on his arm. As we passed, I said to him, "I hope you didn't do that here."
He replied, "I did that arm on a motorcycle last week. Now I don't want to do the other arm here!"
At the top of Cooper Hill, which was at 380 feet (we had the elevation displayed continuously during the trip on our GPS, and we also had the elevation profiles printed out for each day), there was an air force memorial and the entrance to a college which I had never heard of. (Maybe it's good, though -- I mean no disrespect.) There was also a very beautiful pub across the street, and as I stopped to take a picture a horse and carriage rode by.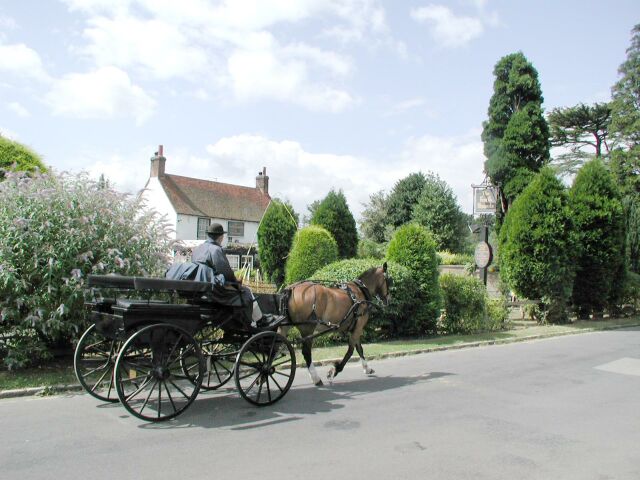 Pub near the entrance of Windsor Great Park
The entrance to Windsor Great Park was directly ahead. Probably the horse and carriage were some tourist thing, but I'd like to think otherwise.
We rode through Windsor Great Park in glorious sunshine. I put on my sunglasses for the first time in the trip. It was a real high -- one of those spells where everything seems perfect. Soon, however, the perfection started to decay. We reached a gate at the end of the park. The GPS track told us to turn right to follow the Sustrans path. But there was no road or path there. Nothing. We rode ahead a ways and found nothing there either. We rode back a ways and found nothing there. Worse, the way ahead would be towards the south, which was opposite where we should be headed.
We went back into the park and tried several branching roads. There were no maps in the park, and mostly the roads and paths weren't marked. We stopped and asked several pedestrians, but other than pointing in the direction of Windsor, they didn't know about any path or road corresponding to that on the Sustrans map.
So we just kept biking in the general direction of Windsor and eventually we came to the Queen's Gate of the park. We could see a nice view of Windsor Castle and Eton ahead in the distance.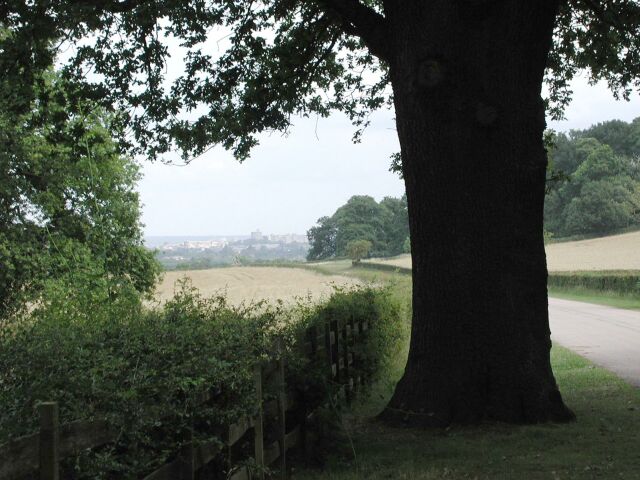 Windsor Castle and Eton in the distance
Now finally we could see the breadcrumbs on our GPS displays showing the path somewhere up ahead. For a little ways we biked down the highway, and the GPS told us to divert off on a small road to the right. But a few hundred yards in there was a locked gate across the road and a "private" sign. This was getting ridiculous. We had biked six extra miles according to our displays and lost an hour, and we still didn't know where we were going.
Well, finally we entered the town of Windsor through the quiet residential streets indicated on the Sustrans map and our GPSs. I still don't know what happened in Great Windsor Park, but something wasn't right about either the Sustrans map or my interpretation of it onto the GPS. I think that someone from Sustrans should cycle these paths with a GPS, record the tracks, and make them available to cyclists. It should be easy enough to do.
We stopped at a small refreshment stand along the Thames in Windsor. There were lots of swans and boats, and the toasted ham sandwich and coke just hit the spot for me. Afterwards, we walked our bikes through part of the little town of Windsor. I'd done the castle tour at least once in the past, and we didn't have either the time or inclination on this occasion to play tourist. Leaving town we walked across a footbridge and stopped to take pictures of the beautiful view.

Footbridge in Windsor
We were soon on a bike path that for the moment was well marked. But once again on this directionless day we reached a point of confusion where the markings and the GPS tracks told us to go a direction through the wheat fields where there was no path.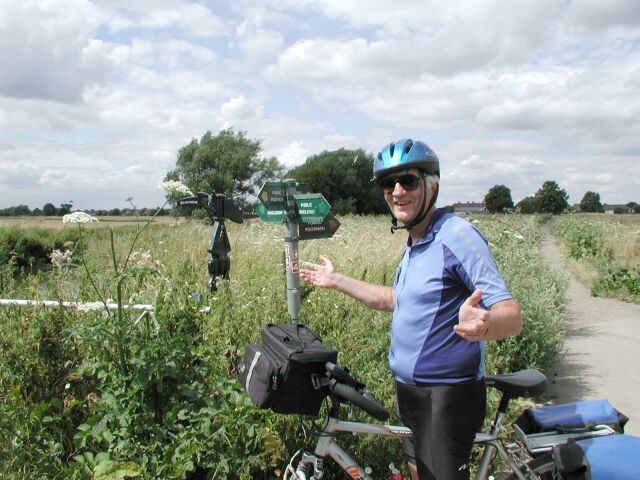 Where do I go?
It was that kind of day. But I need to say now that the rest of the trip wasn't like this. As we cycled further in the days to come the paths seemed to be better marked. Even so, it was at times difficult to navigate on occasion.
We cycled across this field and found our way to the Thames. We could see Eton in the distance, and we lamented the fact that we had missed it. The path we were following along the river wasn't quite right according to the GPS, but it was close. Soon we came to a little lock where a boat was waiting for the locksman to open the gate. We spoke briefly to a well dressed woman walking a dog. Wherever we went on this trip we saw people walking dogs, and the people were invariably well dressed, even in the middle of fields and away from the roads. I was thinking that England must be dog heaven.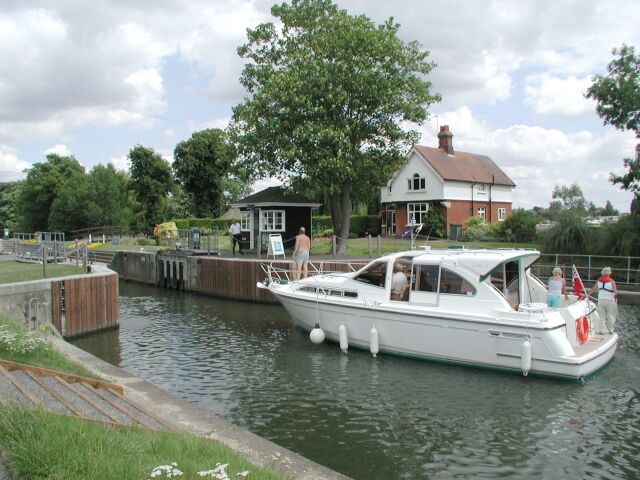 A small lock on the river
There was a man in a small truck parked beside the path. He started to back up, and I said to Len that he was going to hit the signpost behind him. Sure enough, there was a crunch and the truck bent the sign over. There was quiet for a moment, and then the locksman called out across the water. "Watch out for the sign behind you," he said laughingly. Then he added, "It was bent over anyway -- always was." We laughed, the trucker laughed, the lady with the dog laughed, and the guy waiting on the boat laughed, and the dog laughed.
We had to push through some weeds and retrace our steps to get on the right path, but soon we were back on the GPS breadcrumbs delineating the Sustrans path. Now the path did some weird things. There were signs marking the national cycle path, so there was no question what we were doing was right, but the path led across someone's lawn. For the next half mile or so it cut across peoples' back lawns. There was no path discernible, we just cycled on their grass. I couldn't imagine having a national cycle path routed through my lawn. Strangely, though, the grass seemed pristine, and I need to say now something that I will repeat later -- that we saw no other cyclists on these paths the entire trip.
Coming out of the lawn-thing we reached an intersection once again where the signs were ambiguous and the GPS told us to go a direction in which there was no path or road. This was an especially frustrating one, and we discussed it for a while. A well dressed woman with a dog walked by, and we asked her directions. Of course, it's hard asking directions when you're not going anywhere in particular, but trying to follow a cycle path that doesn't seem to exist. She directed us off on a small road, which we took for awhile, watching the path on our GPS diverge until it disappeared. But eventually, by dead reckoning we reclaimed the path leading off another highway. This was some day!
The path now led through woods and came out on some roads that took us in to Maidenhead. Len wanted to find a cycle shop to get the gears fixed on his bike. He'd been having a lot of trouble trying to shift all day. We asked directions, and walked our bikes along a walking street in Maidenhead. The first cycle shop sent us to another, and I waited outside, eating an ice cream cone, while Len dealt with his problem. After about a half hour he came out with a new shifter on his handlebar for the rear deraileur. He had been really fortunate that they'd had a part that had fitted, and he only got charged 22 pounds.
Going out of Maidenhead we once again got on a wrong road, but it was one of those things where you see on the GPS that you're going wrong. We never really had any trouble with following the route when we were on roads; it was when we went off on paths that we had been so often led astray. But we didn't stay on the road long, as we went through a pleasant small park and then some small residential roads.
I was watching the odometer on my GPS, because I knew that we would be going up a big hill soon. Maybe this foreknowledge wasn't such a good idea. Now we entered a path that led ever upwards through dark woods.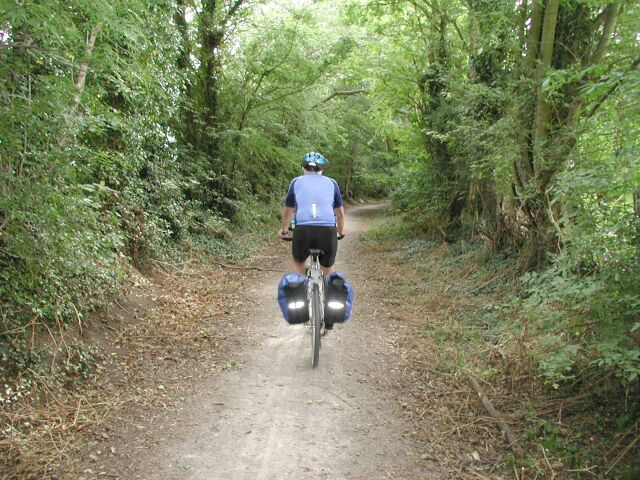 Climbing through the woods
Daylight was failing in these woods. We had spent so much time with bike problems and getting lost that we were past dinner now. I was puffing and taking a breath stop or two as we climbed 500 feet in the forest. Len was up ahead, as he always was, being the faster cyclist and better climber. But as I rounded a bend, there he was, dismounted and hunched over his bike. "We need your tire-changing skills," he said disgustedly. His rear tire was completely flat.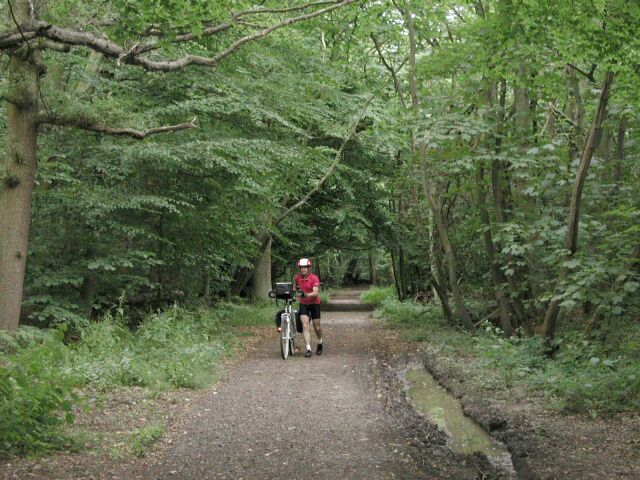 Len gets a flat tire
I got the tire off and used one of our replacement tubes. It seemed too big for the wheel, and I had visions of being stuck in this forest all night. This was a bad place to have a problem with your bike. I've changed scores of flat tires on my road bikes, but I had never changed a fat tire on a hybrid. Maybe they're made to look big, but I wasn't sure. I also had the embarrassing problem of not being able to figure out how to open the brake calipers to insert the tire through the brake pads. My road bikes have had brake release levers; this one didn't. (Later I discovered the simple way to unlatch the brakes, but in this dark forest I couldn't find the secret.) We had to get going, so I took off and reinstalled one of the brake pads after inserting the tire. In doing this I inadvertently loosened his brake setting, so Len's back brakes worked poorly for the rest of the day.
I went ahead while Len reloaded his bike, and waited at a curve at the top. Len soon arrived, but missed the turn and crashed into weeds. Once again he hurt his ankle as well as his hand. He was taking a real beating today, but like a fighter, he kept getting up. I had to respect his toughness. We coasted down the hill, now onto roads, and into a small town. Len was worried about controlling his bike with the soft brakes. Furthermore, we had only been able to get about 20 pounds of pressure into his rear tire with the small hand pump that we had.
We were biking alongside a main divided highway on a paved bike path. Len's handlebar bag fell off again, and this time in disgust he gave up on the thing and attached it with a bungie cord to the rack on the back of his bike. That's where it remained, without any further problems, for the rest of the trip.
At a roundabout I saw a gas station on the other side and suggested that Len get some air in his back tire. I waited while he ran across the busy roundabout. And I waited while he fiddled with the air on the other side. He seemed to be having a lot of problems getting air in his tire. Almost a half hour later he ran back across the roundabout, explaining that the air pump required a 20p piece, and didn't want to take his particular coins.
Finally, as darkness was falling on this long day, we entered Reading. We biked along the river and it was really quite pretty. Surprisingly so. There were scores of swans and more picturesque locks. The scenery was somewhat marred by two occasions when we passed a man, and yet another man, who were talking loudly to themselves, complaining about something or other vehemently. Each gave us the evil eye as we passed.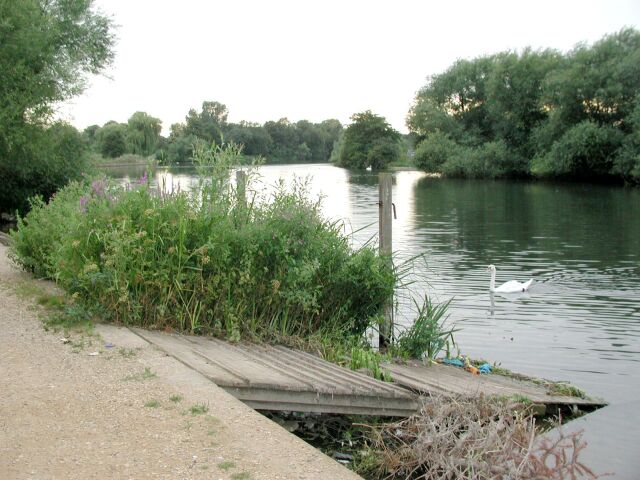 Entering Reading
Getting to our hotel was yet another difficulty. The path was supposed to run along the river, but it ended unexpectedly and we had to cross to the other side and cycle along main streets, using dead reckoning to head towards the last "breadcrumb" on our GPSs, which would be the hotel. Len stopped and asked a girl walking by where Oxford Street was. "This is it," she said. Then Len asked if she knew where the Quality Hotel was. She didn't. We looked up and realized we were standing right in front of it. Finally. It was already 9:20pm.
I had trouble getting the panniers off my bike, but eventually our bikes were locked in a supply room in the hotel garage. We checked in and were directed towards our rooms. The door where we were pointed said "Toilets." But that can't be our rooms, we protested! Nevertheless, it was. The door led to toilets, but to some rooms too. Strange.
The hotel dining room closed in 5 minutes, and it was the only option at this late time, so we hurried. and ate by ourselves while the waiter hovered over us, watching his watch.
At dinner I said to Len that he was a real trooper. "The bad news," I added, "is that you needed to be."
What a day!
Proceed to next day's biking -- Reading to Oxford