Cycling Southwest France - Biking the Dordogne
Day 4 - Montignac to Sarlat - 28 miles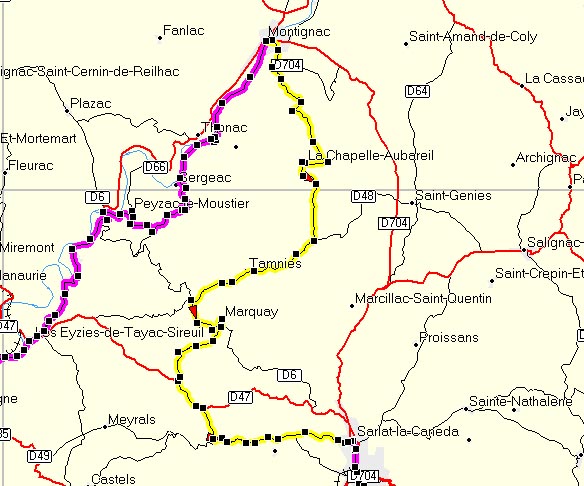 Once again the morning was damp and threatening rain, but by now we were used to that and fully expected that the sun would soon follow. We left the hotel at 10:30am, heading towards the Lascaux cave site, which was only a few miles away. Our tour was scheduled for 11:00am. Maybe it was only a couple of miles away, but no one told us that it was straight uphill.
The climb to Laxcaux from Montignac was the worst of our trip. Both Len and I agreed on that. I'm not sure why, because other climbs were worse statistically. This one gained 720 feet in altitude. Maybe because it was the first thing in the morning, or maybe because we faced the time pressure of arriving for our tour. For whatever reason, when I finally got to the parking lot for Lascaux I was exhausted. In fact, exhausted doesn't even describe how I felt. I have a picture of myself waiting in line for the tour, and I look awful. I'm not posting that one. I was covered with sweat. I tried to keep away from other people, but the cave was small and crowded.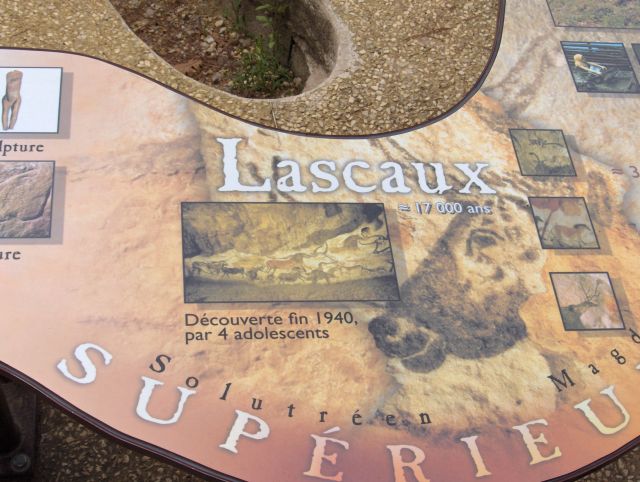 Sign at entrance to Lascaux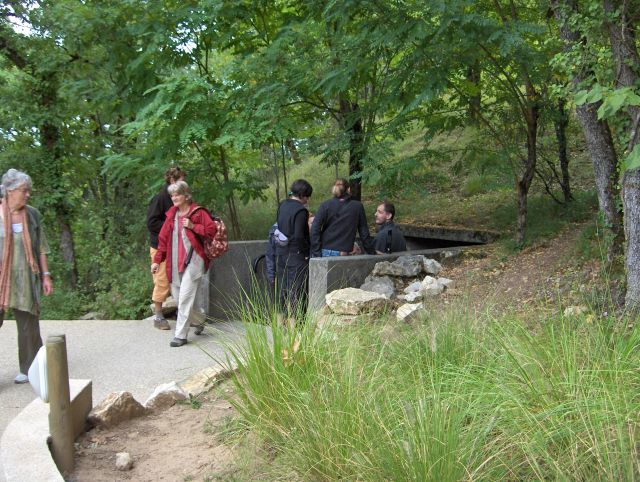 The entrance to the cave
The guide told us the history of the Lascaux cave. It was discovered by four teenagers on September 12, 1940. Their dog fell into a hole that had been revealed when lightning felled a tree. I commented that the dog had actually discovered Lascaux, yet got no credit. I think his name was Robo. The teenagers returned the next day with flashlights and ropes and explored the cave. They vowed to keep the secret of the cave "to the end of their days." However, "the end of their days" occured two days later. Today they are old men living in Paris and visit annually the cave they discovered so many years ago.
Between 1940 and 1963 more than a million visitors went through the cave. They brought with them bacteria that were destroying the paintings, so the cave was closed to visitors in 1963. We were told that today only bacteriologists are allowed in the cave -- not even archaeologists. The French carefully constructed an exact replica of Lascaux, called Lascaux II, and it is that replica that visitors go through today. The guide said that the replica was exact within 5 millimeters in its 3 dimensions of the original, and that the paintings had been reproduced using the same pigments as in the original. I can't vouch for the accuracy of the reproduction, but I can say this: the experience seems absolutely authentic. There is no feeling whatsoever that you are visiting a recreation, rather than the real thing.
The paintings in Lascaux are truly remarkable, and you have to see them in the context of the cave to appreciate them. The most striking feature is the relief of the cave texture underlying the paintings. When you see pictures of the paintings, such as the one below, they are 2-dimensional. You don't realize that the cave surface is not flat, yet the artists made that texture disappear and even used it to advantage in many instances. The first time the guide shown his flashlight from the side so we could see the bumpiness of the surface there was an audible gasp from the group.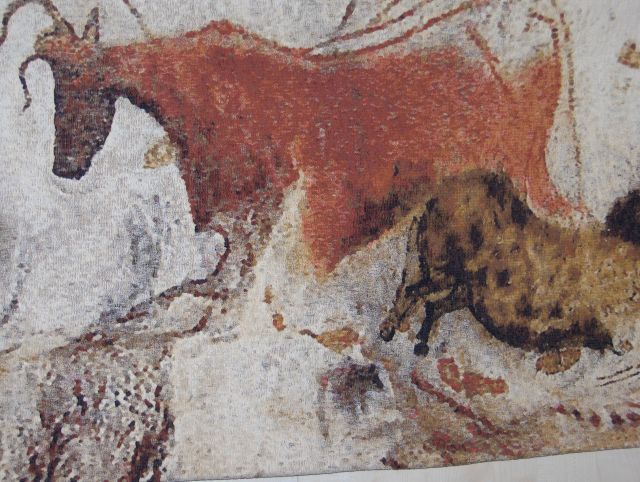 Painting in Lascaux
(Photography in Lascaux was not allowed. The picture above was taken from a poster in the souvenir stand.)
I asked the guide about the dating of the paintings, and was disappointed to learn that they have not been dated using scientific methods. The artists didn't use carbon in the pigments, so carbon dating has not been possible. However, utensils on the cave floor containing similar figures have been dated. I kept quiet, but it did bother me -- which came first, the utensils or the paintings?
I have since read that the paintings in Chauvet, another cave in France, have been dated scientifically using accelerator mass spectrometry to separate minute organic constituents, and that they are 30,000 years old. The paintings in Lascaux are said to be 17,000 years old.
In school many years ago I had learned that the cave paintings of beasts had been made to invoke the help of the gods in the hunt. However, the guide said that prehistoric men did not actually live in the cave, and that it was thought that the paintings were for some religious purpose, such as an initiation rite.
We coasted down the hill from Lascaux. I hate coasting down hills, because it's so easy to lose elevation and so hard to regain it. And of course there followed an even bigger hill, a little over 800 feet in elevation. Biking up this hill I was passed by a half dozen other bikers, apparently a part of some tour. I rationalized that they weren't carrying their baggage and that they were younger. Worse, however, there was a sag wagon accompanying them -- a van with leather straps hanging out the back windows for the bikers to grab hold of. The van passed me with a biker hanging on to the strap. He didn't glance at me as I struggled.
I learned something for myself on this hill. I learned how I can get up long hills without getting exhausted, and I never had another problem with the hills to come. I'm writing this next little bit for myself. If you're old and decrepit like me, maybe you can benefit from this advice. Otherwise, please skip this next insert.
---
Hills
First, make sure your seat is high enough that your legs are fully extended at the bottom of the pedal travel. This makes a big difference, and usually people have their seats too low.
Most importantly, don't attack the hill. Take it slow and steady. Go to a low gear and pump steadily at a rate where you don't start to breathe harder and harder. For steep hills it is possible to go at 4 miles an hour, and sometimes even 3. Even when the slope is lesser, continue the same pace and use the easing as a kind of restoration period.
Take a mental attitude that the hill goes on forever. Too often I imagine that I only have to get to the next bend and am disappointed when I get there to see that the hill goes on to yet another bend, and meanwhile I've used up my energy.
Walking your bike, or stopping to rest, is more tiring than continuous biking. Walking uses more energy and stopping to rest loses your momentum.
---
We were once again on a deserted road. In fact, this one seemed to be completely deserted. We were really in the middle of nowhere. For a long time we saw neither cars nor bikers. Here we stopped for lunch -- a nutribar and some fruit from breakfast.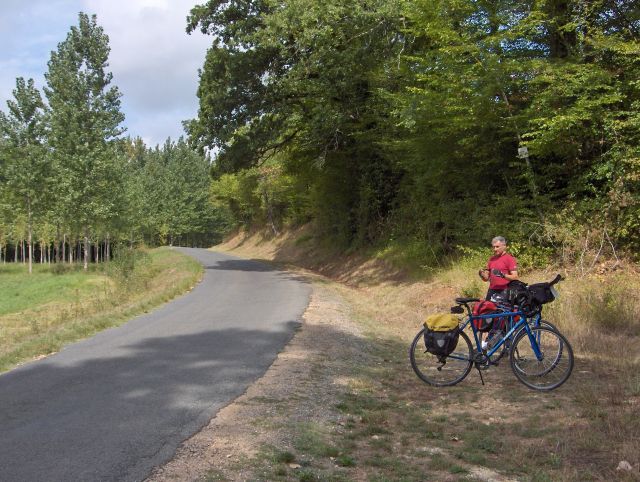 Lunch in the middle of nowhere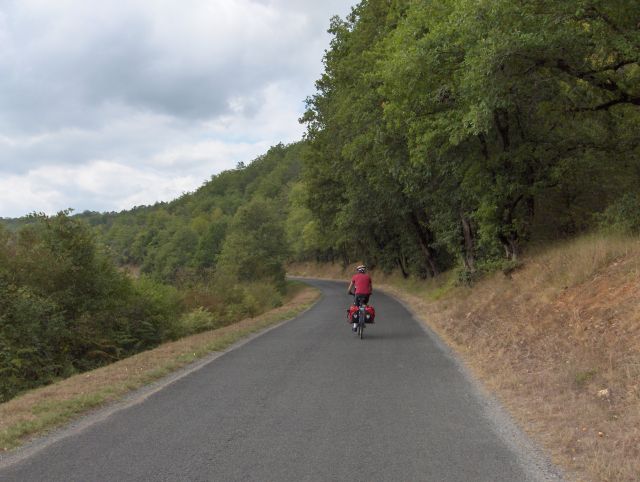 A lonely road away from civilization
There was another big hill ahead, this one up to 980 feet, but actually didn't seem as bad as the description "very steep climb" in Cycling France. Soon after the top we had neared our destination of Sarlat and we reached an intersection. The signs to Sarlat said to go right. However, our GPS route indicated that we should take the left fork. That left fork that our GPS wanted went uphill, whereas the signs to Sarlat pointed downhill. I admit to a bias towards downhill, and I argued for that direction, while Len believed in the GPS. I think he was humoring me, but he agreed to go downhill.
At the bottom of the hill we reached a very busy intersection with a main road leading north into Sarlat. Now I remembered that the reason I had chosen the other direction for the GPS route was that it would have taken us into the north end of Sarlat, where our hotel was located. Because of my insistence on following the signs to the downhill route, we were going to have to fight the traffic into and through Sarlat.
For a mile the biking was relatively dangerous in heavy rush hour traffic, but then we reached a pedestrian zone through the main shopping street of Sarlat. We walked our bikes up this street.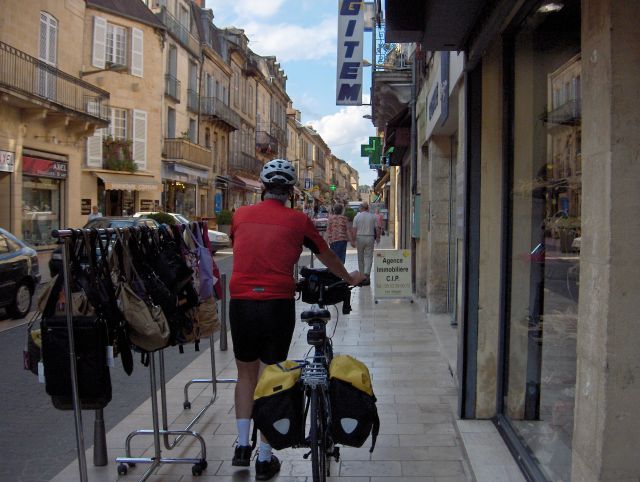 Walking our bikes through the main shopping street of Sarlat
Halfway up this main shopping street we ran into the 3 bikers from North Carolina that we had met two days ago at dinner in Les Eyzies. This time we introduced ourselves. The father was Gary Greenberg, and his two sons, Sam and Andy. I was thinking that this pleasant encounter was a reward for my mistake on the route.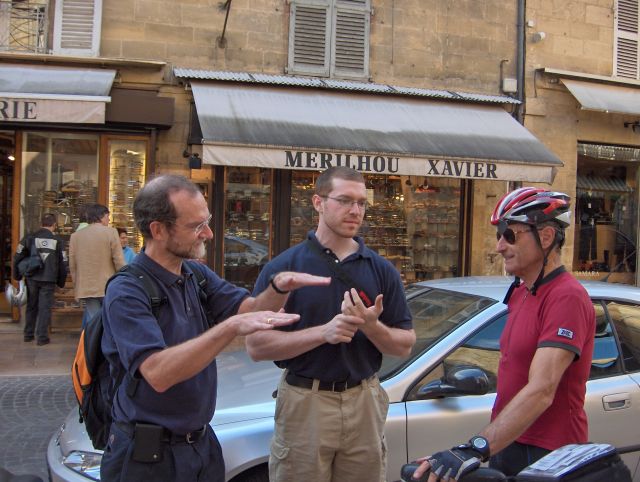 We again encounter the Greenberg family from North Carolina
We dumped our stuff in the elegant Hotel de la Madeleine and headed out to explore the city. This was the largest city so far on our trip, and so far it was a mild disappointment -- lots of traffic, a busy shopping street, and nothing especially interesting so far. But all this changed as we turned left off the shopping street into the old section of the city.
Sarlat is said to be one of Europe's best preserved medieval cities. It owes its preservation to the failure of its economy at a time when it would have been overbuilt. Like Bruges, it was relatively deserted and then rediscovered at a later time. More recently it was thoroughly restored.
I have a hard time remembering European history, but Sarlat was on the border between England and France during the hundred year's war. Len and were talking about that. Imagine a war going on for a hundred years! Four or five generations of a family would know nothing but war. It reminds me of the famous precept from Orwell's 1984 -- "We have always been at war with (France) (England)."
The evening was beautiful and the colors deep as we walked the narrow streets of the old city. Everywhere there were outdoor restaurants.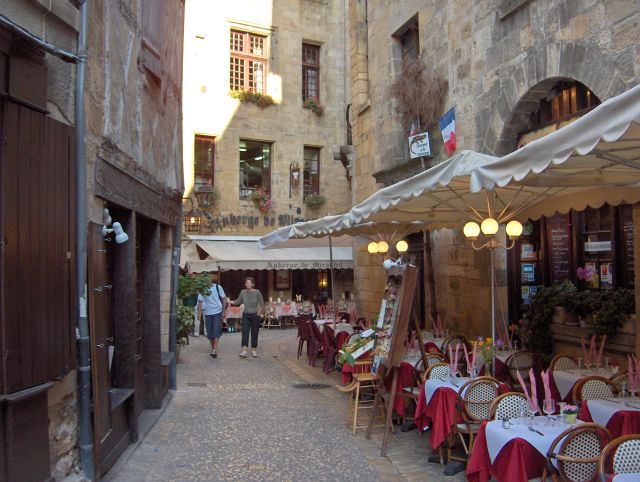 Outdoor restaurants in the old city of Sarlat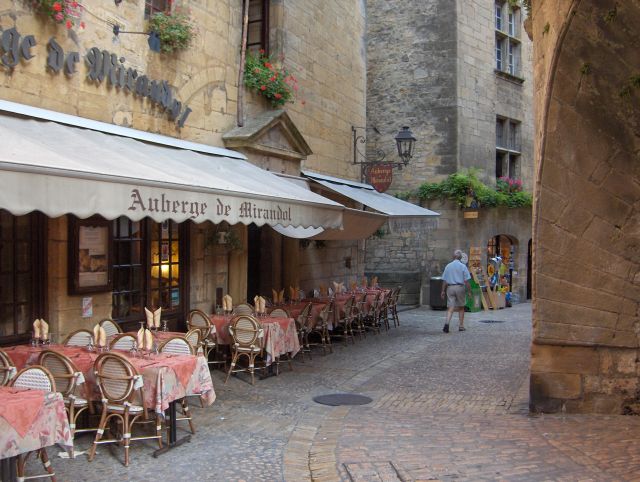 Narrow streets lined with restaurants
In one of the large squares there was, appropriately, a sculpture of ducks. They seemed to be the lifeblood of the region.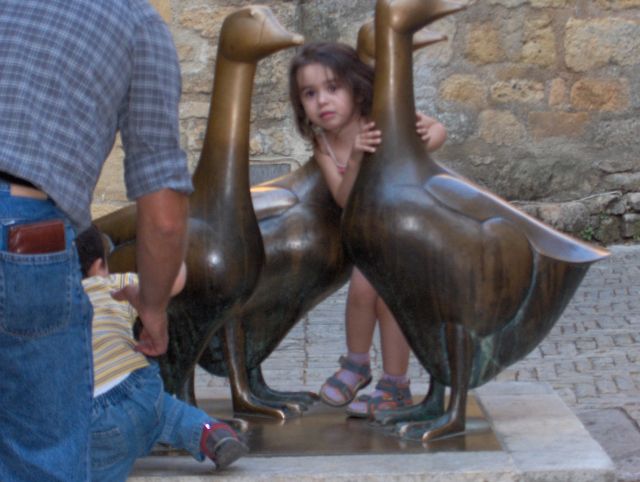 A sculpture of ducks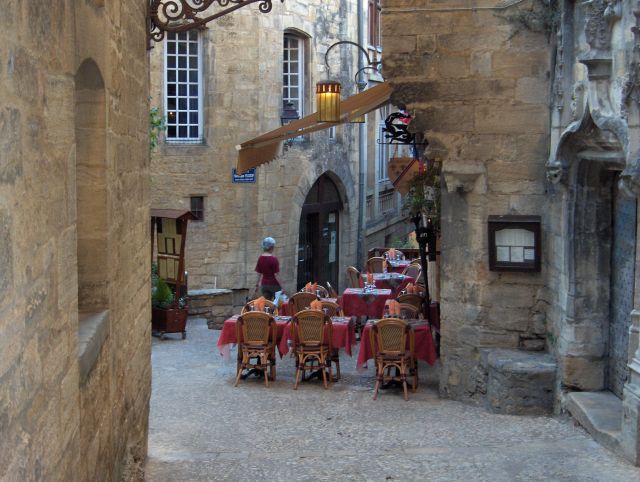 More streets, more restaurants
I was wondering how a relatively small town (population about 10,000) could support this many restaurants, and the obvious answer was tourists. As the night deepened I was surprised to see that almost all of them were filled, even out of season, as we were in September.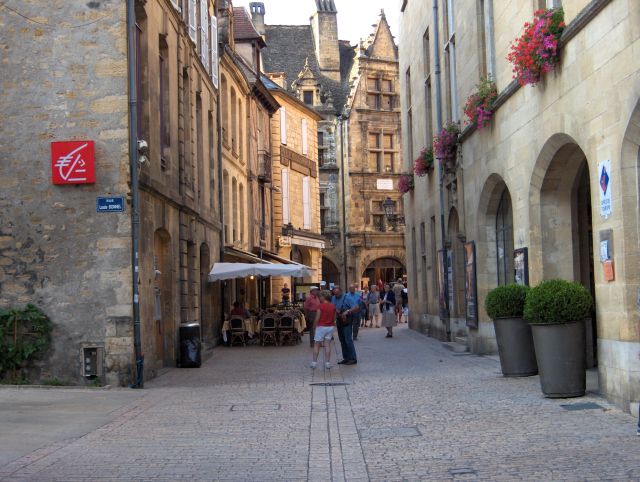 Another street view in Sarlat
Somewhat arbitrarily, we chose one of the many restaurants and enjoyed our wine and duck.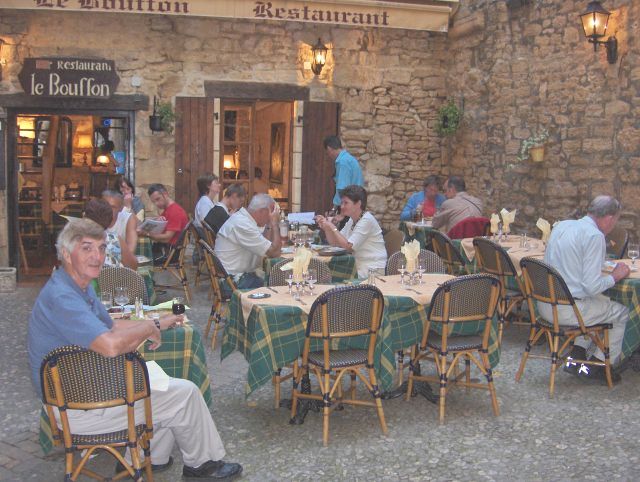 Dinner in Sarlat
While we were sipping wine, Len got out a small musicbox that he had just bought for his granddaughter. He opened it and played Frere Jacques. A woman at a nearby table looked up at us and raised her eyebrows inquisitively. Embarrassed, Len announced that the music box was for his granddaughter. "I hope so," said the lady.
During dinner I was mentioning to Len that the movie Chocolat had been filmed in a nearby town, I thought Branne, and that perhaps we would visit that location the next day. A man at the table next to us turned and said that the town was Beynac. (We weren't going there.) Like everyone else at the restaurant, this foursome was speaking English. It turned out that they were chocolate makers themselves from Oregon, and had come to pay homage to the site of this movie featuring a woman opening a chocolate store in a small town on the Dordogne. However, the man said that although the movie had been largely filmed in Beynac, the chocolate store was actually somewhere else.
The old town had a romantic charm as we walked back to our hotel at night.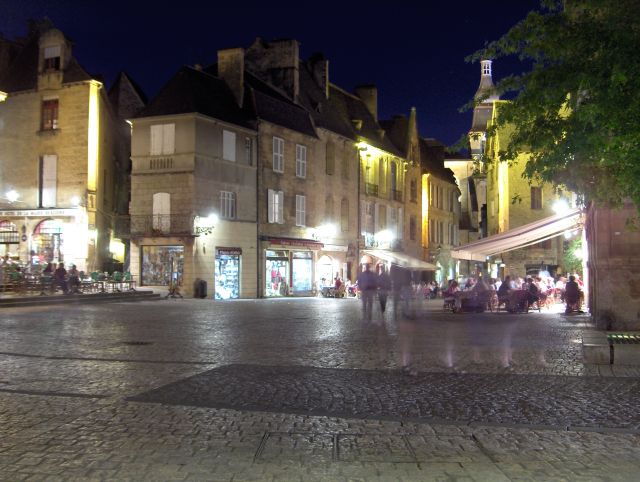 Sarlat at night
Proceed to Day 5 of the Dordogne Trip