Cycling Southwest France - Biking the Dordogne
Day 1 - St-Emilion to Bergerac - 40.6 miles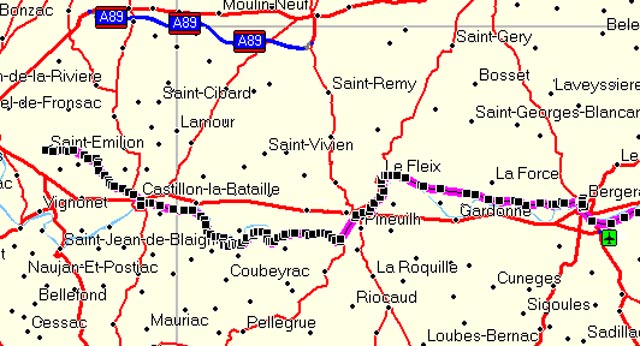 Len and I planned to meet at the Paris Charles de Gaulle Airport. He was coming from Los Angeles, I was coming from New Jersey. My plane was due four hours before his, and whereas I had a direct flight, he had two connections. We had thought about contingency planning in case he missed a connection or his flight got delayed. Of course, what happened wasn't anything we had thought of -- he got a different, earlier flight and arrived at the same time as I did. But I didn't know that.
Len had bought a pair of walkie-talkies, so if we were separated, we could contact each other. The previous year when we had been biking along the Danube, we got separated and never found each other all day. We didn't want that to happen again.
I was sitting at Charles de Gaulle Airport, waiting out the four hours before Len's flight was to arrive, not knowing that he was there already. I decided to test my walkie-talkie, and as soon as I turned it on, it rang. Couldn't be Len, I said to myself, turning it off again.
Two hours later I was pacing the terminal where Len's flight was due to arrive, when I heard a familiar voice say, "Bob!" And there he was.
There was a monstrous line at the airport's train station. Fortunately, we had plenty of time, because the train to Bordeaux didn't leave for several hours. After buying our tickets we killed time at an airport cafe. I was the worse for wear, of course, not having slept.
The train journey started strangely. After the first stop, the train started backing up. It seemed that we were going back to the airport. However, we backed up for the next five hours all the way to Bordeaux.
On the way Len fired up his GPS, which agreed that we were in France. It said we were going 190 miles an hour. This TGV train really lived up to its name, and was comfortable too. After a pleasant five hours backing up at high speed we arrived at Libourne, a suburb of Bordeaux, where we got off the train and took a cab to St-Emilion.
In the short cab ride we rode recklessly along a narrow road with quite a bit of traffic. I started worrying about our route. This was a very dangerous road to bike, and if the other roads that I had chosen unseen from a map were like this, we were in trouble.
"You must be Mr. Kleinrock," said a pretty young girl at the entrance to our hotel, as she handed us our keys. This never happens in the US.
We dropped our luggage in our rooms and started walking in St-Emilion. It was a charming, very small town of a few cobblestone streets perched on a hill. I might add in passing that this little town rates its own page in the well-titled book, 1000 Places to See before you Die.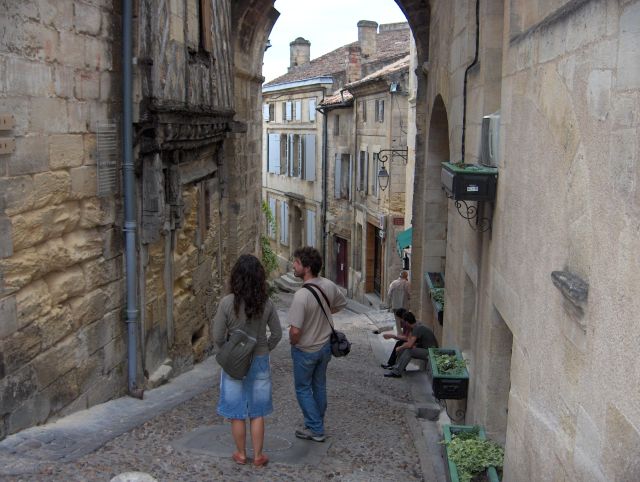 St-Emilion
It seemed that every store in St-Emilion was a wine store. This was the heart of wine country.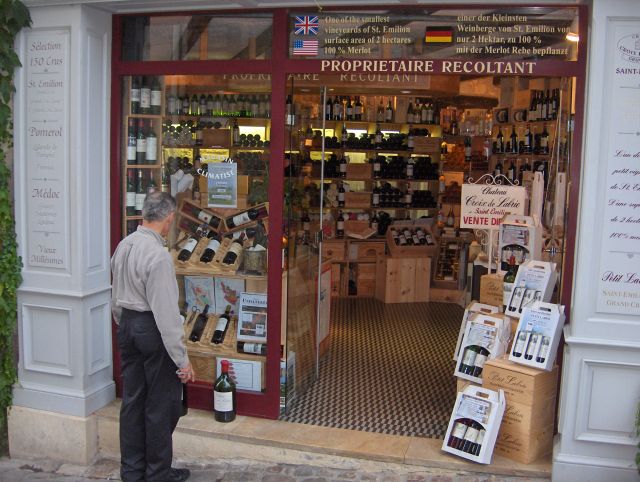 What was to become a familiar sight -- A wine store in St-Emilion
In most of these wine stores, people were inside sipping wine. "Degustation gratuit," said the signs in the windows. I think that meant you could drink some free samples, and that sounded good to me. But we hesitated, because we obviously weren't prospective buyers. We actually went in one store, and milled around a bit, but no one offered us a sample, and we left.
We found two restaurants in town, and chose a small one directly across from our hotel. There were only four tables, but possibly there was an upstairs room.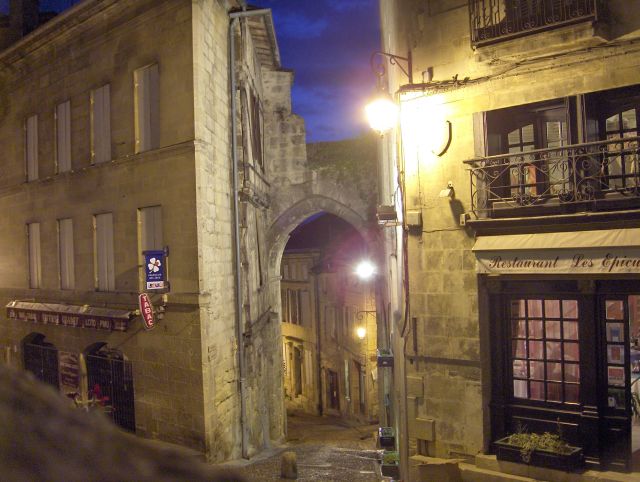 Our restaurant in St-Emilion (on the right)
The menu featured foods that we were going to see everywhere during our trip -- canard (duck), and foie gras. I said that this was a bad region for ducks and geese. They should know better than to hang around southwest France. We were also anxious to try the local wines, although we always found them surprisingly expensive.
After dinner we were anxious to visit our bikes, which had been delivered earlier to our hotel. In the dark we walked up the cobblestone street to a small public square, where our bikes were waiting. At first look they appeared quite good. They were obviously brand new, and were good quality hybrids.
We were surprised to discover that the bikes were unlocked. There were combination locks sitting freely on top of the back racks on the bikes. The problem was, though, that we had no idea what the combinations were. There were some papers attached to the bikes, and we tried every number that was written anywhere on the rental agreements, but none worked.
The lock problem soon paled, however, in the face of another problem. As Len started to wheel his bike down the street his back wheel was binding on the brake pads. This looked quite serious, because the wheel was wobbling almost an inch during a revolution. It was way, way out of true -- so far out that it appeared that no adjustment of the brake pads would alleviate the binding of the wheel. Furthermore, in order not to check my luggage, I had left my all-purpose bike tool at home, since it wouldn't get through airport security. The only tools we had between us were two small Allen wrenches that would be used for attaching our handlebar bags.
Len put in a call to the bike rental place as we retired back to our hotel, very sleepy, but discouraged about the problems with the bikes. It seemed that the trip wasn't getting off to a good start.
As we were eating breakfast the next morning there was a phone call for Len from Florent, our bike rental person. He gave Len the combinations to the locks, which he said had been written on the agreements (they weren't). He also suggested that we get Len's wheel fixed in the nearby town of Castillon, where there was a bike shop.
We had a lucky break that one of our two Allen wrenches fitted the brake pad adjustment on Len's bike. By opening up the brake pads almost all the way, the wheel could get through the pads, albeit with some binding on the way. But Len would only have to bike about seven miles in this condition.
There's an awkward moment in every trip like this; it's after you've mounted the panniers and handlebar bag and get on the unfamiliar bike for the first time. Of course, it doesn't help that it's a narrow cobblestone street with a fair amount of traffic. There's a feeling that you can't control this thing, and that you're about to kill yourself and any nearby pedestrian.
But the feeling passes. We followed the route displayed on our GPS as we biked out of St-Emilion alongside vineyards. By the time we had reached Castillon, the bikes had become familiar friends.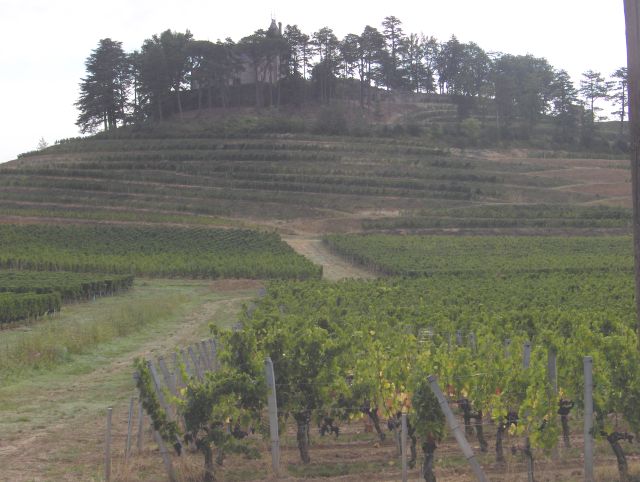 Vineyards line the roads near St-Emilion
We found the bike store down a busy highway, and were pleasantly surprised to find that it was a large, well-equiped store specializing in the very brand of bicycle we were riding. A young man there put Len's bike on a trueing stand and began adjusting the spokes to correct the wobble. This is great, I thought to myself, it's all working out.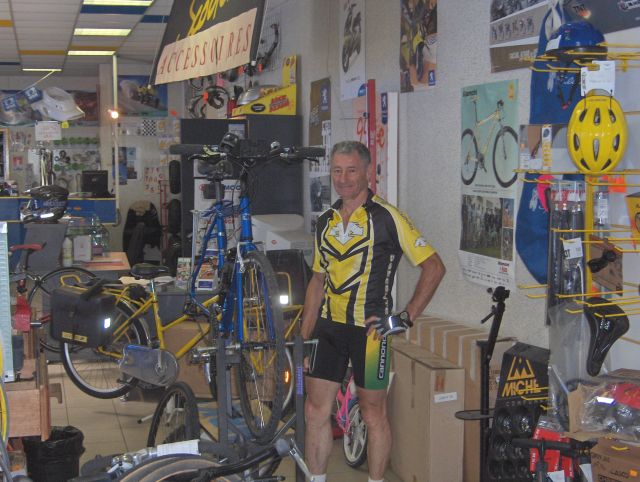 Len's bike gets "fixed" in Castillon
But it wasn't. After about a half hour the mechanic at the bike shop said that Len's wheel was unfixable. He needed a new wheel, and they didn't have one that was suitable. The only thing he could do was to open up the rear brake completely. Len would have to bike only with the front brake until we reached Bergerac, where hopefully we could get a new wheel.
Discouraged and cautious we biked along the main street of Castillon onto the bridge across the Dordogne River. It was our first view of the river that was to accompany us for much of the week.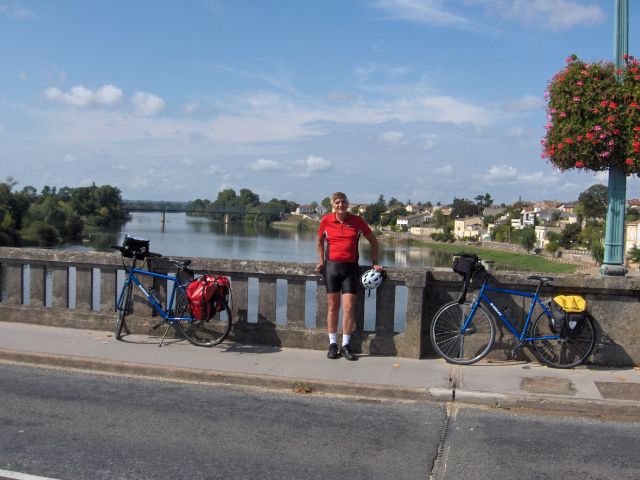 First view of the Dordogne, at Castillon
The pretty view on the bridge revived our spirits. At the other end of the bridge we took an immediate left turn onto route D130, which would hug the river. We had worried a bit about this road -- would it have heavy traffic?
Happily, we discovered that D130 had almost no traffic whatsoever. It was a delightful road, narrow and with the beautiful river on one side and pleasant rural scenery on the other. After a rather dull sky early in the morning, the weather had turned gorgeous, with a blue sky dotted with fleecy, white clouds. This was what biking was all about! We were on a high.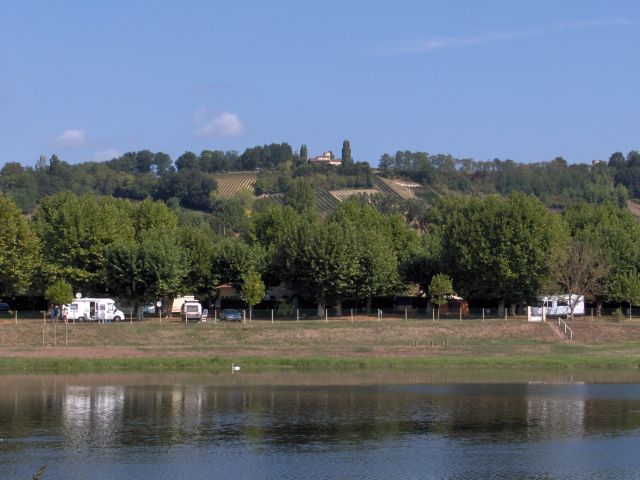 Biking along the Dordogne near Castillon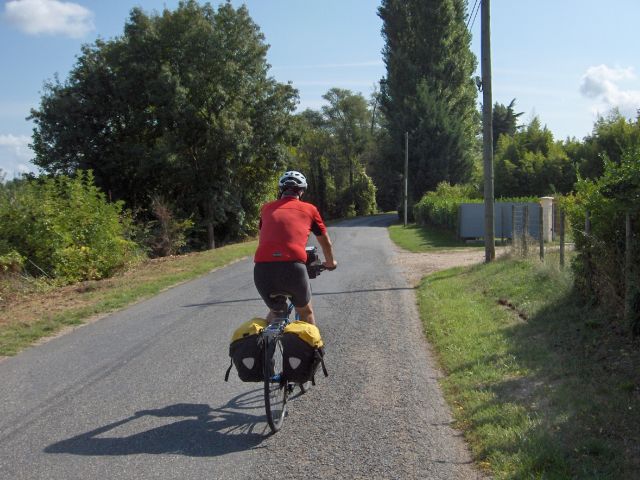 We had the road to ourselves
Here and elsewhere we biked past big dogs who seemed aggravated that we had threatened their territory. All the farmers seemed to have big German shepherds. They would run at the fences that separated us from them, occasionally making us nervous.
After some miles of this perfect biking, the road turned away from the river and headed up a long hill. There was a strenuous climb, and then a fast descent back towards the river. I worried about Len not having rear brakes. We stopped alongside the river to eat lunch, which consisted of a nutribar and some water. We both had brought some nutribars with us for emergency lunches, and we often found that at lunchtime we were not near any town where we could get food.
After lunch we entered the town of St Foy la Grande, which had a busy, long main street. Maybe we could find a bike store, we thought. There was a man, obviously a local, biking towards us. We stopped him and asked about a bike store. In hesitant English he said that he was heading to a bike store himself. We followed him back down the main street, where there was a sign about a bike shop. However, it was closed during the middle of the day -- a practice that we encountered to our chagrin numerous times during the trip. Apparently in this part of France they believed in siestas, or something like that, in the early afternoons.
We turned to go, but the man stopped us. His speech was very slow, where you want to guess the words he's about to say and help him out. "I ... have .... another .... idea," he said. His eyes bulged, sweat ran down his face, and he had this idiot grin on his face. His teeth were terrible to be seen.
We followed him to another corner. He looked down the street. There was nothing there. "I ... have ... another ... idea," he said again. The same idiot grin. He was clearly drunk. He set off again for us to follow. We quickly turned down an alley away from him. We didn't care where we were going; we just had to be rid of this guy.
For the rest of the trip, Len and I frequently would repeat to each other: "I have another idea."
We crossed to the north side of the Dordogne for the last 14 miles to Bergerac along a main road, D20. This road was straight and had heavy traffic. We had lost sight of the river and were surrounded by endless plain fields. Moreover, the sunny day had turned dull. These were boring miles, and we simply put down our heads and turned our pedals for the rest of the way to Bergerac. This was probably the most boring part of our whole trip.
The entry to Bergerac was unpromising. It was rush hour, and it was hard to cross the street to make a left turn towards our hotel. We found our hotel, Le Bordeaux, down a tree-lined street. As luck would have it, there was a bike store directly across the street.
I was telling Len that I remembered that in the bike store in Castillon the mechanic who was trying to true his wheel had only tightened spokes. I hadn't seen him loosen any. You have to alternately loosen and tighten spokes to true a wheel. I've trued wheels that seemed worse than Len's. I regretted not having thought to have bought a spoke wrench in Castillon.
We took Len's bike into the bike store in Bergerac, not mentioning our previous unsuccessful attempt at getting the bike fixed. The people in the bike store didn't speak English, but they told us to come back at "six heures." In the meantime we went for a walk in Bergerac. I had hadn't expected much from the town; it was only a place to crash for the night. However, I was pleasantly surprised.
We went into a large church, Notre Dame, and then started walking down towards the river through the old town.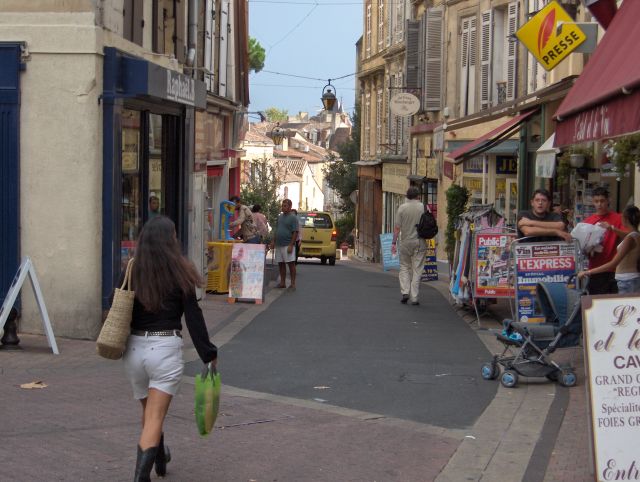 Towards the Old Town in Bergerac
Not to be disappointed, there was a statue of the town's most famous personage, Cyrano de Bergerac, in the main square of the old town.
Cyrano de Bergerac
Cyrano was a real person, but Rostand's famous drama had little to do with his real life. Cyrano was an author of little note, and died in an ignominious fashion when a plank fell on his head in Paris.
The Old Town in Bergerac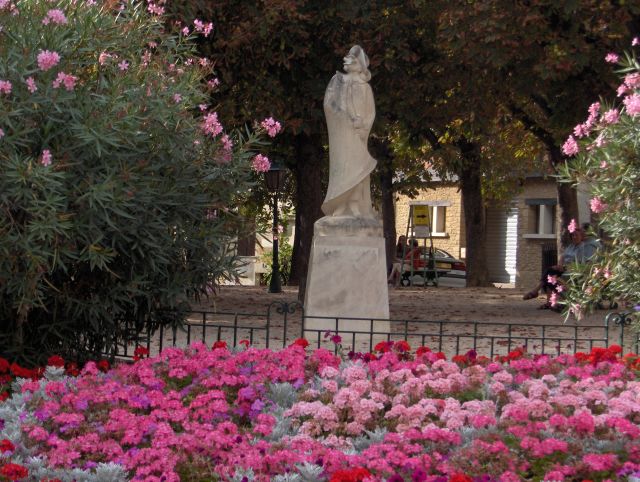 Another Statue of Cyrano in the Old Town
It was time to return to the bike store, where a man wheeled out Len's bike from the back of the store. The back wheel looked to be perfectly true. However, the mechanic said to us, "La roue est morte." I translated for Len -- "The wheel is dead." We were mystified, because the wheel looked perfect. In muddled French and English we were led to understand that the wheel would easily last for the week we would be using it. After that, it would be "dead." We never did understand this, but the wheel did in fact last without any problem for the rest of our trip.
We had a delightful dinner in an outdoor restaurant in the old town.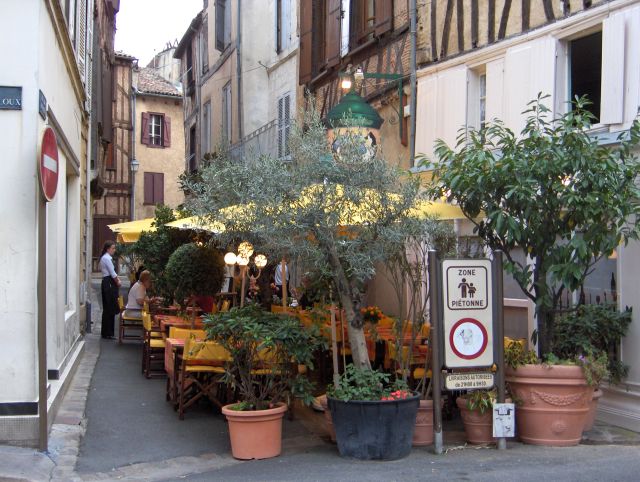 Dinner in the Old Town
In the dark we walked back towards our hotel. Above the darkened square in the old town, two girls hung out a second floor window and whispered to each other.
I was jet-lagged and tired. It had been a long day.
Proceed to Day 2 of the Dordogne Trip
Back to the Overview Page for the Dordogne Trip